February 21, 2006
BISCUITS
As you know, I've been feeling guilty about Charlie's accident. I've never even had stitches, but I made my dog have to get them! So I've been spoiling him rotten for the last few days. Today I decided to make him some homemade dog biscuits. The recipe said it would make three dozen, so I decided to double it. Would someone mind telling me when three dozen turned into 100? I've got 200+ dog biscuits here now! So everyone's getting some:
Winston
,
Lewis
,
Elway
, and any other dog I can think of. They seem to be a hit; the whole time I was baking, Charlie was doing this: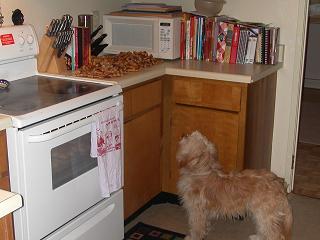 Don't be fooled by the silence of your computer; he's howling his fool head off in this photo. That's all he did for two hours. Except of course when he was trying to think of a better way to get at the biscuits: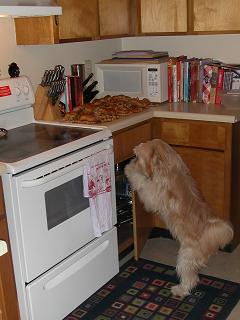 That dog is just too dang much.
Posted by: Sarah at 12:38 PM | Comments (7) | Add Comment
Post contains 160 words, total size 1 kb.
Posted by: Vonn at February 21, 2006 05:36 PM (dEgRi)
Posted by: Stephanie at February 22, 2006 04:27 AM (Y1m/K)
Posted by: Lizzie at February 22, 2006 12:21 PM (ex5PX)
Posted by: Sue at February 22, 2006 12:22 PM (g8xza)
Posted by: Ruth H at February 22, 2006 03:29 PM (6HTV2)
Posted by: Erin at February 22, 2006 05:07 PM (nnei1)
Posted by: Chevy Rose at February 22, 2006 06:48 PM (DfVJa)
Comments are disabled. Post is locked.
43kb generated in CPU 0.0104, elapsed 0.0669 seconds.
48 queries taking 0.0604 seconds, 177 records returned.
Powered by Minx 1.1.6c-pink.