October 19, 2008
AT LONG LAST
At the Milblogs Conference, during the tribute to our fallen, I mentioned
Bunker Mulligan
. Or, I tried to: I immediately choked up and barely managed to sob the words out.
It's been three years since the death of a man I never met, and it still hurts that much.
A while back, I found this old comment he left:
There are just too many things in this country I haven't seen to go wandering around the world looking for more. I still haven't been to the Black Hills, and I want to see Yosemite again. Washington is one of my favorite cities in the entire world--so much to do there. I've been four times and still want more.

I keep trying to plan a road trip from Corpus Christi through Big Bend to Vegas, then back along the northern route to the Grand Canyon, Painted Desert, then back to Corpus across the Llano Estacado and Comanche Country.

There will be time for golf when you get back!
He didn't get to do these things. We didn't get to play golf.
Mike is buried in San Antonio, and I had to see him while I was there. We located his marker and my friends stayed in the car as I got out to pay respects.
The sobbing started even before I saw his name.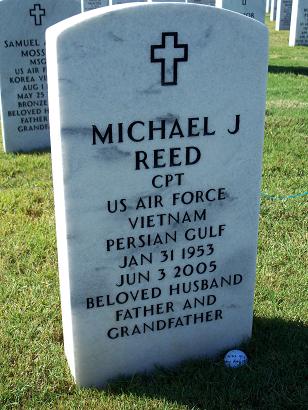 I had tried to think of something I could leave there for Mike, but I couldn't come up with anything and was empty handed. My fellow SpouseBUZZ author Toad surprised me with the most perfect idea: he had brought a golf ball and a Sharpie for me.
I left Mike a little note on the golf ball and then sat there and wept.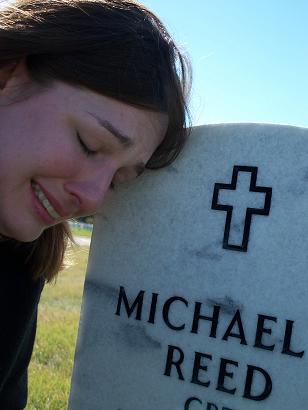 I still miss him so much.
And I want this blog post to be better, because he deserves better, but I just don't know what else to say.
Damn, this weekend was rough.
Posted by: Sarah at 04:17 PM | Comments (8) | Add Comment
Post contains 325 words, total size 2 kb.
Posted by: Ruth H at October 19, 2008 05:49 PM (BkiKe)
Posted by: Darla at October 19, 2008 08:49 PM (hRWl6)
Posted by: Reasa at October 20, 2008 05:10 AM (2W7Iu)
Posted by: tim at October 20, 2008 05:13 AM (nno0f)
Posted by: Guard Wife at October 20, 2008 05:17 AM (eb8pN)
Posted by: Rob L. at October 20, 2008 06:31 PM (Ovyp5)
Posted by: Barb at October 20, 2008 06:50 PM (T4MbB)
Posted by: John of Argghhh! at October 22, 2008 11:12 AM (TZ8PW)
Comments are disabled. Post is locked.
45kb generated in CPU 0.0113, elapsed 0.0761 seconds.
48 queries taking 0.0693 seconds, 178 records returned.
Powered by Minx 1.1.6c-pink.