September 27, 2007
THE BEACH
Why do I hate the beach, you ask. Well, it combines three things I hate independently: water, sand, and sun. I like to look at the beach, and an hour there would be nice, but after several hours I was ready to get the heck out. I'd rather spend time in a salvage yard. And I just really hate the feeling of baking in the sun. You could put a chicken breast in the oven at 100 degrees, and in a couple of hours it'd be cooked. That's what you're doing to your skin, people! The thought of it entirely creeps me out; I feel myself baking like a chicken in the oven. Gives me the willies.
Posted by: Sarah at 06:09 AM | Comments (4) | Add Comment
Post contains 121 words, total size 1 kb.
September 25, 2007
MY TRIP TO HAWAII
I got up at 0300 on Wednesday and left the house late. So I sped the hour and a half to the airport, and by "sped" I mean "drove three miles over the speed limit." I was so freaked out that I would miss my plane, but I'm even more scared of getting a ticket.
I made it in time.
On my second flight, some girl in front of me tattled to the stewardess that she didn't like the way I stowed my bag in the overhead compartment. Instead of asking me to shuffle some stuff around, she went and told on me. So they made me check my bag through. So silly.
I crocheted the entire way to Honolulu, much to the hilarity of my rowmates. They looked at me like I was the biggest dork ever, but I got six more squares made for charity. I crocheted for six hours straight.
Honolulu made me laugh. The entire place looks like a joke, like someone set up a movie set for me to walk through. It's so Hawaii that it looks absurd. Also I love that these are the restroom signs: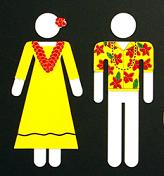 Both my bag and I made it to Kauai, where CaliValleyGirl picked me up and took me around to meet people until I couldn't keep my eyes open. The next morning, I awoke to what can only be described as screams from zombie victims. I later learned it was roosters. I have never heard such a sound in my life. That island is filled with roosters, gangs of them roaming the streets and howling at 0430 every morning. Unreal. Roosters are to Kauai what squirrels are to normal cities.
Thursday was the rehearsal and dinner. We did the shopping for food and booze in the morning; I had never seen $1200 worth of groceries before! I put together shish kebabs while CaliValleyGirl and company were at the church. We crashed after a fun night and I promised not to keep her awake. Because really, the best part of the trip was that Cali let me share a room with her while I was there. I was the last person to share a bed with single Cali. It was like giving her away! I thought that was a pretty good honor, and I told anyone who would listen. They probably all think I'm a lesbian now.
Friday was wedding day. While the wedding party was getting hair and makeup done, a nice German boy escorted me around the island so I could actually get some photos of Hawaii.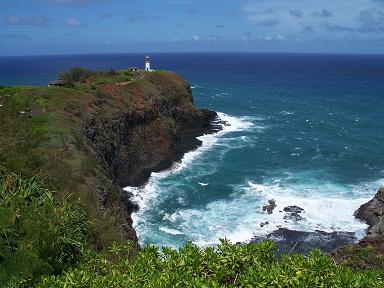 I returned to the house to do one more chore before the wedding: refill the lighter fluid in the tiki torches around the reception tent. Yeah, the problem is that used tiki torches are covered in soot. Thirty minutes before the wedding, I was black up to my elbows. I looked like a car mechanic the whole rest of the day.
I made it to the wedding ceremony only to sit behind the tallest guest in the joint. I barely saw anything of the ceremony, but I was so glad to snap this photo as the happy couple made their way to the limo.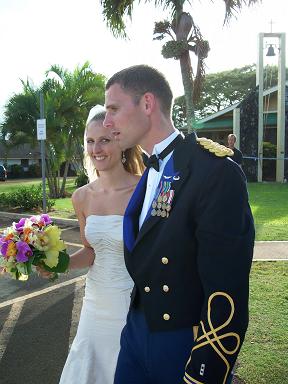 We went back to the reception tent, where Cali's good decorating taste really shined through: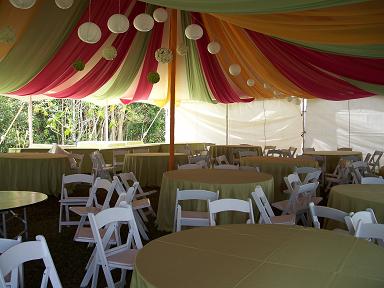 Another huge thrill was that I got to sit at the head table! Imaginary friend, my butt; I rated tip top! Too cool. Dinner was delicious, the entertainment was awesome -- I learned I really, really like traditional Hawaiian music -- and the evening passed into night. Everyone became really surprised that Sarah can actually dance. We lingering few put the happy couple in the limo again and went to crash.
Saturday I spent my last day in Hawaii at the beach. I don't care how beautiful it is, I still hate the beach. I can't stand it. But luckily neither can one of Cali's cousins, so he and I sat and chatted while I knitted. I took a lot of crap for sitting under a tree in Hawaii knitting, but I coined a new saying: "I'd rather go home with a sock than a sunburn." After the beach, I said my goodbyes and made my way to the airport for my 2340 red-eye flight.
The way home was uneventful, save the incident at dinner. I bought a hamburger and fries at some airport fast food place, and a pilot in line behind me bought two burgers and fries. The cooks called his number first, so he took the bag and offered me a fry while I waited. He munched on some fries and then started digging in the bag and realized there was only one burger in there. Um, oops. The dumb cooks had handed him my order. So this pilot, who was super nice and really not to blame, manhandled my burger and fries...and the cooks said, "Oh, sir, we're so sorry for the mix-up." They apologized to him! I couldn't decide if I was really ticked off or just too awestruck by the gall of it to be mad.
My last flight was two hours late in taking off, which is never fun at the end of a 22-hour journey. But I made it home in one piece and slept in late with no roosters to disturb me.
Hawaii was lovely. I didn't think I'd care one way or the other, but I did think it was beautiful. However, now that I'm home, I'm back to thinking that the grass is greener in my own backyard.
And we don't even have grass. Just weeds and dirt.
Posted by: Sarah at 07:58 PM | Comments (10) | Add Comment
Post contains 945 words, total size 5 kb.
WAITING
I know some of you are anxiously waiting for a long post on Hawaii, but I just haven't found the time yet. I have had knitting classes and trips to the grocery store and toilets to clean and my little brother passing through town tonight. And tomorrow I will be gone all day too, which will be a future blog post. I just wanted to let you know why you're still waiting.
Posted by: Sarah at 01:40 PM | No Comments | Add Comment
Post contains 74 words, total size 1 kb.
September 24, 2007
I'M BACK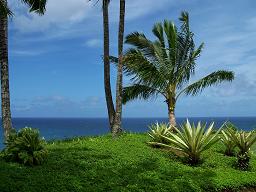 More later...
Posted by: Sarah at 06:15 AM | Comments (5) | Add Comment
Post contains 6 words, total size 1 kb.
September 20, 2007
HI FROM HI
I had really forgotten how nervewracking one's own wedding is.
CaliValleyGirl and fiance are hanging in there, both a tad frazzled about the whole event tomorrow. Most of their friends here are single, so I don't quite think anyone understands why they're so stressed. But I remember it well: wanting to puke for two days and feeling like nothing was going to get done on time. But it all magically does.
Hawaii is beautiful. But I sure didn't expect to wake up to a cacophony of roosters this morning. So odd.
More later...
Posted by: Sarah at 04:17 PM | Comments (5) | Add Comment
Post contains 99 words, total size 1 kb.
September 18, 2007
LEAVING ON FOUR JET PLANES
My neighbor told me that all she had to do to finally get pregnant was take a nice, relaxing trip to Hawaii.
Plane ticket to awe-inspiring places like this? Check.
Romantic weekend of nuptials? Check.
Husband? Oh wait, crap.
Somehow I don't think this is going to work out for me...
Anyway, I'll be gone for a while, but I'll return with stories and photos and tales of changing planes four times in one day.
And here's a little tidbit for people in the travel-size industry: Will you please consider making products that one can actually take on an airplane? It's been over a year, so you'd think the market would've dictated 1.7 oz bottles. But no. Apparently I don't get to take contact solution or sunscreen to Hawaii. Thanks a ton. Big pointy metal knitting needles are fine, but not my sunscreen.
Posted by: Sarah at 10:26 AM | Comments (5) | Add Comment
Post contains 153 words, total size 1 kb.
September 17, 2007
MOST OF MY LIFE IS GONE
You know how you're supposed to back up your files in case something ever happens to your computer? I have always been pretty good about this. A few years ago when we had to wipe out the desktop and start over, I burned everything to CDs. We didn't lose anything. But a few weeks ago, my mom asked me about a paper I wrote in college. I went to my back-up CDs to get the paper.
What happens when your back-up CD turns up broken?
I have no idea how this happened. It broke from the center hole outward, three inch-long cracks. And it was in a jewel case too. I just have no idea how it could've broken like that.
Everything's gone. All the papers I wrote in college and grad school. The poem I wrote that won a national contest. The 40,000 word journal I kept from my year in France. And probably many other things that I will gradually come to remember and mourn.
Is there any way to save data from a cracked CD? I doubt it, but some of you are more computer savvy than I.
Sniff.
Posted by: Sarah at 03:13 AM | Comments (6) | Add Comment
Post contains 204 words, total size 1 kb.
September 03, 2007
THAT'S MY BOY
We just happened to find some show called
Fast Money MBA Challenge
, which was like Jeopardy for business students. We watched the first two rounds with students from MIT, Texas, NYU, and Columbia. My husband kicked their butts. It was so hot. He only got a couple of questions wrong and usually answered faster than the contestants.
And three words went through my mind endlessly, repeating themselves like a broken record: You're so cool, you're so cool, you're so cool.
Posted by: Sarah at 08:06 AM | Comments (1) | Add Comment
Post contains 86 words, total size 1 kb.
81kb generated in CPU 0.0814, elapsed 0.174 seconds.
53 queries taking 0.1454 seconds, 218 records returned.
Powered by Minx 1.1.6c-pink.