September 27, 2006
LONG WAY TO GO
Well, we're eastbound and down, loaded up and truckin' this morning. More when I get back where it's warm.
Posted by: Sarah at 02:26 AM | Comments (3) | Add Comment
Post contains 27 words, total size 1 kb.
September 10, 2006
GRADUATION
Charlie graduated from doggy school today. Overall, I'd say he's improved a lot in the past two months. We need more work getting him to stop jumping on people, but once we master that, I think he'll be a pretty darn good dog.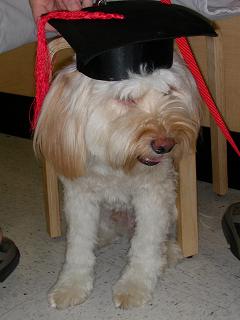 Posted by: Sarah at 03:25 PM | Comments (1) | Add Comment
Post contains 45 words, total size 1 kb.
September 09, 2006
MY ALTON
Man, how come I find someone I want to be friends with and she lives in a different state? Yesterday I found an
Army wife knitter who loves Alton Brown
.
I've had a couple glasses of wine, so bear with my crush here. But I love Alton Brown. Numerous times I've asked my husband if we can marry Alton Brown. I can't get enough of Good Eats, and I tear up every time I watch Feasting on Asphalt. I often toy with the idea of driving to Marietta, GA, and just camping out at grocery stores until I see him.
Seriously, if you haven't seen Feasting on Asphalt, you should. No one breaks down the charm of America like Alton Brown.
I think celebrity crushes are ridiculous, but I swoon every time Alton is on TV.
Posted by: Sarah at 02:37 PM | Comments (4) | Add Comment
Post contains 140 words, total size 1 kb.
September 07, 2006
PARENTING SUCKS
You know what's scary about parenting? I think sometimes you can do everything you're supposed to do, and things still don't turn out the way you want.
I've spent the last month playing Gregory House to our dog. When we moved here, we decided he was old enough to start trying to sleep out of his crate. He loves being under our bed, so we started letting him sleep there. He began throwing up occasionally in the middle of the night, but I read online that this can be normal if it's not too frequent. I didn't think too much of it until I started feeling like it was happening too often, so I started marking the calendar every time he threw up. Turns out it was happening every other day. Our dog trainer suggested switching to a sensitive tummy food, but that didn't do any good. Finally I made a vet appointment, but the earliest we could get in was in a week. We decided we were tired of getting up at 0400 to clean up puke, so we put him back in his crate. No barf for a week.
Today was our vet appointment, and though the vet was super-nice and super-cheap, I don't feel good about the visit. I wanted tests run and MRIs and sonograms and pushing 100 cc's of something. Instead, the only thing we can come up with is that we crate trained Charlie so well that he is neurotic about sleeping elsewhere.
I really think I did a Houseworthy job of diagnosing the pup. He can't be allergic to the carpet because he naps on it all day and only throws up at night. I know he's not getting into anything because we sleep with all the doors shut, and anyway I'm such a light sleeper that I wake up every time he rolls over and his collar jingles. It doesn't seem likely that he has acid reflux or something that only affects him at night because he would've gotten sick at least once in his crate. So that leaves us with two possibilities. One, he's allergic to something or has a stomach condition, but there's no way to figure out what it is without a major investigation that the vet didn't seem to think was necessary, and so he can't sleep with us. Two, we turned our dog into a nervous wreck and now he can never sleep with us. Either way, I don't like the way this turned out.
We did everything we were supposed to do. You're supposed to make the crate a happy place for your dog. You're supposed to crate train them until they're responsible enough to be left alone. And now that we want to feel close to our dog and let him sleep with us, he yaks every night. How utterly sad.
How could we not want to sleep with this stinker?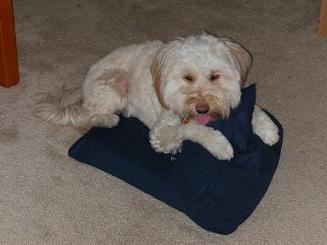 Posted by: Sarah at 10:07 AM | Comments (6) | Add Comment
Post contains 490 words, total size 3 kb.
September 06, 2006
LESSONS
Powerline
writes about
a Connecticut sports committee decision to suspend high school football coaches who win by more than 50 points. He then links to another article called
Rising when we fall and learning when we lose
:
I reminisced about this last week with my son, now a college sophomore. What was the greatest memory of his sports career? His answer was prompt: the soccer team his junior year in high school. I was astounded. Their record was a dismal 0-15.
Usually it's not the winning that sticks with you. When we were home on leave in May, I visited my track coaches after ten years of being away. Their memory of my team is a special one for them, one they discuss frequently, because they were embiggened by a decision we girls made.
There was a girl on my team who was a phenomenal athlete. She could run faster than anyone we'd ever seen and barely break a sweat; in fact, the first time she ever ran the 400m, she qualified for State. But with her incredible talent came a personality that was truly the pits: she made teen-movie witches seem like Pollyana. She was arrogant, spiteful, and mean, and she believed that the only purpose of the rest of the team was to help her win.
In her senior year, she was awarded a college scholarship in basketball, her favorite sport. As soon as she was certain of the scholarship, she quit our track team, right in the middle of the season. Unfortunately for her, her new college coach found out about it and was not impressed. He didn't want someone who lacked commitment on the team and told her she needed to rejoin.
Our coaches held a team meeting so everyone could discuss what we wanted to do; the choice to let her back on the team was now up to us. Few of the young girls wanted to say anything; heck, most of us were scared of this girl. But those of us who had already been running with this monster for three years knew what we had to do.
We didn't want her anymore.
We knew it would mean that we wouldn't win as many meets, and that we'd have to work harder to make up for the enormous advantage her talent had given us, but we didn't care. Winning wasn't as important to us as being a team was, and now that she was gone, we were a team instead of one star. We politely declined to accept her back, and that was that.
The coaches are impressed to this day that we chose the quality of our team over the ability to win. I'm sure a part of them wanted to keep her and keep winning. But it was a no-brainer to us; we had learned the lessons our coaches had taught us. Why did we have t-shirts that said "Winners make a commitment" and signs that said "Winning isn't everything...the effort is" if we weren't going to take it seriously?
And so high school track taught us more than winning. Ten years and bad knees later, all I care about are the bigger lessons I took with me.
But I still think that a football team should be allowed to kick someone's tail by 50 points if they can.
Posted by: Sarah at 11:01 AM | Comments (1) | Add Comment
Post contains 559 words, total size 3 kb.
58kb generated in CPU 0.0141, elapsed 0.0776 seconds.
51 queries taking 0.0677 seconds, 191 records returned.
Powered by Minx 1.1.6c-pink.