October 29, 2009
I'M TIRED OF THE GOOD WAR
My dithering is worse than Pres Obama's. I don't know what the solution is. I want to do this until my husband comes home.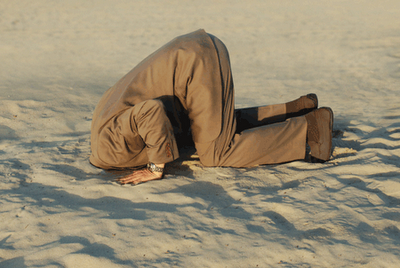 I am frustrated on so many
levels
.
A senior military officer said the developing strategy adopted General McChrystal's central tenet. "We are no longer thinking about just destroying the enemy in a conventional way," the officer said. "We must remove the main pressure that civilians live under, which is the constant intimidation and corruption and direct threat from the insurgency."

Am I missing something here? I thought we needed this new strategy because only it would deny safe haven to al-Qaeda. Now, we are evidently going to do counterinsurgency despite conceding at the outset that it won't really work because the Taliban is "an indigenous force" (translation: It has too much support among its fellow Afghan Muslims); under "Biden for the country," we are going to cede the vast countryside to the Taliban, which will then be free to give al-Qaeda the safe-haven it was purportedly our objective to prevent (and you know that's what we're doing because a "senior administration official" felt it necessary to tell the
Times
, "We are not talking about surrendering the rest of the country to the Taliban"); and under McChrystal for the city, while we don't go after the Taliban because "we are no longer thinking about just destroying the enemy in a conventional way," we're going to focus on solving the real challenge to U.S. national security . . .
Afghan corruption
.
Ay-yay-yay.
Indeed.
And I still feel like
Ralph Peters
:
Iraq made sense to me. The stakes there were (and are) enormous. But Afghanistan's a strategic vacuum that sucks in resources and lives to no sensible purpose.

And yet leaving is an even bigger problem.
I get sick thinking about it.
Posted by: Sarah at 08:13 AM | Comments (3) | Add Comment
Post contains 309 words, total size 2 kb.
1
It makes me sick too. This is one (of many) time(s) that I just don't know what the right thing to do is. But I do know that I expect more decisiveness from our commander in chief. This is what it's all about, and he's dithering, no matter what you call it, and no matter what he ultimately does.
My stomach does a slow roil just thinking about it.
Posted by: tibby at October 29, 2009 10:14 AM (S/Fac)
2
I'm sure the ideas and comments set forth in this article: (http://blog.stevenpressfield.com/wp-content/themes/stevenpressfield/one_tribe_at_a_time.pdf) will never be applied, but Major Gant has what I think is probably the only possible way to success in Afganistan.
Posted by: Rosie at October 29, 2009 02:08 PM (7pPiG)
3
Rosie -- I downloaded that article yesterday but haven't sat down to read it yet. Will do.
Posted by: Sarah at October 29, 2009 02:42 PM (gWUle)
Comments are disabled. Post is locked.
43kb generated in CPU 0.0152, elapsed 0.0927 seconds.
48 queries taking 0.0842 seconds, 167 records returned.
Powered by Minx 1.1.6c-pink.