February 27, 2007
INTERESTING
I heard on the TV over the weekend that the cadre from West Point visited the writers of
24
and asked them to tone it down because they were having a hard time convincing cadets that torture is not the way. I'm struck by how sad our education system must be if the teachers at West Point can't educate their students and instead have to resort to trying to change Jack Bauer. And how hopeless the students must be.
So I looked up more info on this story and got completely sucked into this New Yorker article: WHATEVER IT TAKES The politics of the man behind "24."
Posted by: Sarah at 02:50 AM | Comments (6) | Add Comment
Post contains 109 words, total size 1 kb.
February 12, 2007
OOPS, YOUR AGENDA IS SHOWING
When I took a US history class in college, I remember reading tons of firsthand sources, letters and the like from the different time periods. We had a separate textbook of just these firsthand sources. So I find it odd that the new president of Harvard, a war historian, seems to be arguing that we should
dissuade people
from relying on firsthand sources in order to understand the war in Iraq. Why would a war historian not want people to pay attention to blogs and emails and YouTube videos from soldiers and Marines who are currently fighting this war? Surely this war historian doesn't think that
letters from the Civil War
are just propaganda and "war porn" that need to be downplayed, so it's ridiculous to ignore modern firsthand sources of war. Apparently she's just against the idea because war historians like herself haven't had time to cherrypick these sources and weed out the ones that make Americans feel that fighting the War on Terrorism is a good thing. Nothing like a war historian with an agenda to brighten my day.
MORE:
Read this analysis by Sean Lawson.
Posted by: Sarah at 09:50 AM | Comments (3) | Add Comment
Post contains 198 words, total size 1 kb.
February 09, 2007
FASHION MATTERS?
Found
an old post from an Air Force wife
where she encountered Extreme Snottiness from other wives:
As I was paying for my groceries I heard "you would think the commander's wife would put a little more thought into her appearance before leaving the house."

I looked around and realized they were talking about me.
Thank heavens my husband will never be a traditional commander because of his switch to CA. I haven't worn make-up in two years, except for that one day at SpouseBUZZ Live. And I wear so many track suits I chould be in a Wes Anderson movie. Today I have on courderoy pants covered in drips of baby blue paint. They used to belong to my dad 15 years ago. I think the paint came from his boat or something. A beauty queen, I am not.
Posted by: Sarah at 08:38 AM | Comments (2) | Add Comment
Post contains 144 words, total size 1 kb.
MILBLOG CONFERENCE
Just a quick post about the MilBlog conference.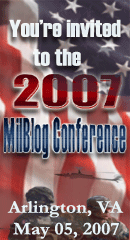 I will be attending with the illustrious CaliValleyGirl, and I'll be speaking on the "All in the Family" panel at the event, in the company of Some Soldier's Mom and ArmyWifeToddlerMom. I have no idea what substance I'll bring to the panel, seeing as my blog has devolved into into the fated make-up and houseplants, or in my case, Charlie and having a baby. I'm finding it hard lately to get worked up enough over Pelosi's jet or Arkin's diarrhea of the mouth to bore you with thoughts you can certainly read better elsewhere. But I'll do my best to appear legit in Washington.
So if you're in the area, or anywhere near the eastern half of the country, come on out and meet us! More info on the Milblog Conference webpage.
Posted by: Sarah at 03:45 AM | Comments (2) | Add Comment
Post contains 144 words, total size 1 kb.
50kb generated in CPU 0.0585, elapsed 0.1404 seconds.
50 queries taking 0.1286 seconds, 181 records returned.
Powered by Minx 1.1.6c-pink.