May 18, 2008
LEARNING THE WRONG LESSON
I heard a joke the other day. It seems that Bush and the Pope were fishing when the Pope's hat flew off. One of the secret service agents was getting ready to dive into the water to retrieve the hat when Bush stopped him. Bush calmly got out of the boat, walked on the water and retrieved the Pope's hat. The Pope was inpressed. The next day's headline in the NYT was "Bush Can't Swim."
Remember when they ran this headline: "As violence falls in Iraq, cemetery workers feel the pinch"? Now that's spin. There's something remarkable about being able to take something so positive and twist it into a negative.
Apparently they just did it to McCain too. I am speechless:
There is a feeling among some of McCainÂ's fellow veterans that his break with them on Iraq can be traced, at least partly, to his markedly different experience in Vietnam. McCainÂ's comrades in the Senate will not talk about this publicly. They are wary of seeming to denigrate McCainÂ's service, marked by his legendary endurance in a Hanoi prison camp, when in fact they remain, to this day, in awe of it. And yet in private discussions with friends and colleagues, some of them have pointed out that McCain, who was shot down and captured in 1967, spent the worst and most costly years of the war sealed away, both from the rice paddies of Indochina and from the outside world. During those years, McCain did not share the disillusioning and morally jarring experiences of soldiers like Kerry, Webb and Hagel, who found themselves unable to recognize their enemy in the confusion of the jungle; he never underwent the conversion that caused Kerry, for one, to toss away some of his war decorations during a protest at the Capitol. Whatever anger McCain felt remained focused on his captors, not on his own superiors back in Washington.
McCain doesn't understand Vietnam because he spent the whole time being beaten and locked up in a tiger cage instead of celebrating Christmas in Cambodia with a magical hat.
You have to be effing kidding me.
Not all of McCain's fellow veterans subscribe to the theory [...] But some suspect that whatever lesson McCain took away from his time in Vietnam, it was not the one that stayed with his colleagues who were "in country" during those years — that some wars simply can't be won on the battlefield, no matter how long you fight them, no matter how many soldiers you send there to die.
Oh gosh, John McCain learned the wrong things in Vietnam. See, we all had this life changing experience that was supposed to make us hate war and hate the US. But John McCain won't play by the rules. He was too busy being locked up with people who took their oaths seriously, who bolstered each other and knew that their countrymen were looking for them and would rescue them someday. He was too busy refusing the Vietcong's offer to release him. And he was too busy saluting the flag, a makeshift flag that Mike Christian sewed out of handkerchiefs, despite the massive beating he got for doing it.
Poor John McCain...he learned to love his country during Vietnam instead of hating it.
What a stupid man.
Posted by: Sarah at 04:54 AM | Comments (2) | Add Comment
Post contains 557 words, total size 4 kb.
May 12, 2008
NO, REALLY, I'M FINE
So my husband's single friend came over for dinner tonight, and he asked how I was doing, both with the deployment and with the baby situation. And during the course of chatting, I mentioned the miscarriage, and I also asked him if I could put him down on my list of people to call should I have to endure a casualty notification.
He started to panic and said that we'd better change the subject. I couldn't figure out why, until he said, "I'm afraid you're going to start crying and I don't really know how to handle that."
I laughed and said I hope he doesn't think I'm that fragile. I told him that I haven't cried even once since my husband left and that I'm really feeling quite good and normal.
I'm not sure he believed me.
Really, I'm fine. I'm like creepy fine. I keep waiting for the shoe to drop, but I don't feel sad at all. I'm sure at some point I will get a little weepy, especially if hormones start kicking in, but I don't feel bad at all right now.
But apparently it took me two weeks to cry last time, so I guess I have another seven days.
But also like last time, I just don't suffer.
Posted by: Sarah at 04:28 PM | Comments (2) | Add Comment
Post contains 222 words, total size 1 kb.
May 10, 2008
IF IT WEREN'T FOR WAR
Rose Michelle wrote a post called
If It Weren't For War
...
I dare say, I would probably be living the same boring day over and over. Waking each day, dreading what was to come from a mundane job, same relentless chores, and never ending errands. I'd probably live next to the same people for 20 years and never know their name, drive the same route every day never seeing the beauty around me.

If it weren't for war, I'm never have married an American hero, be inspired by those around me or treasure the littlest moments such as making dinner with my husband or dancing on the porch in the moonlight. Maybe they're right, it sounds like such a horrible life!
If it weren't for war...
It reminds me of when I wrote this:
Today I started thinking that if 9/11 hadn't happened, my life would be quite different. My husband was slated to join the Army for four years of Finance. My guess is that he would've completed his commitment and taken his business mind elsewhere for more money. Certainly he wouldn't have stayed in and chosen to learn Farsi. We'd probably be somewhere in the Midwest, working and living like most of our peers.
If it weren't for war, I wouldn't know how precious my husband is. I wouldn't relish every day with him. I wouldn't be as proud of him as I was every time he got a perfect score on a Farsi quiz. I wouldn't cherish every moment with him, knowing there will be months and years of our lives apart. I wouldn't have such good Perspective, knowing that dirty laundry on the floor or dribbles of pee on the toilet rim means that at least he's home and safe.
I wouldn't have read so many books about the Middle East. I wouldn't know Iraqi geography. I wouldn't crochet squares for Hand-Crafted Comfort. I wouldn't write so many letters.
My life would be less immediate, less fulfilling, less lived.
Posted by: Sarah at 03:41 PM | Comments (1) | Add Comment
Post contains 343 words, total size 2 kb.
May 08, 2008
UPDATE
I just heard from my husband; he made it to Kuwait. Naturally, they got bumped from heading into Iraq and will be staying there and wasting a few days, which makes you wonder why they had to leave the US in such a rush if they're just gonna sit around, but that's the Army. He sounds good. He said Kuwait looks a whole lot different than it did back in 2004.
I told him I keep forgetting that he's gone, and every time I read a good blog post or article, I forget that I can't show it to him when he gets home.
I'm anxious for a mailing address.
Posted by: Sarah at 07:00 AM | Comments (6) | Add Comment
Post contains 112 words, total size 1 kb.
May 07, 2008
A DEPLOYMENT DAY LIKE NO OTHER
My plans for this week were perfect until my husband's deployment kept getting moved forward. Once that happened, I had to make a very unusual and difficult choice: Do you accept an invitation to the White House on the day your husband is supposed to deploy? Any other invitation in the world, you obviously turn down. But the White House? That's big. That gives you pause.
I asked around, and the general consensus was that other wives would not go to the White House. But I still had to decide for myself. I had a talk with my husband about my choice, and what he said blew my mind. He said, "The White House is the White House, and obviously that's a big deal. But what I think is really important is that you go spend time with your friends, people who love you. You don't have anyone here in town to take care of you while I'm gone, and when else are you going to get the chance to be with your good friends? If they're coming in from all over the country, then you need to go be with people who care about you."
And he was right.
It was so exciting to be able to take this photo on Tuesday: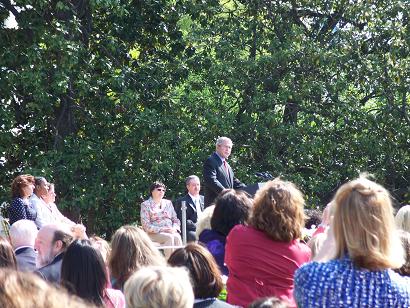 But it honestly means so much more to me to have taken this one: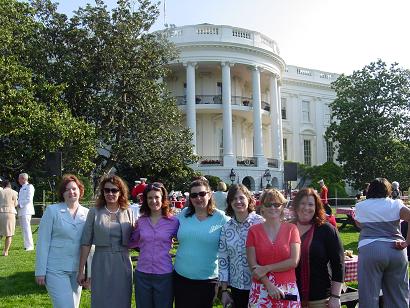 I spent the day surrounded by people who lift my spirits, who make me happy, and who grok what I am going through. They cracked me up and helped me forget my sorrow. And they reminded me of how lucky I am to have them in my life.
My husband was right: I really did need this.
I raced home right after the event and had six hours to spend with my husband before I dropped him off at his unit headquarters to deploy. And we felt good, no tears at all. Just a supplication for me to have "Spartan courage" and for him to "come back with his shield or on it." A quick kiss goodbye, and that was that.
And so the deployment begins.
Posted by: Sarah at 11:12 AM | Comments (9) | Add Comment
Post contains 365 words, total size 2 kb.
May 04, 2008
GETTING READY TO LEAVE
The last time my husband deployed, I spent
the day before he left
sewing new rank on since he got promoted that day. I wish I could tell you what I spent yesterday doing, but it's majorly opsec. It's such a good story and really freaking weird, but alas. Curse my husband's new security clearance!
I wrote about his packing headaches at SpouseBUZZ.
And we've been getting ourselves properly pumped up on dorkosterone before he leaves. I started reading Gates of Fire again. Tonight we're watching his favorite movie: Miracle. And last night we went with his Farsi class buddies to Hooters so he could get his fill of beer and ogling chicks before he leaves.
I feel pretty good this time. I don't feel scared: his job will be low-key. I don't feel bad about the length: we did longer pre-R&R last time than his entire deployment will be this time. And I feel optimistic about our chances with the fertility treatments too.
I just feel a smidge sad that my best friend is leaving me for the rest of 2008.
At least I have Charlie this time.
Posted by: Sarah at 08:30 AM | Comments (8) | Add Comment
Post contains 197 words, total size 1 kb.
May 03, 2008
SIGH
OK, this stopped being funny. My husband's deployment got moved forward again.
Posted by: Sarah at 06:35 AM | Comments (3) | Add Comment
Post contains 14 words, total size 1 kb.
67kb generated in CPU 0.0177, elapsed 0.101 seconds.
53 queries taking 0.0896 seconds, 205 records returned.
Powered by Minx 1.1.6c-pink.