November 18, 2006
HEADSTONE
I just came across
photos
of PFC Gunnar Becker's headstone. It's beautiful, and so fitting. I love it, Debey. The tank is so cool. And I'd like to think that his friends are leaving him Mt. Dew and whiskey...maybe to wash down that bug he ate!
Posted by: Sarah at 07:42 AM | No Comments | Add Comment
Post contains 48 words, total size 1 kb.
November 17, 2006
COMPLEX EMOTIONS
CaliValleyGirl sent me an email today, asking me if we know anything else about the craziness that is my husband's next assignment. She said,
Man, you know, it's strange...part of me almost misses the deployment...don't get me wrong, it sucked...however, I felt like I was part of something bigger. You know? The ups and downs, but I was in it together with all these other families. I felt more a part of the military...I miss that.
I think that life during deployment feels more precious than life out of it. I didn't think OIF II was that bad for me. I have no memory of how I passed the time though; my husband's been in the field two days now and I'm bored out of my mind. But when we're facing deployment, I think we try to find the silver lining as best we can. We relish the tight community that develops between those on the homefront and feel a part of something big and meaningful. And, on a more practical level, we come up with all these things we will accomplish when they're gone: next year I'll lose weight because I won't cook as well, I'll make those two quilts I've been talking about for years, I'll read all those books, I'll fly to L.A. to visit CaliValleyGirl, and so on. We convince ourselves that the year will go by fast because we'll be so busy. And then, when he gets home, we'll start a family. Everything will be perfect, because we've convinced ourselves that it's all working out according to plan.
But that's not what's happening now. My husband found out that his switch went through. He originally had made a scratch-my-back deal with his branch manager that she'd let him leave if he took this slot in the deploying unit that no one else wanted. We were all set to do that, when he got word that he's going directly to Civil Affairs training. No more deployment for us.
ArmyWifeToddlerMom always says that when you're on the outside looking in, people think that reintegration is just jumping up and down with a handmade sign and life is all flowers and sausages. But for the people going through it, it's not always that simple. That's how I feel today about this non-deployment. I would never say that making a quilt or reading a book is better than (or even comparable to) having my husband living in the house with me, but I had psyched myself up with all the ways I would get through next year, and it's just strange to turn all those thoughts off all of a sudden.
And the family thing, the family thing is killing me.
I heard my husband tell his mom on the phone the other day that we just had our hearts set on having a baby "like a normal couple." The way he phrased it, "like a normal couple," broke my heart. I want that so bad, and I thought it was within reach. He'd come home from deployment and have time where he was stuck in school and not going anywhere. And we'd be together for the entire pregnancy and birth. Like a normal couple. Unlike nearly every other Army wife I know who has done it alone. We had found a way to control our destiny, if only for a while.
And now, now he starts training a year early. And we're not ready to be parents just yet. Our options have now become 1) go for it before we're ready, or 2) take the chance of doing it apart. I don't like either of those options.
Civil Affairs most likely means more deployments in our future. We're fine with that, but we just wanted to get a leg up on the Army, one last stint of normalcy before he gives his life over to the whims of current events. And I find myself extremely disappointed.
I'm disappointed that my husband isn't deploying. Try explaining that complex emotion to family and friends.
So I milked all that patriotic praise out of you guys earlier this month, and apparently we don't deserve it at this time. My husband isn't going anywhere just yet.
Which is a good thing. Just a different thing.
Posted by: Sarah at 12:25 PM | Comments (5) | Add Comment
Post contains 717 words, total size 4 kb.
FIELD
Deskmerc keeps asking what Finance officers could possibly be doing in the field. I ask the same question every time he goes. Seriously, they play with fake money and pretend to pay contractors and stuff, while getting "mortared." I know, I know.
The last time he went out, he told me a great story. They were getting "attacked" and he and another hooah guy ran out and started "shooting" at the enemy, hamming it up with some m-f words as they valiantly, and fakely, fought back. And the officer in charge of the exercise told them to watch their mouths.
Remember: Horrific, deplorable violence is OK, as long as people don't say any naughty words.
Posted by: Sarah at 12:12 PM | No Comments | Add Comment
Post contains 117 words, total size 1 kb.
November 13, 2006
IN MEMORIAM
Do you know the story of
Joe and Tommy
?
To the eye, Bloody Omaha is just a sandy beach.

No white crosses, no huge memorial, no visible signs of those who sacrificed themselves and fought for freedom. No sign of those who fell for it.

Yet I remember "Joe" and "Tommy", heroes with no names but so many faces, who came here one day, fighters for a just cause, in a liberation army.

I was told about them, I read books about them, I saw pictures of them, and I watched interviews and movies. I heard their stories. The Joe and Tommy who got through this, told me about their brothers who didn't.

And they show me why they didn't fall in vain.

One day in July, standing on the sand of bloody Omaha a long time ago, I learned about Joe and Tommy. I learned that my own Grand Pa' and Grand Ma' once hid Joe, whose plane had been shot down, in their attic, to save him from Fritz. I learned that Fritz could have killed Joe and my grand parents for that. I learned that Fritz killed and imprisoned a lot of people because they weren't like him or just because they didn't think like him and disagreed with him. And I learned that Joe and Tommy came to stop Fritz acting like this and send him back to his country.

I know I wanted to thank Joe and Tommy for that.

Who wouldn't?

So I guess I asked: "And where is Joe now? Where is Tommy?"

My parents probably answered that they were gone, back home long before I was born. Joe and Tommy didn't come to conquer like Fritz did, you know, hence they went back to their own countries. That's why, since I wasn't born when Joe and Tommy shed their blood to make sure I would come to life free in a free land, I learned about them by my father and mother, many years later.

And that's why I couldn't thank Joe and Tommy, like I wanted.

I know that today, there are fathers and mothers in Kosovo telling their kids about Joe and Tommy. I know there will be others tomorrow in Iraq.

I don't know if there are memorials to Joe and Tommy in Kosovo today and I don't know if there will be in Iraq tomorrow.

But I know that as long as I and other kids born free in a liberated land, here, in Kosovo or in Iraq, remember them, the fallen Joe and Tommy will live forever.
I know a fallen Tommy; his name is Sean Sims.
His own son lost him two years ago today.
But may he live forever in the hearts of kids born free in Iraq.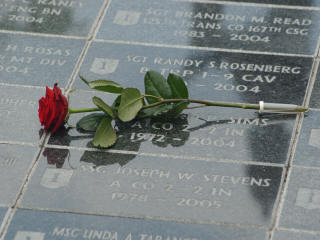 Posted by: Sarah at 02:49 AM | Comments (4) | Add Comment
Post contains 467 words, total size 3 kb.
November 09, 2006
FUTURE IN FLUX
I wanted to wait and write this post when we know for sure whatÂ's going on. But as the weeks rolled by, I realized that this is the Army, and weÂ're never going to know for sure whatÂ's going on. So I will tell you what I know today, and weÂ'll see what tomorrow brings.
Last spring I wrote a proud post about my husband answering the call for active duty Civil Affairs. We had begun to plan our life around this decision, because we considered it a done deal: they were desperate for people, my husbandÂ's language proficiency score was forty points higher than they were looking for, and he had recommendations and award citations all stating that, yes, he does in fact walk on water and should be considered for the job. That made the two-line form-letter rejection email he got in May a crushing blow.
We had just been back in the US for a couple of days, and my husband was completely depressed. He tried to find out why he had been rejected, but just ended up with more form letters. And he didnÂ't want me to post anything about it because he was embarrassed. I was just angry. I couldnÂ't understand why the Army would make such a stupid decision: they had someone who was begging to learn Arabic and deploy as much as they needed, and they turned their back on him. We figured the only thing that made sense was that Finance wouldnÂ't release him from their grasp, which just made me madder. Which is more important, winning this war or running a cash cage? Neither of us could understand. He started talking about getting out of the Army, which naturally threw me into a panic. Our homecoming from Germany was not what we expected.
Fast forward to September, when my husbandÂ's branch manager came to speak to the captains course. She explained that the Finance branch is dwindling fast, and since theyÂ're overflowing with extra captains, maybe some of them might consider the new and exciting field ofÂ…Civil Affairs. My husband was stunned and outraged. When he finally sat down with his branch manager, he explained that he had already tried to leave for Civil Affairs. And she explained that Finance had blocked him; his packet never even made it onto a Civil AffairÂ's desk. Information that wouldÂ've been nice to know in May, before he tore himself into knots thinking that maybe he couldÂ've used one more recommendation letter! So he asked if he could have another shot at Civil Affairs. As of yesterday, this looks promising. WeÂ're still trying to figure out the exact schedule, but it looks like it might finally happen.
But in the meantimeÂ…
Since there are far more Finance captains than jobs, everyone in his course is getting farmed out to random taskings. He and another soldier were assigned jobs at the same post, but my husband got a Finance job and this other guy was assigned to a unit thatÂ's deploying to Iraq in December.
My husband came home and asked me if he could trade assignments with the guy.
Every time I think I couldn't be prouder of my husband, he does something to amaze me. This other soldier just returned from a deployment, and my husband doesn't think it's fair that this guy should do another so soon when my husband hasn't been since OIF II. But there's more to his decision than just equality of downrangedness: my husband thinks that the War on Terror is important, and he has an emotional investment in the future of Iraq.
Our old neighbor in Germany was all set to get out of the Army when he got stop-lossed and deployed. He could've been quite bitter about it, but instead he sent out an email that really grabbed me by the heart. In it he said, "In Texas, people thank you for serving in the Armed Forces all of the time. I know they do not mean thanks 'for living in Germany, drinking beer, and eating bratwurst.' When it is all said and done I will be able to look them straight in the eye and know I have done my part."
My husband also doesnÂ't think that people are thanking him for cashing social security checks for German widows so they can hide the income from their government, which was what he spent a lot of time doing in Germany. He wants his service to mean more than that. He wants to do anything he can to help our country win this war. He gets personal satisfaction and meaning from doing a job that matters in the world, and right now he thinks he could matter more on a deployment.
So he asked my permission. And I granted it.
Most people IÂ've told this story to think weÂ're certifiably insane. But the truth is, everyone reading this knows how we feel about this War on Terror. And if we feel that way, we canÂ't let some other family fight it for us. Morally, I canÂ't support the war but hope someone elseÂ's husband will go fight it. And I think we need the best and brightest soldiers out there doing the job if weÂ're going to winÂ…and you all know I think my soldier is the absolute best and brightest!
So my husband traded assignments with this guy, in exchange for a case of Budweiser Select. I told him IÂ'm contacting Anheuser-Busch, because they should know that a man agreed to spend a year in Iraq for a case of their beer.
And then he got an email yesterday saying that heÂ's going to Afghanistan, not Iraq.
At this point, IÂ'm throwing my hands in the air and giving up. He may or may not switch from Finance to Civil Affairs. He may or may not go to either Iraq or Afghanistan at the end of this year or beginning of next year. He got another email saying he could start Civil Affairs training in May, which is smackdab in the middle of when heÂ's supposed to be in Iraq. Or Afghanistan.
WeÂ're going house-hunting this weekend. Hopefully weÂ'll find something and move me into it before my husband goes wherever heÂ's going to do whatever it is heÂ's doing. IÂ'm getting the hang of this Army thing and just taking it as it comes.
More when we know it, faithful readers.
Posted by: Sarah at 03:04 AM | Comments (18) | Add Comment
Post contains 1083 words, total size 6 kb.
November 08, 2006
MOVING
Please go read
this comment from Chuck Ziegenfuss
. He was the inspiration behind Project Valour-IT, which provides voice-activated laptops to wounded troops. The comment he posted was remarkable for its insight into how he deals with his wounds. And then
donate to Valour-IT
if you're so moved.
Posted by: Sarah at 02:42 PM | No Comments | Add Comment
Post contains 49 words, total size 1 kb.
MEMORIAL
There's a monument up in Iraq to honor the fallen soldiers from my husband's old brigade. Just take a moment to
look at the pictures
and absorb this statement: "This is a very special place on Forward Operating Base Warhorse. No one is allowed to walk on the grass and the grass is watered daily." There are names on there of men I never met but think of all the time: Ludlam, Rosales, Kondor, Kenny, Prewitt, Sims, and Becker.
Posted by: Sarah at 04:12 AM | No Comments | Add Comment
Post contains 81 words, total size 1 kb.
71kb generated in CPU 0.0145, elapsed 0.1771 seconds.
49 queries taking 0.1666 seconds, 201 records returned.
Powered by Minx 1.1.6c-pink.