October 29, 2009
I'M TIRED OF THE GOOD WAR
My dithering is worse than Pres Obama's. I don't know what the solution is. I want to do this until my husband comes home.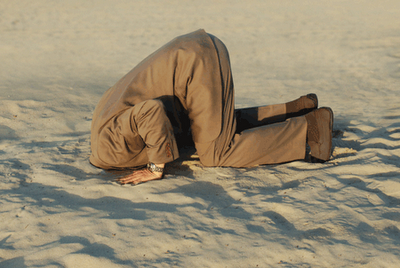 I am frustrated on so many
levels
.
A senior military officer said the developing strategy adopted General McChrystal's central tenet. "We are no longer thinking about just destroying the enemy in a conventional way," the officer said. "We must remove the main pressure that civilians live under, which is the constant intimidation and corruption and direct threat from the insurgency."

Am I missing something here? I thought we needed this new strategy because only it would deny safe haven to al-Qaeda. Now, we are evidently going to do counterinsurgency despite conceding at the outset that it won't really work because the Taliban is "an indigenous force" (translation: It has too much support among its fellow Afghan Muslims); under "Biden for the country," we are going to cede the vast countryside to the Taliban, which will then be free to give al-Qaeda the safe-haven it was purportedly our objective to prevent (and you know that's what we're doing because a "senior administration official" felt it necessary to tell the
Times
, "We are not talking about surrendering the rest of the country to the Taliban"); and under McChrystal for the city, while we don't go after the Taliban because "we are no longer thinking about just destroying the enemy in a conventional way," we're going to focus on solving the real challenge to U.S. national security . . .
Afghan corruption
.
Ay-yay-yay.
Indeed.
And I still feel like
Ralph Peters
:
Iraq made sense to me. The stakes there were (and are) enormous. But Afghanistan's a strategic vacuum that sucks in resources and lives to no sensible purpose.

And yet leaving is an even bigger problem.
I get sick thinking about it.
Posted by: Sarah at 08:13 AM | Comments (3) | Add Comment
Post contains 309 words, total size 2 kb.
October 20, 2009
I'VE GOT 99 PROBLEMS
New Facebook status:
Sarah just calculated that her husband has been deployed for 99 days. It's a good number for bottles of beer on the wall, but not so good for number of days being apart...

My mind is also apparently starting to
play tricks on me
.
I am ready to be done now, pls k thx.
Also, he is
being a total John Adams
and hasn't sent me one single letter. "But we don't have outgoing mail out here" blah blah blah, like I believe that.
I'm tired of being in stores and seeing something I could give him for Christmas, and then putting it back because I realize that he won't be here for Christmas...
I'm tired of seeing myself in the mirror at night before bed and noticing how absolutely remarkable and amazing I look with my big, bare belly, and knowing he will never get to see it. I am not trying to be lewd, but I think the hardest thing about the pregnancy so far is that my husband doesn't get to see what I look like with no clothes on. The changes are pretty phenomenal, and I don't have anyone to share it with.
I just miss him.
I know, I know, "gold to aery thinness beat" and all, like I always
say
. But I'm feeling dull and sublunary today.
Posted by: Sarah at 08:11 AM | Comments (8) | Add Comment
Post contains 230 words, total size 2 kb.
October 13, 2009
A NEW SPOUSEBUZZ POST
Last week I got to explain to my relatives how important it is for us to keep
living our lives
while our husbands are deployed.
Posted by: Sarah at 08:38 AM | Comments (1) | Add Comment
Post contains 29 words, total size 1 kb.
51kb generated in CPU 0.0142, elapsed 0.1961 seconds.
49 queries taking 0.1868 seconds, 178 records returned.
Powered by Minx 1.1.6c-pink.