October 31, 2006
HOW DO YOU SAY "ELITIST" IN CAMBODIAN?
Since my husband is the smartest man I know (go on, Erin, tell 'em what a genius he is), I have been seething today about what John Kerry said. I kept trying to think of something ba-zing to pimpslap him with, but other than a list of all the soldiers I know and how smart they are, I wasn't coming up with anything. Turns out I don't need to, because others have done the job for me. Head over to
Michelle Malkin's
to watch Kerry look like an elitist douche and then read all the hatemail that's pouring in.
And what Kerry said -- "You know, education, if you make the most of it, if you study hard and you do your homework, and you make an effort to be smart, uh, you, you can do well. If you don't, you get stuck in Iraq." -- ain't exactly the most eloquent sentence I've ever heard. Good thing he spent top-dollar on that prissy degree of his.
Posted by: Sarah at 07:22 AM | Comments (15) | Add Comment
Post contains 180 words, total size 1 kb.
October 30, 2006
VIDEO
Watch this video on the
good news from Iraq
. It reminds me of why we could still use Tim behind a keyboard.
Posted by: Sarah at 04:05 AM | No Comments | Add Comment
Post contains 24 words, total size 1 kb.
October 26, 2006
LUMPED TOGETHER
I just heard about these Active Duty servicemembers who are speaking out against the war. Whatever, that's their business. But I do take issue with one thing the ringleader, SGT Liam Madden,
says
:
The goal is to have 2,000 names on the Appeal for Redress list when the messages are delivered to members of Congress in January.

"I think that's easily attainable," he said. "There's a seed of dissent in the military against this policy, and a core of people who are acting."

He doesn't believe many military personnel are politically opposed to the war, he said. But, he said, he believes a continuing cycle of redeployment has worn the patience of the troops.

"As far as widespread disapproval of the occupation of Iraq, I know no one likes being deployed over and over again and being away from their families for months at a time," Madden said.

Because of that, "I'm pretty sure there's a base of support" for the appeal to Congress, he said.
I'm not sure I really like the idea that he plans to get more signatures just because people don't want to deploy. If someone honestly thinks that we shouldn't be in Iraq, then he should sign this petition. But someone who just doesn't want to do his job (i.e. deploy where the military says to) shouldn't be lumped in the same category. Most soldiers and marines are growing weary from on-a-year-off-a-year, but they aren't the same as those who are anti-war.
One thing I found humorous was the quote from Madden's mother:
The clashing philosophies expressed by antiwar activists and the administration on Wednesday may ring familiar for Madden, who found himself in friendly debates with his mother, a supporter of using force against tyranny.

"We were direct opposites for a long time," said Oona Madden, a former restaurant owner in Bellows Falls. "I did support the war and still do to some extent. I don't buy into everything Liam tells me, but I support what he's doing -- as long as he covers his butt."
It's not too often you find an anti-war marine with a pro-war mama!
Posted by: Sarah at 01:03 PM | Comments (1) | Add Comment
Post contains 359 words, total size 2 kb.
BAD TIMING
Darned Cardinals and their darned seven-game NLCS series and their darned rain delays. Now I've got a major dilemma on my hands.
This weekend I'll be at the SpouseBUZZ conference at Fort Hood. I'm very excited about participating in this panel, and I know it will be fun to meet fellow bloggers and hear their stories. But I also know that half my mind will be focused on the darned World Series.
Of course, that's not as bad as my friend from college, who had a wedding to attend last Saturday. She spent most of the reception with her face pressed against the reception hall window, trying to see the TV in the bar across the street! She says it should be illegal for people to get married during the World Series or March Madness.
I'd love for the Cardinals to just go ahead and win the thing, but I can't stand the thought of them winning the World Series while I'm 1000 miles away from my favorite Cards fan.
Anyway, if you're in the Fort Hood area and would like to say hi, I'll be at the SpouseBUZZ conference on Saturday. Should be a fun time. And let's pray for torrents of rain so the rest of the series gets postponed until next week.
Posted by: Sarah at 04:50 AM | Comments (2) | Add Comment
Post contains 219 words, total size 1 kb.
October 23, 2006
SAD
I wrote
before
about how much I love the stained glass window in the chapel on our old post. Now, according to my old neighbor, they're getting rid of it and designing a new one. I hope they keep the old one intact and put it somewhere else. For whatever reason, that window touches my heart in a way I can't describe.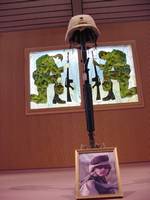 Posted by: Sarah at 06:22 AM | Comments (7) | Add Comment
Post contains 64 words, total size 1 kb.
October 22, 2006
October 15, 2006
ONLY IN AN ARMY FAMILY
I've got a story that might freak you out -- it's certainly a bit more intense than what you'll find in "Humor in Uniform" -- but someone somewhere out there will understand this story and think it's funny.
I ordered some photos online from our digital camera before I realized I forgot to order one that I wanted. I decided to take the one photo to Walmart with me and just print it off of that Kodak machine. So I grabbed my husband's thumb drive and saved the photo. Piece of cake, right? Well, those photo machines work by searching the thumb drive for all photo files. So there I am at the store and the Kodak machine is asking me which photo I want. It's afternoon on a Sunday, so the Walmart is swarming with people, and I'm about to have a heart attack.
Because, you see, I had saved it to my husband's thumb drive from Iraq.
So there I was in Walmart, on the very big, very public Kodak machine, frantically scrolling through photos of dead insurgents trying to find the stinkin' picture of our dog.
Could've died of embarrassment.

[Disclaimer: Before anyone gets too freaked out by this story, I must point out that these weren't "trophy photos." One of my husband's tasks in Iraq was to document anything that happened to his platoon while they were out on patrol. He had to take these photos back to battalion so they could cross-reference them against high-value targets and known troublemakers.]
Posted by: Sarah at 03:35 PM | Comments (13) | Add Comment
Post contains 203 words, total size 1 kb.
October 09, 2006
JARHEAD
We haven't seen the movie
Jarhead
in our household, but we do gleefully work the phrase "I hear their bombs and I'm afraid" into conversation as often as we can. I've had zero interest in seeing the movie, until I read
this review at Cold Fury
. If you've already seen the movie, definitely go over and read both the review and the comments.
Oh, and how ridiculous was it when I saw a soldier on Law and Order call another soldier a "jarhead"? Sheesh, google could've helped them avoid that bonehead script gaff.
Posted by: Sarah at 03:15 AM | Comments (2) | Add Comment
Post contains 95 words, total size 1 kb.
77kb generated in CPU 0.0182, elapsed 0.0935 seconds.
53 queries taking 0.0821 seconds, 221 records returned.
Powered by Minx 1.1.6c-pink.