November 30, 2005
DEBUNK
The other day I lost my temper with people who look down their noses at those in the military. Therefore, information on this study caught my attention on the news this morning.
Debunking the myth of the underprivileged soldier

...
According to a comprehensive study of all enlistees for the years 1998-99 and 2003 that The Heritage Foundation just released, the typical recruit in the all-volunteer force is wealthier, more educated and more rural than the average 18- to 24-year-old citizen is. Indeed, for every two recruits coming from the poorest neighborhoods, there are three recruits coming from the richest neighborhoods.
...
In fact, since the 9/11 attacks, more volunteers have emerged from the middle and upper classes and fewer from the lowest-income groups. In 1999, both the highest fifth of the nation in income and the lowest fifth were slightly underrepresented among military volunteers. Since 2001, enlistments have increased in the top two-fifths of income levels but have decreased among the lowest fifth.

Allegations that recruiters are disproportionately targeting blacks also don't hold water. First, whites make up 77.4% of the nation's population and 75.8% of its military volunteers, according to our analysis of Department of Defense data.

Second, we explored the 100 three-digit ZIP code areas with the highest concentration of blacks, which range from 24.1% black up to 68.6%. These areas, which account for 14.6% of the adult population, produced 16.6% of recruits in 1999 and only 14.1% in 2003.
The full reports can be read here:
Is Iraq a Poor Man's War?
Who Bears the Burden? Demographic Characteristics of U.S. Military Recruits Before and After 9/11
And for the guy who doesn't think anyone joins these days "for flag and country", what do you make of this?
After September 11, 2001, the educational quality of recruits rose slightly. Comparing 1999 enlisted recruits to 2003 recruits showed an increase in col­legiate experience. In 2003, a higher proportion of recruits had college experience and diplomas, and a lower percentage had only a high school diploma— a shift of about 3 percentage points.
That statistic would include close-to-my-heart recruit Tyler Prewitt, who left the baseball team at Phoenix College to enlist after September 11th and died in OIF II.
For flag and country.
Posted by: Sarah at 05:59 AM | Comments (7) | Add Comment
Post contains 376 words, total size 3 kb.
November 19, 2005
FED UP TOO
An excerpt from Cold Fury's
sweet rant
on the disheartening damage President Clinton just did (a great post, by the way: read the whole thing):
The Marines and Army are involved in a couple slam bang fights as we speak, reducing a couple large pockets of Al Qaida fighters that have festered for a long time without intervention. Yet day after day, we hear nothing about where the fighting is going on, what's really happening, who is being apprehended or killed, why the fight is in a particular place, what the strategic significance is, or how our young men and women are making us proud with their dedication to the mission and the country and their workaday, exceptional-is-the-new-ordinary heroism. Instead the only headline I ever see is "two Americans killed." Or "five Americans killed." Or "seven Americans injured in bombing." Really? The only impression I get from the MSM is that the U.S. troops are basically lined up like metal ducks in a shooting gallery, being picked off one at a time without actually doing anything positive, not carrying out missions, whatever. I guess they are just wandering around in the 'Raq, wearing do rags, listening to the Stones, smokin' dope and waiting for their hitch to end.
It's such a Woman Thing to ask your husband "What are you thinking?" when he's quiet. (I know, I know, I've listened to Seinfeld, but it's hard not to ask.) More often than not these days, my husband's response is "Iraq". He's thinking about Iraq. Constantly. What he was doing this day last year, what he could've done better, how they could've f-ed up the bad guys a little more in this situation or that, and what he'll do differently the next time he goes. He thinks about it all the time -- about how he can be a more effective soldier, not how poor and miserable he was.
And at no point was he just walking around waiting to get killed or go home.
My husband takes his job seriously, and he took it extra-seriously while he was in Iraq. He put a couple of soldiers in jail for disobeying the rules, for pete's sake. He didn't sit around reading existentialist garbage and thinking about how, like, life has no meaning and war is not the answer. He's not a puppet, he's not a sitting duck, and he's not a mindless automaton under the control of the Bushitler Oil Junta. He's a man who helped the US Military take one more step towards winning the War on Terror.
So maybe, just once, he and the other brave men and women like him could get some good press for a change. Or some indication to the American public that they're winning this war. Is that too much to freaking ask?
Posted by: Sarah at 12:15 PM | Comments (2) | Add Comment
Post contains 474 words, total size 3 kb.
November 13, 2005
13 NOV 2004
The events that happened
one year ago today
have changed my life. I know it sounds ridiculous and crass to say that, since it was my friend who lost her husband and not I, but I have never been the same. And though I didn't lose someone I love, I watched someone I love lose her husband, and I've watched her learning to live all over again for the past year.
I'm horrified that the reason we've become friends is because she lost her husband. I hate that this is so. I hate that I feel pressured to find more to talk about with her than just Fallujah and Cindy Sheehan. I hope we'll get there someday, because I've really grown to like her. I just hate the way we became friends.
Thursday night, Red6 came over for dinner. We had a little moment of silence remembering CSM Faulkenburg, which started a discussion of Fallujah. My husband was originally supposed to go instead of Red6. My husband had orders in hand for 24 hours, but then the Powers That Be decided two trips to Najaf was enough for one company, and they sent Red6 instead. If you've read Red6's blog, you know they made a good choice, and that's how my husband ended up on R&R instead of in Fallujah.
Our lives hang by a thread.
What my friendship with Heidi has taught me is to never take my husband for granted. We hug each other a little more often. We end our bickering a little more quickly. And we talk about death a lot more frequently. We've learned to dismiss any and all "hardships" that come our way, because it could always be a lot worse. I've learned to cherish life, more than I ever did before. I hate that it took a good man's death to teach me such a lesson, but I'm grateful for the lesson nonetheless.
I tell everyone over and over again how humbled I am to be Heidi's friend. She was the first person I thought of when I woke up today, and I can't even begin to tell her how sorry I am.
She has worried about how history will regard her husband's sacrifice: will it have been worth his life? I think history will show that her husband gave his life to preserve freedom and that it was indeed worth it. And I hope for the same future that Bill Whittle does:
Despite all the switches in the rail yard, there is a flow and a direction to history that cannot and will not be denied.

It is the slow, uneven, grasping climb toward freedom. There are markers on Little Round Top, on the beaches at Normandy, and in the sands of Nasiriyah that show us where men have fought and laid down their lives, and willingly left their wives without husbands and their children without fathers, all for this idea. It is an idea bigger than they are, bigger than self-centered movie stars, bigger than cynical and bitter journalists, bigger than Presidents and Dictators, bigger, in fact, than all human failure and miscalculation.

It is the idea that people – all people – deserve to live their lives in freedom. Free from fear. Free from want. Free from despair and hatred.

My country has, again, taken up that banner, and the behavior of our young men and women under unimaginable stress and provocation has filled me with fierce and unremitting pride. We fight, nearly alone, alongside old and true friends, British and Australian, themselves decent and honorable people, long champions of freedom who have their own Waterloos and Gallipolis and cemeteries marked with fields of red poppies, rolls of sacrifice and honor that should fill all American hearts with pride. For friends like this are worth having, and I will always prefer the company of one or two solid, dependable friends over legions of fashionable and trendy and unreliable ones.

And someday, centuries from now, in the world we all hope for but which only a few will fight for, all of this death and destruction will be gone. All that will be left will be small markers in green fields that were once deserts, places where Iraqi families may walk someday with the same taken-for-granted sense of happiness and security I had in Pennsylvania and Virginia.

And perhaps they will read the strange-sounding names, and try to imagine a time when it was all in doubt.
Heidi can hold her head high, knowing that someday Iraqi children will read this name and be grateful. I am grateful already.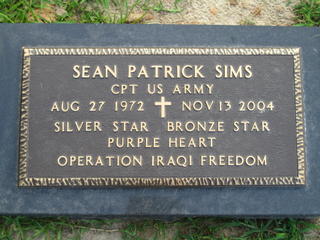 Posted by: Sarah at 06:09 AM | Comments (10) | Add Comment
Post contains 774 words, total size 5 kb.
November 11, 2005
THE VETERANS IN MY FAMILY
This post is a tribute to the veterans in my family. I'm proud that I've got four generations of heroes here.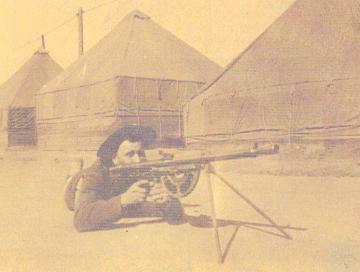 my great-great uncle on my paternal grandfather's side, in the Army in WWI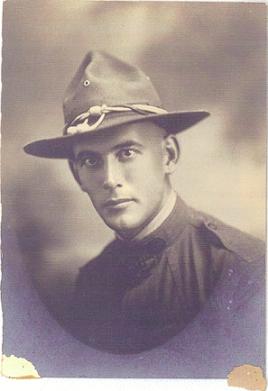 my great-great uncle on my paternal grandmother's side, in the Army in WWI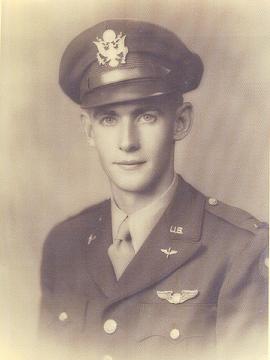 my paternal grandfather, in the Army Air Corps in WWII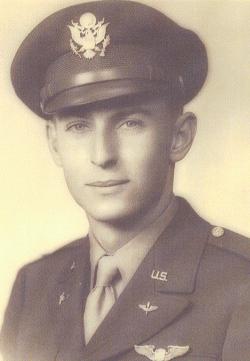 my great uncle, my grandfather's brother, also in the Army Air Corps in WWII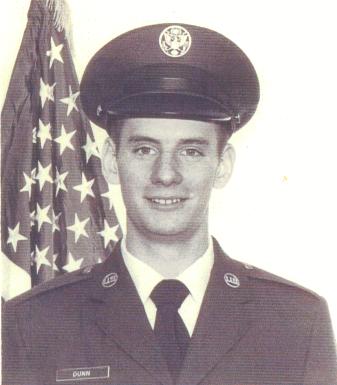 my father's brother, in the Air Force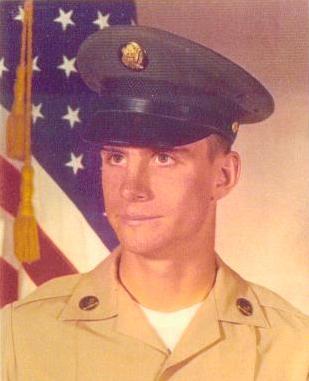 another of my father's brothers, in the Army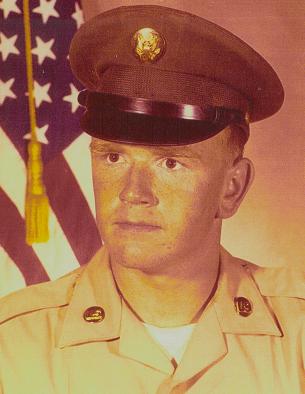 my father-in-law, in the Army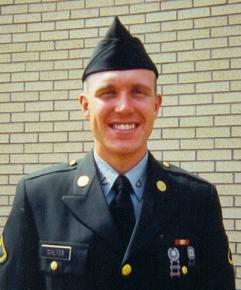 my husband's brother, in 1ID during OIF II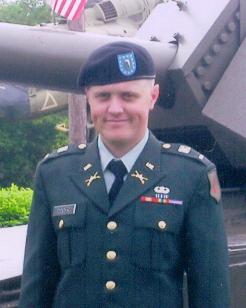 and the husband, in 1ID during OIF II
Posted by: Sarah at 06:15 AM | Comments (5) | Add Comment
Post contains 117 words, total size 2 kb.
THANK YOU
Two years ago
, I thanked veterans I did not know.
Last year
everyone I knew became a veteran. This year it just seems a little hollow for me to keep repeating how proud I am of all of the brave men and women who do the fighting for me.
So this year I'll let the Kurds thank you for me. Their words carry much more weight than mine do.
(Thanks for the video link go to Tim, one half of a pair of great veterans.)
Posted by: Sarah at 05:25 AM | Comments (1) | Add Comment
Post contains 89 words, total size 1 kb.
November 10, 2005
OOPS
The worst part about a promotion is forgetting the little things. This morning my husband woke me up at 0530: "Can you please sew rank on my kevlar cover?"
Posted by: Sarah at 03:08 AM | Comments (1) | Add Comment
Post contains 31 words, total size 1 kb.
November 03, 2005
CALLING ALL MOMS
Well, I wrote a letter to
SGT Eddie Ryan
. But I'm the only person I know who doesn't have any kids who can draw a picture for him. Maybe your kids wouldn't mind putting something in the mail for this brave marine? (Or maybe Angie could get Fred to do one of his famous
fridge drawings
...heh.)
Posted by: Sarah at 05:34 AM | Comments (3) | Add Comment
Post contains 62 words, total size 1 kb.
November 01, 2005
CONGRATS, HUSBAND

Posted by: Sarah at 05:31 AM | Comments (17) | Add Comment
Post contains 4 words, total size 1 kb.
88kb generated in CPU 0.0189, elapsed 0.1471 seconds.
54 queries taking 0.1344 seconds, 222 records returned.
Powered by Minx 1.1.6c-pink.