May 07, 2008
A DEPLOYMENT DAY LIKE NO OTHER
My plans for this week were perfect until my husband's deployment kept getting moved forward. Once that happened, I had to make a very unusual and difficult choice: Do you accept an invitation to the White House on the day your husband is supposed to deploy? Any other invitation in the world, you obviously turn down. But the White House? That's big. That gives you pause.
I asked around, and the general consensus was that other wives would not go to the White House. But I still had to decide for myself. I had a talk with my husband about my choice, and what he said blew my mind. He said, "The White House is the White House, and obviously that's a big deal. But what I think is really important is that you go spend time with your friends, people who love you. You don't have anyone here in town to take care of you while I'm gone, and when else are you going to get the chance to be with your good friends? If they're coming in from all over the country, then you need to go be with people who care about you."
And he was right.
It was so exciting to be able to take this photo on Tuesday: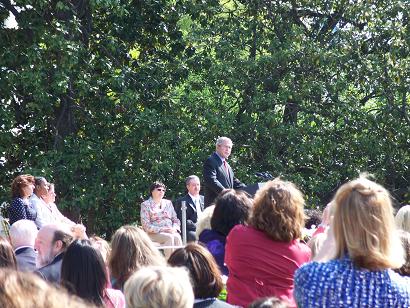 But it honestly means so much more to me to have taken this one: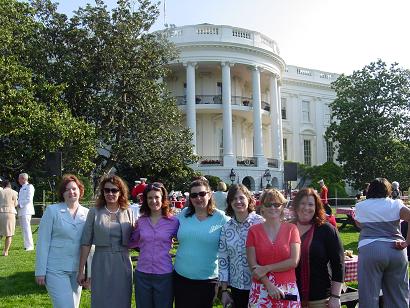 I spent the day surrounded by people who lift my spirits, who make me happy, and who grok what I am going through. They cracked me up and helped me forget my sorrow. And they reminded me of how lucky I am to have them in my life.
My husband was right: I really did need this.
I raced home right after the event and had six hours to spend with my husband before I dropped him off at his unit headquarters to deploy. And we felt good, no tears at all. Just a supplication for me to have "Spartan courage" and for him to "come back with his shield or on it." A quick kiss goodbye, and that was that.
And so the deployment begins.
Posted by: Sarah at 11:12 AM | Comments (9) | Add Comment
Post contains 365 words, total size 2 kb.
Posted by: Mare at May 07, 2008 12:03 PM (EI19G)
Posted by: Sarah at May 07, 2008 01:15 PM (TWet1)
Posted by: Heidi at May 07, 2008 03:50 PM (ShL/Y)
Posted by: Tim Fitzgerald at May 07, 2008 04:11 PM (Nki/C)
Posted by: Vyoergirl at May 07, 2008 04:43 PM (qe77L)
Posted by: jennifer at May 07, 2008 06:57 PM (mlZxF)
Posted by: Guard Wife at May 08, 2008 03:46 AM (BslEQ)
Posted by: Tonya at May 08, 2008 10:09 AM (KV0YP)
Posted by: Lisa in DC at May 10, 2008 01:22 PM (d6nc5)
Comments are disabled. Post is locked.
45kb generated in CPU 0.012, elapsed 0.0879 seconds.
48 queries taking 0.0802 seconds, 173 records returned.
Powered by Minx 1.1.6c-pink.