February 13, 2007
THE JACKPOT
If you're the praying type, send one up for me today. I'm gonna need it when my husband gets home...
I went to the store intending to buy $3-worth of yarn for teddies. Instead I came home with this.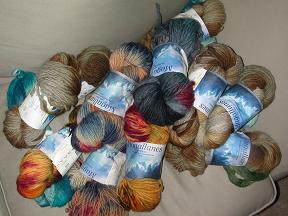 Welcome to Divorceville, population: me.
LATER THAT EVENING:
Still married. In fact, he didn't seem that fazed. And I don't have anything specific in mind to make with it; I just bought all the store had because it was 50% off. Ideas will come...bags can be felted...the yarn will find its purpose.
Posted by: Sarah at 09:41 AM | Comments (5) | Add Comment
Post contains 95 words, total size 1 kb.
1
Ok, now... you have to at least tell us what you intend to make with that gorgeous stash! You've posted some yarn p*rn, and didn't even give the entire story
haha
Posted by: The Girl at February 13, 2007 10:16 AM (kRKY8)
2
I concur, you cannot post yarn p*rn without an explanation of what it's for. In fact your penalty for this transgression is that we get your stash.
Posted by: Mare at February 13, 2007 11:15 AM (Oc90P)
3
I went to a PEO meeting today and the program was a lady demonstrating her weaving looms, she does beautiful work. When someone asked where she got her beautiful yarn she said what she is working with now she bought about 5 years ago when a local quilt shop went out of business. She said, "I knew I would use it for something, sometime, and it was just too pretty to pass up." Her husband is pretty proud of her and I bet your is too.
Posted by: Ruth H at February 13, 2007 01:52 PM (c54X3)
4
I have no idea how you intend to make a "teddy" out of the yarn, but have fun trying... no wonder DH doesn't mind
Posted by: armywifetoddlermom at February 14, 2007 07:03 AM (n/bd3)
5
If my wife had told me that she had bought all that yarn for 50% off each, I would have said COOL A BARGOON! Then she probably would have asked me to take the bag up to her room! But Hey What I know! Tim C.
Posted by: TIM C at February 15, 2007 06:31 AM (SAiJg)
Comments are disabled. Post is locked.
41kb generated in CPU 0.9, elapsed 1.5631 seconds.
55 queries taking 1.4127 seconds, 152 records returned.
Powered by Minx 1.1.6c-pink.