February 22, 2007
SEW EXCITED
There's been sewing in the house today!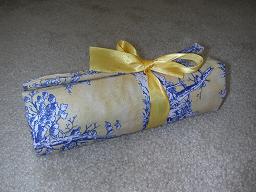 Usually I get sewing ideas and they drag out over years. I never get around to actually doing it. But my double pointed needles really were begging for a home, so I sat down and worked this puppy out. It's not perfect -- I probably should've chosen a color besides yellow, and I should've made it an inch or two wider -- but it will certainly do. Hooray for the opposite of procrastination!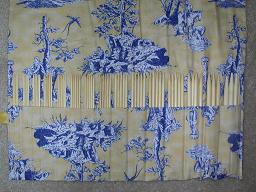 Posted by: Sarah at 06:30 AM | Comments (2) | Add Comment
Post contains 84 words, total size 1 kb.
February 13, 2007
THE JACKPOT
If you're the praying type, send one up for me today. I'm gonna need it when my husband gets home...
I went to the store intending to buy $3-worth of yarn for teddies. Instead I came home with this.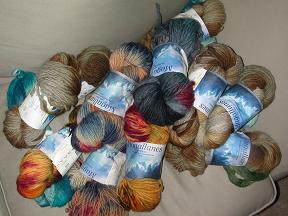 Welcome to Divorceville, population: me.
LATER THAT EVENING:
Still married. In fact, he didn't seem that fazed. And I don't have anything specific in mind to make with it; I just bought all the store had because it was 50% off. Ideas will come...bags can be felted...the yarn will find its purpose.
Posted by: Sarah at 09:41 AM | Comments (5) | Add Comment
Post contains 95 words, total size 1 kb.
43kb generated in CPU 0.0154, elapsed 0.118 seconds.
48 queries taking 0.1072 seconds, 154 records returned.
Powered by Minx 1.1.6c-pink.