July 27, 2006
ALL TEDDIED OUT
OK, I think I'm a little burnt out on teddies for the moment. I suppose that's what happens when you make six of them in two weeks. As you can see, I got more creative as time went on, and I certainly got better at embroidering their faces! The green one is my favorite; it was my first attempt at a fair isle pattern, so I learned a lot about pulling too tight, and also about what happens when you accidentally read the chart backwards for a row. I'll send off my teddies to
Mother Bear Project
soon. And maybe I'll make another den of bears when the urge strikes again!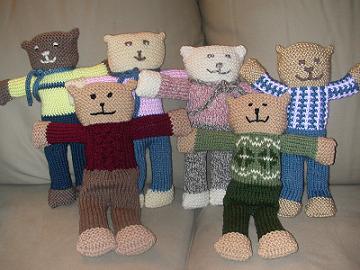 (P.S. The maroon one has a really cool cable pattern that doesn't show up at all in the photo.)
Posted by: Sarah at 03:39 PM | Comments (8) | Add Comment
Post contains 136 words, total size 1 kb.
July 22, 2006
ONE STEP FORWARD, TWO STEPS BACK
The other night I couldn't sleep, so my usual remedy is browsing knit blogs. I happened to find a wonderfully pertinent article on
knitting backwards
; this will certainly come in handy while I'm addicted to making these bears. Now I don't have to flip my work over to purl anymore, which is definitely a timesaver on these tiny rows of ten. Hooray.
But I hit a small knitting snag last night. For dinner we made a fabulous pork tenderloin stuffed with mushrooms, bacon, and onion. For some reason our smoke detector goes off at the drop of a hat, so it started going off as I took the tenderloin out of the oven. I got flustered and, for no good reason whatsoever, decided to grab the meat thermometer and just pull it out with my hand. I was looking right at it, so I was well aware that it said 165 F but, whatever, pulling it out barehanded seemed like a good move. As I instinctively jerked my hand back and started hopping around the kitchen, I looked at my husband and said, "I really have no idea why I just did that." Luckily I didn't burn myself too bad, but the burn is perfectly located where I hold my yarn. I was doing this funky modified knitting move all evening long. It's not as sensitive today, so I can't wait to finish up Teddy #3. Actually, this should be Teddy #4, but #3 only has 3/4 of a head because I ran out of the ball of brown I was using. I've been debating for days whether I should go buy another matching skein of it, since the whole point of these bears is to whittle down these balls that have been sitting here for years, not to buy more!
Posted by: Sarah at 08:23 AM | Comments (7) | Add Comment
Post contains 313 words, total size 2 kb.
July 19, 2006
TEDDY
Teddy #2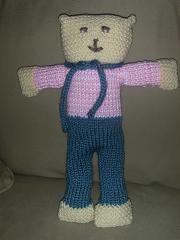 I'm on a roll: I'm already up to the shirtline of Teddy #3!
Posted by: Sarah at 02:33 AM | Comments (1) | Add Comment
Post contains 17 words, total size 1 kb.
July 15, 2006
GIVE-AWAY KNITTING
I had
give-away knitting
on the brain the other day when I saw an episode of
Knitty Gritty
on knitting for charity. They made a cute teddy bear to send to kids in Africa. I have so many apple-sized balls of yarn in this house that I thought this might be a good way to whittle some of that stash down. So I grabbed some yarn and went to work; 36 hours later, I've got a bear to send.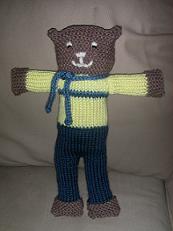 He's not perfect, but hopefully some child will like him. I plan to perfect the technique by making a few more. I'm digging in to the two big baskets of yarn from my living room (Girls, you know what I mean!)
If you're interested in doing this super easy project, the pattern can be found here. (Seriously, I started him yesterday afternoon.) And check out the official Mother Bear Project website, especially the photos of the kids receiving their bears. And then get knitting!
Posted by: Sarah at 05:22 PM | Comments (2) | Add Comment
Post contains 167 words, total size 1 kb.
51kb generated in CPU 0.0153, elapsed 0.0794 seconds.
50 queries taking 0.0694 seconds, 169 records returned.
Powered by Minx 1.1.6c-pink.