November 21, 2008
UNFINISHED PROJECTS
MaryIndiana requested a post on unfinished knitting projects. Some people won't start a new project until the old one is finished; others constantly start projects and move on to something more exciting before it's finished. I believe I fall somewhere in the middle of the spectrum.
I have knitting ADD. I wasn't always that way; I used to only do one project at a time. But in the past few years, I have needed variety. So I always have a few things going at once. I only have a couple of truly unfinished projects. I started a sweater two years ago that I know will be to small for me. I hate to rip out the entire back of the thing, but I know I can't continue it, so it has sat for two years. I also started another stuffed animal back when I was teaching knitting classes, but with no baby to get excited about, that project petered out too. I started myself a DNA scarf that is about a third finished, and I started a double knitting scarf for my mother that takes more concentration than I would like and has sat there all year. Yeah, it was supposed to be her Christmas present. And I started an Aran sweater that takes even more concentration than mom's scarf: I tried to do a row while watching TV, and I spent 45 minutes knitting and then unknitting the row. Can't talk or watch TV during that project.
OK, that probably sounds like a lot. But by knitter standards, that's not so much. I will finish the scarves and the Aran eventually. Probably the stuffed animal too. One day I will get brave enough to rip out that sweater and start it over.
But I say with pride that I do not have any mate-less socks in this house.
Posted by: Sarah at 04:33 AM | No Comments | Add Comment
Post contains 313 words, total size 2 kb.
November 19, 2008
PRIMAVERA IN WINTER
I finished my first
Primavera sock
on the plane out to Seattle and started the second.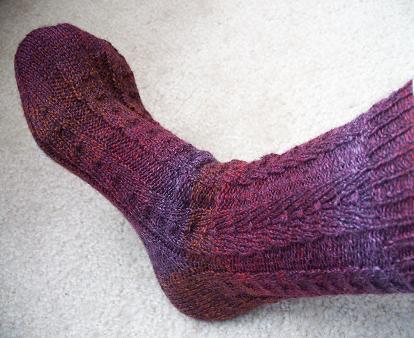 I am fantastically happy with this project, but the second sock will be put on hold for a while while I start a very fulfilling project to fill a need. Cryptic, I know. But I can't wait to write about it later.
Posted by: Sarah at 08:29 AM | Comments (9) | Add Comment
Post contains 64 words, total size 1 kb.
November 09, 2008
November 08, 2008
CRAFTING UPDATE
I haven't put any crafting up in a while because, well, I haven't made anything blogworthy. I have spent most of my time crocheting wheelchair afghans for the VA hospital. But, what the hey, I thought I'd put a photo up.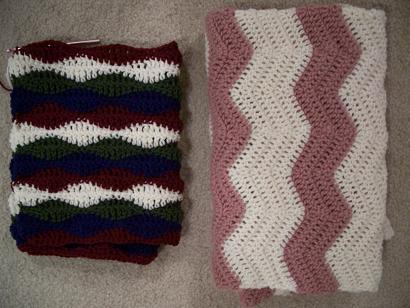 I also have been working on a Primavera sock since I left for San Antonio. It will travel with me to Seattle this coming weekend for the next SpouseBUZZ live. (Which totally snuck up on me. Yesterday AWTM said, "See you next weekend," and I had no idea what she was talking about.)
Tomorrow I am hosting a Yarn Event at our Michaels, where we make blocks for Warm Up America. I have made several blocks in the past few weeks. Hopefully we'll have good turnout.
Posted by: Sarah at 12:45 PM | Comments (3) | Add Comment
Post contains 131 words, total size 1 kb.
51kb generated in CPU 0.0295, elapsed 0.1212 seconds.
49 queries taking 0.1001 seconds, 164 records returned.
Powered by Minx 1.1.6c-pink.