June 28, 2006
COOL
Last night I started working on my first double knitting project. That's where you knit a double-sided piece, working the front and back at the same time so it's reversible. It's a bit of a challenge to get started, but it's a whole lot of fun once you get going. I just grabbed two shades of green to make a scarf for the practice, so here's the front and back; you can see how the colors are reversed but there's no right/wrong side. Cool, huh?

If you're interested in watching this process, a video is available at the awesome site KnittingHelp.com!
Posted by: Sarah at 05:06 AM | Comments (1) | Add Comment
Post contains 103 words, total size 1 kb.
June 19, 2006
GRITTY
My friend Vonn alerted me to a knitting show many months ago, so when I got to the US, I looked it up. I've been happily watching
Knitty Gritty
since, and even though a lot of the shows are pretty basic for me, I find I've learned a lot. In fact, yesterday I learned that I yarn over incorrectly, and today I learned a much better way to pick up stitches from the heel gusset of a sock. The show is great because I can actually
see
someone knitting, a bonus for me since I learned to knit via the telephone! I only ever had two knitting lessons with my teacher, so everything else I've learned from a book or made up as I went along. I think
Knitty Gritty
is a great tool for beginner knitters...too bad that all my students are still stuck in Germany!
I also think it's hilarious that my mother-in-law watches the show. We found it last month at her house and she watched all the episodes with me, but she keeps watching it! And she doesn't knit! If she keeps watching the show, she's gonna learn how to knit whether she likes it or not.
By the way, my mom wanted to see my latest scarf: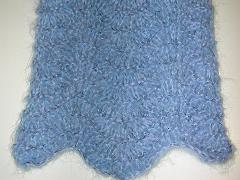 The details don't show up very well online, but it's dainty and pretty.
Posted by: Sarah at 08:14 AM | Comments (4) | Add Comment
Post contains 227 words, total size 1 kb.
42kb generated in CPU 0.0168, elapsed 0.133 seconds.
48 queries taking 0.123 seconds, 152 records returned.
Powered by Minx 1.1.6c-pink.