January 25, 2008
T FOR 'TIME TO LEAVE THE WOMB'
Erin should change her blog name to Erin Raves About Sarah...and I'll change mine to Trying To Be Humble And Not Link Every Time Erin Raves About Sarah.
But she got her baby gifts...
Incidentally, I was thinking about Tucker while I was knitting. But that's a lot of knitting, and I was definitely also spending some time thinking about the episode of South Park where they burn a cross on Will Smith's yard but say that they're burning the letter T. I kept repeating the line as I knit -- "T, for 'time to leave'" -- until my husband was about to go batty from hearing the same lame joke for two weeks.
Also I was thinking about what a bonehead I am for making a burnt orange blanket with an f-ing T on it to send to a family stationed in Texas. Of all the dumb moves. I was 2/3 through the blanket before I realized that everyone is going to think they're University of Texas alums.
And yes, my sewing machine tried to murder me.
Round three of Erin's presents will be on the way shortly, hopefully before the baby is born. One more week!
Posted by: Sarah at 04:04 AM | Comments (1) | Add Comment
Post contains 212 words, total size 1 kb.
HAND-CRAFTED AWESOME
I am mostly finished with this round of baby knitting, so I have thrown myself into crocheting squares for
Hand-Crafted Comfort
. Some of the ladies from my preemie knitting group donated yarn to me, and it all seemed to be red and blue. I threw some white in, and voilà: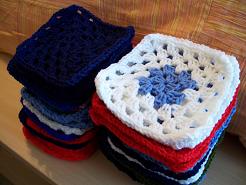 I made 35 of these new patriotic squares. Coupled with the 16 for my autumn-themed blanket, that means I'll ship at least 51 squares to Heather soon.
Hey, 51.
But Heather's in the process of moving -- her hubs is returning from Iraq soon! -- so who knows how many I'll have by the time she gets an address. I still have a lot of that red and blue left, and I love the freeing feeling I get when I'm using up extra yarn that's been sitting around for a decade.
(Yes, I have yarn that's been sitting around for a decade. If by "sitting around" you mean PCSing with us five times and being dragged across the Atlantic.)
Posted by: Sarah at 03:43 AM | No Comments | Add Comment
Post contains 173 words, total size 1 kb.
January 07, 2008
UPDATES
Butterfly Wife
updated
that she sent out her 696th card to wounded soldiers at Landstuhl. Not too shabby. So I thought I'd give a little update.
To break the monotony of baby knitting, I have thrown in a square or two.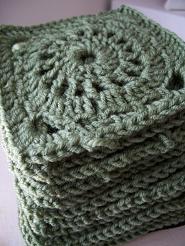 These 12 will be sent off to Heather for Hand-Crafted Comfort, her organization that assembles afghans for the wounded at Walter Reed. I haven't kept track of how many I've made total, but I am keeping track of certain colors because I am trying to make enough to provide an entire afghan. I've made 35 so far towards my own blanket. And isn't this just the greatest way to make a project: I do the fun stuff and then mail everything to Heather so she can assemble them, sew them together, weave in ends, and cut tails? Awesome. Why can't all my projects be like that?
And someone else mentioned the other day that we haven't had a pupdate in a while.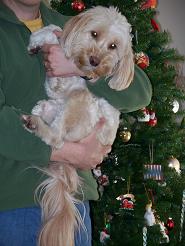 This morning, Charlie had an upset stomach. Apparently he decided the best thing to do was to go all the way downstairs, crawl under the Christmas tree, barf, and then lay down in it. Our dog's a genius.
Posted by: Sarah at 04:00 AM | Comments (7) | Add Comment
Post contains 203 words, total size 2 kb.
January 05, 2008
HOORAY
The SpouseBUZZ
knit-along
is complete!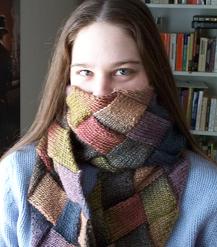 Posted by: Sarah at 05:32 AM | Comments (5) | Add Comment
Post contains 7 words, total size 1 kb.
January 01, 2008
A KNITTER'S SORROW
Knitting woes are
universal
:
I am convinced that all that jazz about the big Christmas Knitting Deadline and the Will it Fit/Will They Like it Debate fluffs up the project so much in our minds that if, when the recipient finally opens their gift, they have a heart attack and go totally blind from from the joy of it all that our knit-gifting experience will never be exactly what we expect. I mean, really, let's be honest. A heart attack and total blindness--add to that a small amount of some sort of incontinence or maybe a swoon or two would fall just a tiny bit short of what we'd expect, once we add up all those skyscraper dreams, etc. that we graft into all those stitches, bulky or not.
I can so relate. This year the two things I knitted for people in my husband's extended family, they didn't even understand what I had knit them. I had to mail their gifts, and apparently both of them spent a week staring at the items and wondering what they heck they were and why I'd made them.
My husband keeps telling me to stop knitting for non-knitters. But when you're a knitter, you can't go out and buy a pack of onesies for a baby gift; you have to make something for baby. So I have to live up to that expectation while balancing the fact that it takes about 60 straight hours of knitting to make a baby blanket.
So I keep going. I'm 3/5 of the way through little Tucker's gift. And it totally doesn't match the nursery. Sad.
Posted by: Sarah at 07:02 AM | Comments (9) | Add Comment
Post contains 276 words, total size 2 kb.
56kb generated in CPU 0.0165, elapsed 0.1008 seconds.
50 queries taking 0.0901 seconds, 175 records returned.
Powered by Minx 1.1.6c-pink.