July 31, 2008
ARE WE THERE YET?
Well, I put in a seven-hour workday today. I started crocheting on
the wedding afghan
at 9 AM, stopping only for lunch and the occasional email. Seven hours and a ton of blurry TV later, I've completed 25 rows. That's
eight inches
. Man, I kinda figured I'd knock this thing out today, but I still have another four or five inches to go.
That's enough, people. No more weddings or babies for the rest of the year. I can't handle any more of this race-against-the-clock knitting.
Posted by: Sarah at 11:34 AM | Comments (2) | Add Comment
Post contains 94 words, total size 1 kb.
July 29, 2008
NO WRONG WAY
There is no wrong way to knit. The only rule is to not drop a stitch or do something that will cause the knittery (thanks for the term, CaliValleyDude) to unravel. How you hold the sticks, where you hold the yarn, all of this is irrelevant. I rest my needles on my thighs and move the left one around the right; I think the only other people in the world who do that are the people who learned knitting from me. Which is actually quite a few people, I am happy to say.
I've heard stories from people who've gone into highbrow knitting stores and the ladies there want them to change the way they hold everything. That makes me mad. There's no wrong way to do it.
(This post prompted by this post.)
The only wrong way to knit is to take on making two wedding afghans a month before the weddings. And realizing that you now have a week to finish the remaining thirds of both of them.
Posted by: Sarah at 07:34 AM | Comments (2) | Add Comment
Post contains 176 words, total size 1 kb.
July 08, 2008
THE CORNER I'VE KNITTED MYSELF INTO
OK, panic set in last night.
I should be working on that mess of an afghan, but it seems like such a pain in the neck to pick it up, untangle all the baggies, and start doing row after row of single crochets. My hands kept reaching for these instead.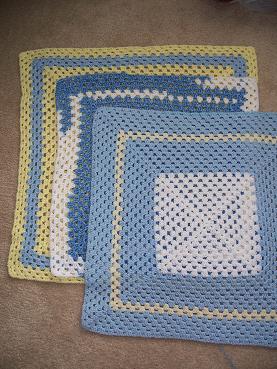 Someone gave me a ton of that Bernat Baby Coordinates yarn, you know the stuff with the shiny string wrapped around it? I personally find it kind of a pain in the neck to work with, so I thought I'd use it all up by making simple granny square blankets to donate. And I really like how they turned out.
I am not one to get attached to my donated projects; I have never looked back after giving away the little caps. (OK, I did get a little wistful that I had already donated the American flag hat and then Sis B goes and has a preemie on July 3rd.) But I am really attached to these little blankets, like I don't want to give them away. I could just keep them around to have on hand when one of my umpteen friends has a baby. But that's not in the spirit of charity. Still, it will take a lot of willpower to drop them off on Wednesday.
Anyway, I've been wrapped up in the ease of just picking them up and going to town that I forgot that I only have less than a month to finish two adult sized afghans! Mercy me. I worked another four inches on the intarsia mess yesterday and today, but I really need to get my behind in gear.
I hid all other projects from myself.
Posted by: Sarah at 09:09 AM | Comments (6) | Add Comment
Post contains 295 words, total size 2 kb.
July 04, 2008
CRUSH'S HAT
Last night I set aside the afghan, plunked myself down to listen to SpouseBUZZ Talk Radio, and grabbed my needles. Normally at this time of the week I would already have several preemie hats sitting around, but this past week I've been straying from my norm and making preemie blankets. So I only had one hat, and not a very cute one at that. I whipped up a hat for little Crush last night.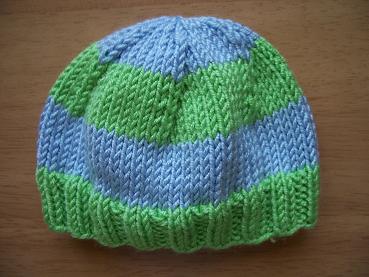 Now I just need to track Sis B down to send it to her; she was traveling away from home when she gave birth! As if deployment three days ago, a custody battle, and a cancer scare weren't enough excitement in her life...she decides she needs to c-section out a preemie in another state. Silly girl.
Posted by: Sarah at 04:35 AM | Comments (2) | Add Comment
Post contains 134 words, total size 1 kb.
July 01, 2008
KNITTING UPDATE
It seems I've got myself a full-time job now. A friend of mine is getting married in August. I had too many babies to knit for up until now, so I am just getting started on
an afghan
(
View image
). I spent the entire afternoon making 2376 single crochet stitches. And this is the first thing I've made in a long time that isn't for someone who reads my site, so I can actually talk about it!
Other projects, not so much.
Posted by: Sarah at 03:16 PM | Comments (3) | Add Comment
Post contains 86 words, total size 1 kb.
53kb generated in CPU 0.0532, elapsed 0.1728 seconds.
51 queries taking 0.145 seconds, 168 records returned.
Powered by Minx 1.1.6c-pink.