March 14, 2006
KNITTING UPDATE
I haven't had any knitting content on the blog lately because everything I was making was a secret. But now the
baby knitting
is over and I'm just trying to pass the time until we move. I can't start anything big, so I've just been working to keep my hands busy. In the past two weeks, I've made two pairs of socks, a scarf, and a cozy for our portable DVD player.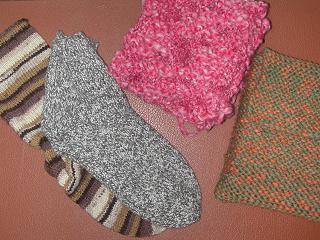 The scarf sprung from a challenge from The Girl. The husband and I went to see King Kong over the weekend, and I knew that I didn't want to sit for three hours without knitting. So I told The Girl I was going to try out my Blind Knitting in the darkness of a movie theater for the first time. I realized that knitting in the dark is a bit different from knitting in the light. Even though I normally watch TV while knitting -- and I can even watch subtitled flicks -- I can still sneak peeks at my work. But there were no peeks in the movie theater. I found it takes more touch to knit in the dark; I had to put my finger on every stitch in order to knit it. And I was only brave enough for garter stitch! The process was much slower, but I think in time I'll get better. Now I just have to decide if I want to take knitting to see Superman Returns or X-Men: The Last Stand. I had trouble concentrating on that scarf when King Kong was fighting three t-rexes, so I'm not sure I'll be able to concentrate at all during two movies that will be the highlight of our summer! But maybe I can perfect my Blind Knitting before Spiderman 3...
Posted by: Sarah at 05:56 AM | Comments (4) | Add Comment
Post contains 301 words, total size 2 kb.
42kb generated in CPU 0.0103, elapsed 0.083 seconds.
47 queries taking 0.0758 seconds, 149 records returned.
Powered by Minx 1.1.6c-pink.