May 25, 2007
DONE
Once I got on a roll crocheting borders on my colored squares, I really got into it. I sewed the squares together as I went, so I could avoid having to do all the sewing at the end. Et voilà. I am really happy with how this project turned out. Charlie agreed to model the blanket, since he did such a good job
last time
. He's so funny the way he averts his eyes any time we hold up the camera. He hates looking directly at it and will rotate his head any which way to avoid it.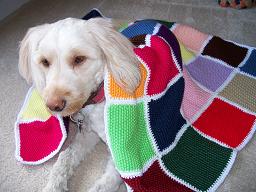 Now if we just had a baby to wrap in the blanket...
Posted by: Sarah at 08:09 AM | Comments (4) | Add Comment
Post contains 112 words, total size 1 kb.
May 22, 2007
KNITTING WOES
The heavy lifting is done.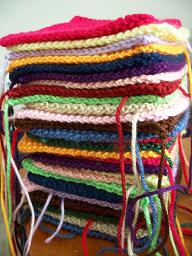 But the perfect method I had concocted for how to put all the squares together ended up looking like absolute crap. I thought I could just crochet the squares together, forming a nice border between each one. I didn't count on it looking like garbage. So we're at a standstill, and I've moved on to another project to calm down a bit.
I think what I will end up doing is crocheting a border around each square and then sewing them together. Not something I am looking forward to doing, but oh well.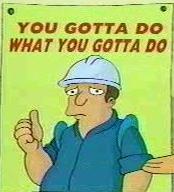 Posted by: Sarah at 05:23 AM | No Comments | Add Comment
Post contains 102 words, total size 1 kb.
41kb generated in CPU 0.0457, elapsed 0.1116 seconds.
47 queries taking 0.0991 seconds, 151 records returned.
Powered by Minx 1.1.6c-pink.