April 29, 2008
THAT'S A PEACH OF A HAT!
I made the
pumpkin version
last fall, so yesterday I tried the peach.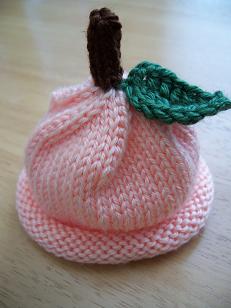 These preemie hats are too darned cute.
And I got some great suggestions on yesterday's post that if I have too much yarn, I can give it away, either to newbie knitters or to a good cause. While both of these ideas are admirable, well, I don't think I'm that big of a person. You see, I will spend hours and hours and hours making stuff that I just give away. I make tons of preemie caps, squares for HCC afghans, and gifts for friends, but handing over an unknittedup ball of yarn to someone else? Ouch.
At one of my knitting classes, a woman didn't buy her own yarn. She brazenly asked me if she could just use mine. I had this crummy, old, ugly ball of faded brown acrylic junk in my hand, and yet I went, "Um...well...er...uh...o...kay," and slowly handed it to her. It was crap yarn! It was ugly and awful. But giving it away? It hurt my heart. I would've gladly made something out of it and handed it to her for free, but I have a severe selfishness problem with giving away unused yarn.
Sis B, I'd rather hand you ten bucks to go pick out your own yarn! And FbL, we too make blankets for the VA hospital here in town; I was just going to start one soon. The problem is, a lot of the yarn I have is not stuff that is good for these projects. I have used up most of my washable acrylics on HCC squares; what I'm left with is fancy wools and sock yarn and a ton of baby yarn to be made into preemie caps. But I'll dig.
Maybe I can convince myself to be a big enough person to give away yarn.
Maybe.
Doubtful.
Posted by: Sarah at 08:27 AM | Comments (8) | Add Comment
Post contains 324 words, total size 2 kb.
April 28, 2008
STASH
Knitters with a big stash will completely grok
this
:
So that's where I am today. At least in my head. Remembering how I felt when I bought this stuff. Remembering what I planned on making with it. Remembering all the emotions I was sure I'd feel when the projects were finished. Beating myself up for never getting around to starting the projects. Beating myself up for not even winding the yarn yet. Beating myself up for beating myself up for all the projects I wanted to make but never got around to.
My friend learned to knit and crochet right when her husband left for Iraq. A year later, she had a serious obsession. She made her husband come over to my house to see my stash so that hers would look small by comparison. Her husband was a bit stunned by my skein collection; my husband just shrugged his shoulders and sighed.
I've been making a conscious effort to use up yarn I already own, but somehow the stash keeps growing. Sometimes is grows slowly, as when I find one lonely ball of mustard yellow on sale for 60 cents that can be used to make HCC squares. Other times it grows in leaps and bounds: one of the ladies in my charity group has been ridding her stash of yarns that bother her arthritic hands, and every two weeks she brings me a new big bag of yarn for me. So even though my stash is growing mostly due to free yarn, it's still starting to overwhelm me.
It takes several hours and about 1.5 oz of yarn to make a preemie cap; thus, bags of yarn every two weeks will take me ages to work through. But somehow I have this stupid mental image that I will use up everything I own someday, and then dust my hands off and go buy more.
Working through my stash is like digging in sand.
Posted by: Sarah at 08:02 AM | Comments (7) | Add Comment
Post contains 327 words, total size 2 kb.
April 23, 2008
MAGKNITS
I finished my
Magknits t-shirt
yesterday, and I am loving it. I already have plans to make another.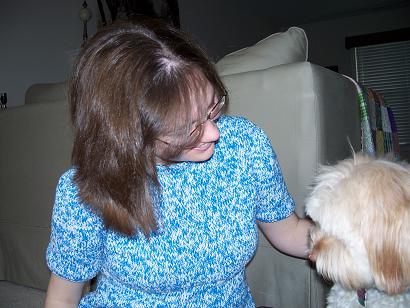 It's not easy to take a photo of yourself with the camera timer and try to get the dog to look cute, your new sweater to look cute, and to not look like you have a bald spot. Two outta three ain't bad, right?
Posted by: Sarah at 04:38 AM | Comments (6) | Add Comment
Post contains 64 words, total size 1 kb.
April 19, 2008
VACATION KNITTING
I knitted two socks last week on vacation.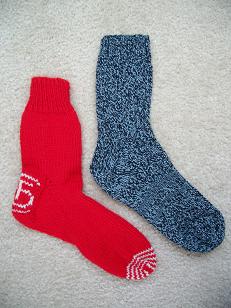 Yeah, I never said they matched.
The red one has the StL Cardinals logo on the heel. The black one is made with that fun Tofutsies yarn made out of crab shells. I just really wanted socks made from seafood.
And I imagine someday I will make the partner for each of these socks. But right now, there's work to do. I thought my baby knitting was winding down. Both my cousins had their babies last week, so that only left one more preg lady to knit for. And then I got two wedding invitiations in the mail. And found out someone else is pregnant.
It never ends.
Also in knitting news, while on vacation I went to the Toy and Miniature Museum. I knew that some of Althea Merback's work was there, so I dragged my husband's family to see tiny knitted gloves. This was the sweater we got to see, but there was so much more. It was The.Best.Museum.Evah. (My husband laughed when I said that; "You've been to the Louvre," he joked.) But some statue with no arms has nothing on a six-inch-tall working printing press. Or tiny working musical instruments and cameras. My in-laws are lucky we showed up two hours before closing because I could've spent all day there. And the whole time, I kept wishing I had the AirForceKids or Sir Rowland there with me; they would've loved it.
Posted by: Sarah at 05:12 AM | Comments (3) | Add Comment
Post contains 247 words, total size 2 kb.
April 17, 2008
LENDING A HAND
I read yesterday at
CG
that a blogger I've never read before,
Dispatches from Blogblivion
, has fallen on hard times. I noticed his wife has an Etsy shop, so I went and bought a cute crochet pattern. If anyone is so inclined to get a crochet pattern in exchange for a little charity, her Etsy shop is
here
. Looks like I will be crocheting little birdies at some point in the future.
Posted by: Sarah at 03:45 AM | No Comments | Add Comment
Post contains 78 words, total size 1 kb.
57kb generated in CPU 0.0148, elapsed 0.0861 seconds.
50 queries taking 0.0763 seconds, 177 records returned.
Powered by Minx 1.1.6c-pink.