December 28, 2007
BUSY AS A...LADY KNITTING FOR TOO MANY BABIES (WAIT, THAT'S NOT CATCHY)
The other night, I couldn't fall asleep because I have too much knitting stress. For pete's sake, Erin's baby gets here in a month and I haven't even started! Not to mention the other babies popping on the scene in early 2008. I have knit myself into a corner and need to get out fast.
So I got out of bed and worked from midnight to 0200 to finish the project I had so selfishly started for myself.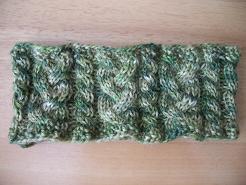 (It's Nakiska from Knitty, unblocked of course because blocking takes time.)
Now that that's out of the way, I'm on a strict baby knitting schedule, five or six hours a day. My husband looked at me today and said, "I think maybe you shouldn't knit so much." He means well, really he does, but I don't know what he was thinking when he said that. He says he only meant that it's a hobby and I shouldn't get so stressed out about an activity that's supposed to be fun and doesn't even bring us any income.
But Erin's baby can't knit for himself.
Back to work.
Posted by: Sarah at 06:59 AM | No Comments | Add Comment
Post contains 208 words, total size 1 kb.
December 23, 2007
1820 STITCHES TO GO
I'm a mere 13 rows away from finishing my huge knitting project so I can gift it. Thank heavens. It was meant to be 30,100 stitches made with love and appreciation, but at this point I just can't wait to put it in the mail.
And then I have to make this spider monkey, which someone is paying me to make.
And then I can concentrate on the other five projects I have sitting on my sofa...
The other day I got this ridiculous idea that I still had time before Christmas to make everyone I know a pair of these little mitten ornaments. Thank heavens I talked myself out of that before I even got started. I still want to make them, but everyone can get them next year.
Posted by: Sarah at 09:19 AM | No Comments | Add Comment
Post contains 138 words, total size 1 kb.
December 21, 2007
PASS ME THE YARN AND NOBODY GETS HURT
OK, someone needs to submit me for that show
Intervention
. I couldn't go 24 hours without knitting. I was sitting there in the recliner all jittery and fidgety, like a crackhead in withdrawal. And I finally lost it and made my husband pass me the dpn's. Ahhh, endorphins.
Thank heavens I never channeled this compulsive behavior into cigarettes or slot machines.
Posted by: Sarah at 04:47 AM | Comments (1) | Add Comment
Post contains 77 words, total size 1 kb.
December 20, 2007
KNITTING ACHES, PART II
So since I'm not knitting, I'm writing about knitting. And thinking about knitting. And scouring the internet for knitting (holy cow, a
Super Mario bag
!)
The Girl
suggested that I take a nice, hot bath to rest my muscles and relax, but when I got there I remembered I hate water, and all I could think about was what I could be knitting.
It seems I'm not the only one with knitting on the brain: AirForceWife has taught herself to knit. Sweet. The husband and I are planning a trip to visit the AirForceFamily in January, so I can't wait to knit together. Hang on, AirForceWife, I'll teach you to knit socks soon!
I made a knitting joke the other day over at AWTM's place. Commenters told me that I should stop forcing my oppressive knitting agenda down AWTM's throat (I'm wildly exaggerating for humor here.) I don't care that AWTM doesn't want to knit; it was just a joke because Emma Peel was knitting. Actually, I have decided I am thrilled that people now have to pay me to learn my hobby. If they're forking over cash, they must really want to learn it. I've taught enough people in my life who didn't end up becoming Knitters™; I like to teach enthusiastic learners.
And AirForceWife seems enthusiastic. Heck, even her husband is enthusiastic about her knitting; after seven years together, I still don't think my husband quite groks my interest in the pointy sticks.
Posted by: Sarah at 09:25 AM | Comments (3) | Add Comment
Post contains 253 words, total size 2 kb.
KNITTING ACHES
I have a knitting project that I have been working on for a seriously long time. It's a big project, and it's a boring project. I have become desperate to get it finished, so desperate that I have been knitting on it for about six hours a day all week long. And I've developed a horrible crick in my neck. I have put myself on the disabled list for a day or so to see if the pain goes away.
So what's a girl to do when she can't knit? Shop for yarn, of course. My husband is gonna kill me...
Speaking of knitting, I read an article yesterday that blew my mind. It was about Althea Merback, a knitter who makes clothes in miniature. Her stuff is incredible. 80 stitches to the inch! Stop and think about that for a second. She uses medical wire for knitting needles. I am just floored. She has a website, but I'm sure photos don't do the work justice. I read that some of her work is in a museum in Kansas City, so the next time we head home to the Midwest, I definitely want to check it out.
Posted by: Sarah at 06:05 AM | Comments (2) | Add Comment
Post contains 201 words, total size 1 kb.
December 10, 2007
HO HO HO
I've got my holiday preemie caps to donate this week.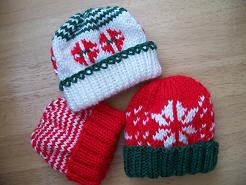 I had all these grandiose plans to make Hannukah caps and all sorts of goodies, but last week kinda took the wind out of my sails. I made these over the weekend and that will have to do for this year.
And now I'm looking forward to the lack of upcoming holidays so I can just make hats from whatever colors I want. I'm free until 4th of July! OK, maybe a few hearts for Valentine's Day. But I swear I will not attempt an intarsia Abraham Lincoln in February.
Posted by: Sarah at 06:19 AM | Comments (1) | Add Comment
Post contains 106 words, total size 1 kb.
52kb generated in CPU 0.0137, elapsed 0.0831 seconds.
50 queries taking 0.0745 seconds, 162 records returned.
Powered by Minx 1.1.6c-pink.