January 22, 2009
I HEART THESE OWLS
In knitting news, I have been shirking my vow to knit two rows per day on
the aran
. I am still working on
the second sock
. I have been commissioned to make a baby sweater for a friend. I am making a child's chemo cap, which is horribly depressing.
But I want to push everything aside and start on this immediately.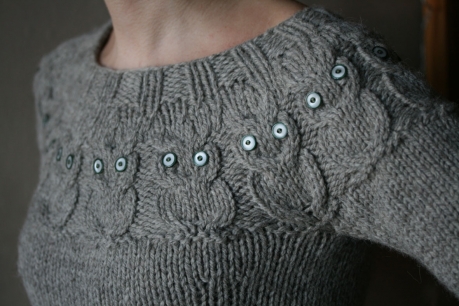 I am in love with that sweater.
Posted by: Sarah at 07:46 AM | Comments (8) | Add Comment
Post contains 76 words, total size 1 kb.
January 16, 2009
IN PROGRESS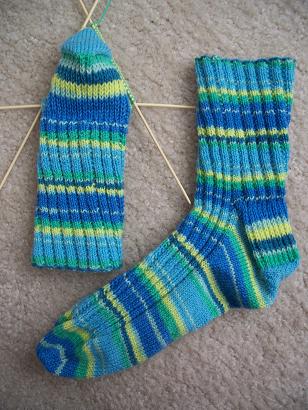 Sock knitters will notice that the colorways on the two socks match up exactly, which gives me so much joy.
Posted by: Sarah at 08:16 AM | Comments (5) | Add Comment
Post contains 24 words, total size 1 kb.
January 08, 2009
LEGAL DERP
OK, so here's where
knitting and government meet
:
The new Consumer Product Safety Improvement Act – passed hastily to bar poisonous foreign products – also will require millions of American homecrafters to have each of their products tested at huge cost, ranging from $500 to $4000 per product – including their old stock which was manufactured before this law had even been thought up.
So government tried to do a good thing by banning lead toys from China and those beads that turned into the date-rape drug. But they derp-ed it up and forgot to exclude those of us who make baby things from home.
We in the group I belong to are unsure how this affects us. We do not receive monetary donations and we do not sell our items. But we better not be legally barred from making our preemie donations to the local hospitals because of some stupidly worded law. And I don't want people selling on Etsy or Ebay to be affected either.
Kuhr says all the homecrafters of the US 'will become criminals from February 10 if they continue to sell their homemade stock without the required certificate of compliance to prove that it had been tested for dangerous contents such as lead'.
From now on, while I'm knitting my preemie caps, I will be saying in a Beavis voice, "Breakin' the law, breakin' the law."
But seriously folks, we're running out of time before the law takes effect. I plan to make a complaint, and if you are a crafter, I would urge you to do the same.
Formal complaints against this act must be lodged before January 20 2009 Comments must be labeled: Section 102 Mandatory Third-Party Testing of Component Parts'. Lodge complaints to email Sec102ComponentPartsTesting@cpsc.gov
Posted by: Sarah at 11:56 AM | Comments (10) | Add Comment
Post contains 297 words, total size 2 kb.
January 07, 2009
ARAN PROGRESS
I'm getting better at the aran pattern; at this point, I am even able to listen to music and sing along whilst knitting. No TV though. But tomorrow night is the Fedex Bowl, and I think I can aran during football.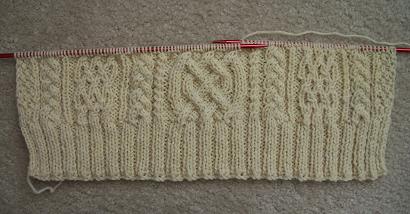 Don't worry; 2009 won't only be knitblogging.
Posted by: Sarah at 09:18 AM | Comments (8) | Add Comment
Post contains 52 words, total size 1 kb.
January 01, 2009
CHRISTMAS KNITTERY
Some more photos of recent projects. These are some of the
little mitten ornaments
I made this year. These two were for The Girl, who was the one who sent me that
awesome bracelet
, and my mother.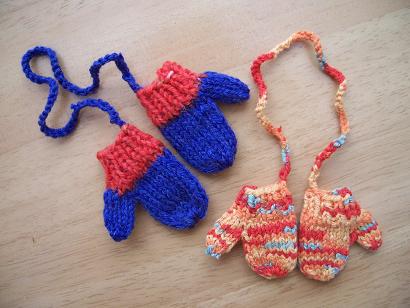 And these are juggling balls I made for my friend. I love how they turned out. Who woulda thought of writing a pattern for juggling balls?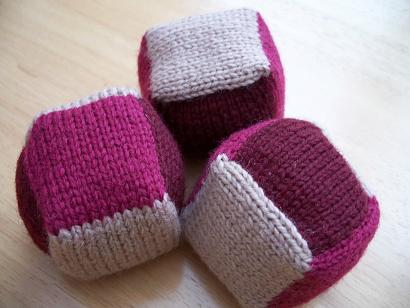 Posted by: Sarah at 02:59 PM | Comments (3) | Add Comment
Post contains 67 words, total size 1 kb.
LAPGHANS
I like taking photos of the stuff I donate just because I forget how many things I actually make, and it's fun to go back and remember color combinations and styles. My mother-in-law mailed me some leftover cream and tan that I was able to match up with some other stuff. These are two blankets that will be donated to the VA hospital.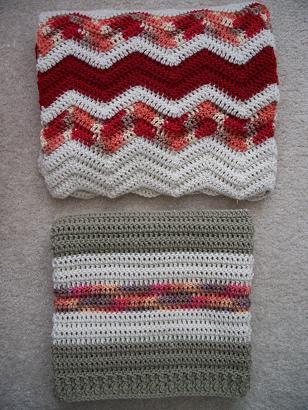 Posted by: Sarah at 08:11 AM | No Comments | Add Comment
Post contains 65 words, total size 1 kb.
65kb generated in CPU 0.0169, elapsed 0.1592 seconds.
51 queries taking 0.1481 seconds, 189 records returned.
Powered by Minx 1.1.6c-pink.