April 22, 2007
TRAVEL
I'm back home visiting my parents for the weekend, so I have not been on the computer. Blogging will resume in a few days.
On Friday, my flight schedule was pretty lame. I had a one-hour flight, a four-hour layover, and a 1.5-hour flight. Ugh. As I sat down to whittle away at those four hours in the airport, I realized something horrible: I had left one of my knitting needles on the coffee table at home. Four hours with no knitting and nothing to do except try to drown out the endless CNN loop above my head. I was miserable, as any true knitting addict would be. But I called a knitter friend and laughed at my situation: Here I was in an airport that's a major R&R hub, where I saw dozens of soldiers obviously anxious to get home, and I was ready to cry because I couldn't knit. I joked with my friend that I should tell one of these soldiers how much harder my life is than his because I was having knitting withdrawals.
Ah, that Perspective again...
Posted by: Sarah at 03:50 AM | Comments (2) | Add Comment
Post contains 184 words, total size 1 kb.
April 13, 2007
LIFE IS GOOD
You know your life is remarkably good when your dreams are filled with knitting angst. If the hardest thing I have to deal with in my life is whether the best way to connect all these colored squares I've been making into a blanket is whipstitch or single crochet, then life is good indeed.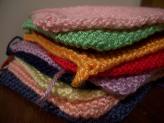 Posted by: Sarah at 04:31 PM | No Comments | Add Comment
Post contains 60 words, total size 1 kb.
April 09, 2007
OINK
I've developed a bad case of knitting ADD recently. For ten years I was a one-project woman, but lately... I think it started when I got my job and I was knitting things for home and things for work and I realized that there's no reason why I can't have multiple items going at once. So now I sit on the sofa surrounded by pieces of a baby blanket, an octopus with two tentacles, an afghan, the back of a sweater, and half a purse. And that wasn't enough to satisfy my mind yesterday, so I worked for 24 hours on this little fellow.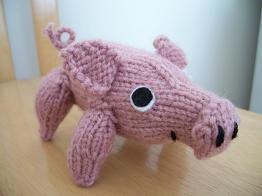 Looks like a pig mated with an anteater, but he's got a certain charm. He'll hop in the mail tomorrow and be on his way to warmer climes, as a long-overdue and much-anticipated gift for someone who was always there to rescue me when my husband locked me out of the house in Germany.
And holy crap, Space Invaders socks. Can I fit another project on the sofa?
Posted by: Sarah at 09:12 AM | Comments (2) | Add Comment
Post contains 174 words, total size 1 kb.
43kb generated in CPU 0.121, elapsed 0.2275 seconds.
48 queries taking 0.2183 seconds, 153 records returned.
Powered by Minx 1.1.6c-pink.