January 17, 2010
KNITTING WHILE PREGNANT
I honestly used to think that knitting was the perfect activity for being pregnant. I imagined resting my hands on my belly and having a nice little shelf to work on.
Yeah, not so much.
I can't really sit up straight anymore without the baby shoving upwards into my lungs, or getting heartburn, or just feeling like I'm being scrunched to death. I can't find a good position for knitting.
Crochet works though, since it's one-handed and I can kinda do it in a Cleopatra side-lying pose. So when I have the energy for anything, it's mostly been crochet.
I wanted to make a pig. I found the perfect cute
pattern
. I started said pig and discovered he was gonna be about as big as a tennis ball. Cute, but not really what I envisioned for my child to cuddle. I want to try to size him up with some really fat yarn and see if that works.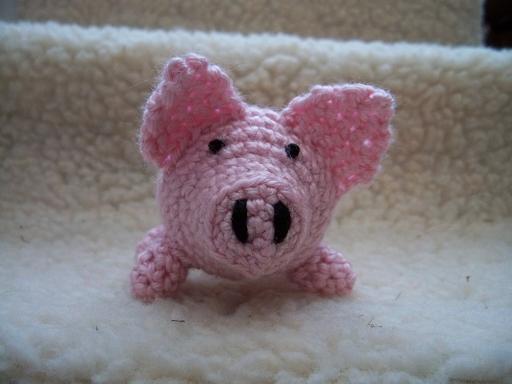 I also managed to finally finish some lapghans I started ages ago for the VA hospital. My crafting group teased me because every week I would show up, not having made any progress since the week before. Slow going, but they're done, and just in time.
The second one is a lovely pattern found
here
.
I've also worked on some gifts for other people, but those can't be revealed until later...
Posted by: Sarah at 10:33 AM | Comments (7) | Add Comment
Post contains 232 words, total size 2 kb.
43kb generated in CPU 0.0114, elapsed 0.0758 seconds.
47 queries taking 0.0679 seconds, 152 records returned.
Powered by Minx 1.1.6c-pink.