September 19, 2006
BAGS
So after I finished my
teddy bear knitting kick
(all in all, I made 13 bears), I started in on a handbag kick.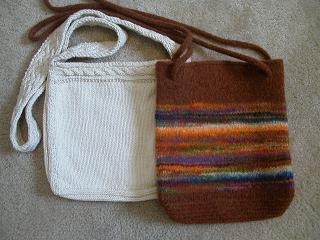 The white one is Tasha from knitty.com, inspired by The Girl's version. The brown one was my first felting experience, using the salvaged Unikat wool that Charlie tried to eat. Actually, I've discovered that Charlie has expensive taste: he couldn't care less about the cheapy yarn I use to make teddies, but he grabs the nice wool and runs under the bed with his treasure.
Posted by: Sarah at 08:35 AM | Comments (2) | Add Comment
Post contains 90 words, total size 1 kb.
September 09, 2006
KNIT UPDATE
Update on the
knitting re-dos
. Those of you who know me in person may know that I have had half of a sweater back sitting in my knitting basket for, oh, two years now. I started this sweater while the husband was in Iraq, and then I realized that it looked ridiculous. It features vertical stripes of stockinette and seed stitch, and apparently I do those two at
vastly
different gauges. Seriously, my seed needed size 6s and my stockinette probably needed like 4s or something. So I let 16 inches of a sweater sit for two years. Well, today I set aside the urge to start a new project and decided to do something about this stupid project that I dragged across the Atlantic. I tore out the whole danged thing and started practicing my seed stitch. I'm fairly sure I can start over and try to get the two sections closer in gauge. I hope so, because I like the pattern and want to have the sweater, minus the big gaping panels of stockinette. More as it develops.
Posted by: Sarah at 02:57 PM | No Comments | Add Comment
Post contains 184 words, total size 1 kb.
41kb generated in CPU 0.012, elapsed 0.0764 seconds.
47 queries taking 0.0692 seconds, 149 records returned.
Powered by Minx 1.1.6c-pink.