June 01, 2010
THREE MONTHS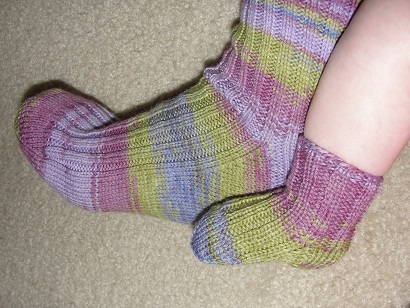 Today was our baby's three month birthday.
Which means we made her a year ago, tee hee.
This year I made socks instead of a baby...
Or did I...
I do find myself often thinking that I'd like to just go ahead and aim for the second one now, to get all the infant years done at once. If life starts to get too cushy, I am not sure I'll want to go back to the beginning.
But I'm also not sure I want to take care of a baby while I'm pregnant.
I'm definitely sure that I don't have much say in the matter though, and we'll flip another heads whenever a heads comes along...
In the meantime, making us matching socks keeps me happy.
Posted by: Sarah at 02:30 PM | Comments (13) | Add Comment
Post contains 128 words, total size 1 kb.
1
That is the sweetest picture! Hope it's framed, on her wall.
You do beautiful work.
Posted by: Amber at June 01, 2010 04:38 PM (TLzuh)
2
Those are so cute. You have a lucky baby for the mommy she has.
Posted by: Ruth H at June 01, 2010 06:14 PM (YpblU)
3
I agree with Amber. That would make a darling picture framed. That's so cute! Gramma loves both of you!
Posted by: Nancy at June 01, 2010 06:35 PM (FGlzU)
Posted by: Connie at June 01, 2010 07:59 PM (L6nIP)
5
I love your socks! I'm still all thumbs at knitting ... and the baby making. lol. And I am very happy for you!
Posted by: Darla at June 02, 2010 12:02 AM (noiAA)
Posted by: Lissa at June 02, 2010 08:41 AM (eSfKC)
7
Ooh! I love the picture!
My sweet little one was born 05/19. He's two weeks today. :-)
Posted by: Heather at June 02, 2010 12:01 PM (3XczE)
8
Happy first first birthday, Baby! Hope you like your mother's handmade present. Sorry I'm a day late. I won't miss your second first birthday. It's only another nine months away.
Posted by: Amritas at June 02, 2010 12:50 PM (5a7nS)
Posted by: Lucy at June 02, 2010 09:20 PM (YNvUz)
10
Adorable picture, Sarah. I hope you are doing well
Posted by: Keri at June 03, 2010 07:48 AM (CqCBn)
11
Adorable. I hope everyone is doing well.
Posted by: Eowyn at June 03, 2010 09:18 AM (c76Sz)
12
Awesome picture! And good luck on flipping heads again..once you start flipping! : )
Posted by: sharona at June 03, 2010 10:16 AM (ANfYv)
13
Happy 1/4 birthday, baby Grok!
I love those socks...so cute! I crocheted a pair of booties for my little guy that never did fit him correctly, and I haven't made time to really crochet anything in the last few months, though he had a few cute hats over the wintertime.
Beowulf and I have already talked about starting to try for #2 when he comes home. Aerost will be 10 months at that point, but I'm not expecting to get pregnant right away. If it doesn't take too long this time, I expect that it will be difficult caring for a toddler while pregnant, but still well worth it. Hopefully I'll at least have Beowulf's help, though.
Posted by: Leofwende at June 10, 2010 12:37 AM (28CBm)
Comments are disabled. Post is locked.
43kb generated in CPU 0.0188, elapsed 0.1953 seconds.
48 queries taking 0.1764 seconds, 160 records returned.
Powered by Minx 1.1.6c-pink.