July 08, 2008
THE CORNER I'VE KNITTED MYSELF INTO
OK, panic set in last night.
I should be working on that mess of an afghan, but it seems like such a pain in the neck to pick it up, untangle all the baggies, and start doing row after row of single crochets. My hands kept reaching for these instead.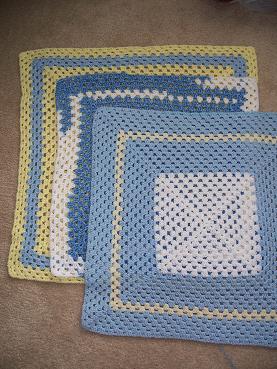 Someone gave me a ton of that Bernat Baby Coordinates yarn, you know the stuff with the shiny string wrapped around it? I personally find it kind of a pain in the neck to work with, so I thought I'd use it all up by making simple granny square blankets to donate. And I really like how they turned out.
I am not one to get attached to my donated projects; I have never looked back after giving away the little caps. (OK, I did get a little wistful that I had already donated the American flag hat and then Sis B goes and has a preemie on July 3rd.) But I am really attached to these little blankets, like I don't want to give them away. I could just keep them around to have on hand when one of my umpteen friends has a baby. But that's not in the spirit of charity. Still, it will take a lot of willpower to drop them off on Wednesday.
Anyway, I've been wrapped up in the ease of just picking them up and going to town that I forgot that I only have less than a month to finish two adult sized afghans! Mercy me. I worked another four inches on the intarsia mess yesterday and today, but I really need to get my behind in gear.
I hid all other projects from myself.
Posted by: Sarah at 09:09 AM | Comments (6) | Add Comment
Post contains 295 words, total size 2 kb.
Posted by: Sara at July 08, 2008 11:49 AM (SZeN8)
Posted by: Emiy at July 08, 2008 01:52 PM (jAos7)
Posted by: Darla at July 08, 2008 08:35 PM (tIKcE)
Posted by: Green at July 09, 2008 03:44 AM (6Co0L)
Posted by: Maria at July 09, 2008 03:57 AM (2rnKP)
Posted by: Kate at July 09, 2008 07:27 AM (JIGe1)
Comments are disabled. Post is locked.
43kb generated in CPU 0.0136, elapsed 0.0885 seconds.
48 queries taking 0.079 seconds, 153 records returned.
Powered by Minx 1.1.6c-pink.