April 29, 2008
THAT'S A PEACH OF A HAT!
I made the
pumpkin version
last fall, so yesterday I tried the peach.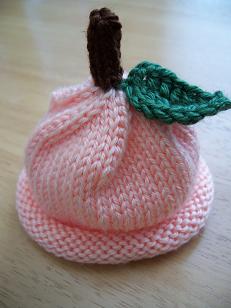 These preemie hats are too darned cute.
And I got some great suggestions on yesterday's post that if I have too much yarn, I can give it away, either to newbie knitters or to a good cause. While both of these ideas are admirable, well, I don't think I'm that big of a person. You see, I will spend hours and hours and hours making stuff that I just give away. I make tons of preemie caps, squares for HCC afghans, and gifts for friends, but handing over an unknittedup ball of yarn to someone else? Ouch.
At one of my knitting classes, a woman didn't buy her own yarn. She brazenly asked me if she could just use mine. I had this crummy, old, ugly ball of faded brown acrylic junk in my hand, and yet I went, "Um...well...er...uh...o...kay," and slowly handed it to her. It was crap yarn! It was ugly and awful. But giving it away? It hurt my heart. I would've gladly made something out of it and handed it to her for free, but I have a severe selfishness problem with giving away unused yarn.
Sis B, I'd rather hand you ten bucks to go pick out your own yarn! And FbL, we too make blankets for the VA hospital here in town; I was just going to start one soon. The problem is, a lot of the yarn I have is not stuff that is good for these projects. I have used up most of my washable acrylics on HCC squares; what I'm left with is fancy wools and sock yarn and a ton of baby yarn to be made into preemie caps. But I'll dig.
Maybe I can convince myself to be a big enough person to give away yarn.
Maybe.
Doubtful.
Posted by: Sarah at 08:27 AM | Comments (8) | Add Comment
Post contains 324 words, total size 2 kb.
1
That hat is amazingly sweet. It could only look sweeter with a teeny, tiny head tucked into it.
I cannot WAIT to learn how to do this type of knitting magic!!
Posted by: Guard Wife at April 29, 2008 08:43 AM (GPWZ1)
Posted by: awtm at April 29, 2008 12:54 PM (f726z)
3
I love your preemie hats! How sweet the little peach hat is!
Posted by: sharona at April 29, 2008 01:26 PM (BeRta)
4
Very cute! And you make such wonderful stuff, I wouldn't feel bad at all about not give it away.
Posted by: Butterfly Wife at April 29, 2008 02:46 PM (YkizZ)
5
*heehee* Perfectly understandable.
Posted by: FbL at April 29, 2008 09:49 PM (rW1/8)
6
I have *got* to get a picture of Emma wearing her preemie hat sent to you
. She is wearing it now!
Posted by: Kate at April 30, 2008 03:41 AM (576n8)
7
I had to giggle! Has Erin told you about ''my stash?''
Posted by: debey at April 30, 2008 06:09 AM (nNfOh)
8
Good thing my apt is small or I'd have more yarn, too. Just need to finish some other projects so I can get on with a Soldiers' Angels crocheting project that I promised to help with.... Love your blog! I haven't been here in a while and wondering why not. Duh.
Posted by: Lisa in DC at April 30, 2008 06:16 PM (7NvA/)
Comments are disabled. Post is locked.
43kb generated in CPU 0.0242, elapsed 0.1194 seconds.
48 queries taking 0.1044 seconds, 155 records returned.
Powered by Minx 1.1.6c-pink.