May 27, 2009
DREAM JOBS AND NIGHTMARE JOBS
I realized my dream job yesterday. The yarn section at my work just got renovated, so I was hanging new signs, project sheets, and yarn swatches. Hanging in front of the yarn is a sample of knitting so that customers can test what the yarn looks and feels like, something like
this
:
I had the thought that someone has to make all these little 4"x4" samples. How fun would that be? Dream job.
(I realize they're probably made by machine. Humor me here.)
I also realized that my dream job is decidedly NOT to take all those little squares and sew them together into a big blanket.
Last November, our store collected rectangles for
Warm-Up America
. It was then my job to single crochet all 56 rectangles together. It took me forever to find the motivation, but the final product is pretty neat.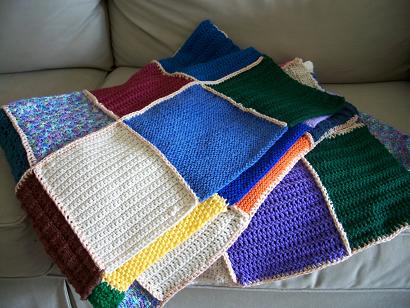 But definitely not my dream job. I'll make the squares all day long, but someone else can do the finishing.
Posted by: Sarah at 01:30 PM | Comments (4) | Add Comment
Post contains 168 words, total size 1 kb.
1
I realize they're probably made by machine.
The machines have taken your jerrrrb! Skynet knits!
I'd love to see all 56 rectangles in a single picture. Unfortunately, their textures wouldn't be distinguishable from a distance.
Posted by: Amritas at May 27, 2009 02:54 PM (+nV09)
2
Heck, I never realized they were machine-made, LOL... I always thought that'd be a fun/boring job, depending on the day, LOL!!! :-)
Posted by: kannie at May 27, 2009 03:45 PM (5XpA4)
3
I think I would actually have more fun arranging the swatches and crocheting them together. I tried making a blanket out of squares once, and got bored after about 4-5 squares. Which I think is usually why I end up doing stripes of some sort.
Posted by: Leofwende at May 27, 2009 11:30 PM (28CBm)
Posted by: Allison at May 28, 2009 08:14 PM (kKR3v)
Comments are disabled. Post is locked.
41kb generated in CPU 0.0106, elapsed 0.0774 seconds.
48 queries taking 0.0697 seconds, 151 records returned.
Powered by Minx 1.1.6c-pink.