March 17, 2004
FACTS
1. Today the temperature outside was 63 degrees.
2. The heater in our house is still on full blast.
3. I finally finished my sweater.
4. Taking a photo of yourself is really hard.
5. This photo is too blurry, but it was the best I could do.
6. I'm absolutely roasting now...
7. I want to wear the sweater tomorrow, but it's so freakin' warm.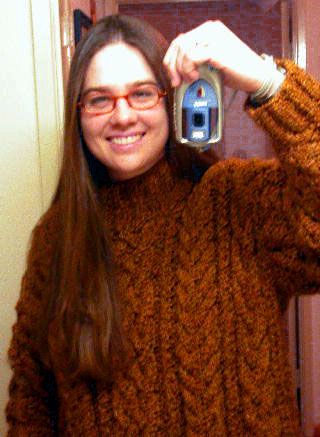 Posted by: Sarah at 04:48 PM | Comments (3) | Add Comment
Post contains 68 words, total size 1 kb.
March 10, 2004
PROJECT
I've never posted any knitting on my blog before, but some people said they'd be interested in seeing it, so I thought I'd post a photo of a work in progress. I still have to make the arms, but this is what it looks like as of now.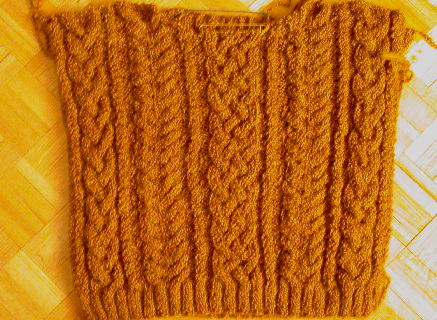 MORE:
Someone asked how long this took. Well, I think it took about 25 minutes for an inch (basically one inch per South Park) and it's 23 inches each front and back, so mmm mmm carry the one mmm that means it took about 24 hours to knit. Of course I didn't watch that many South Parks in a row; I've been working on it in the evenings for about three weeks. And this one is for me. The next one will be for the husband, and I'll probably just mail him a photo of it and not the sweater. We joked about that before he left, that he could hold it up in the desert El Guapo style: "It's a sweater!"
Posted by: Sarah at 01:11 PM | Comments (2) | Add Comment
Post contains 172 words, total size 1 kb.
42kb generated in CPU 0.0125, elapsed 0.0816 seconds.
48 queries taking 0.0734 seconds, 152 records returned.
Powered by Minx 1.1.6c-pink.