July 03, 2009
GLOBAL TEMPERATURES
I saw Glenn Beck's discussion with Alan Carlin of the EPA this week, which is available
here
. And this graph struck me as too crazy to even be true.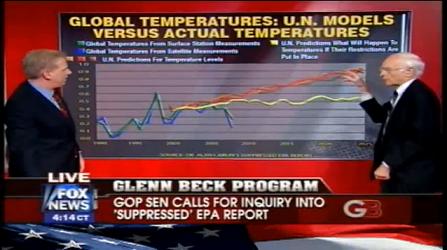 The red lines: "UN Predictions for Temperature Levels"
The yellow line: "UN Predictions: What Will Happen to Temperatures If Their Restrictions Are Put In Place"
The green line: "Global Temperatures from Surface Station Measurements"
The blue line: "Global Temperatures from Satellite Measurements"
So the red and yellow lines are what the UN
says
will happen, and the green and blue lines are what is
really
happening. Note the enormous plummet away from prediction.
If this is accurate, then what is actually happening on our planet is nothing like what was predicted. In which case, all decisions based on global warming predictions are moot.
It also reminds me of
this unemployment graph
.
Posted by: Sarah at 07:44 AM | Comments (2) | Add Comment
Post contains 142 words, total size 1 kb.
1
The most obvious explanation is that the UN projections assumed Bushaitan or McSame were in office. But the enthrOnement of the cOOlest president ever has caused global burning to cease. Obama has saved the world! And to continue saving it, we must reelect him in 2012! Getting rid of the 22nd Amendment would ensure Gaia's safety for the next fifty years.
Posted by: kevin at July 05, 2009 05:35 AM (7burq)
2
Omerican unemployment figures are bloated by lazy Republicans who quit their jobs to make the One look bad. For every new job created by the One (bless Barack), two jobs are vacated by bitter gun-clingers who'd rather sit at home and watch Faux 'News' all day. Once the civilian security fOrce rounds up these slackers and makes them work for the peOple, the Omerican unemployment rate will drop to zero!
Posted by: kevin at July 05, 2009 05:41 AM (7burq)
Comments are disabled. Post is locked.
42kb generated in CPU 0.08, elapsed 0.2694 seconds.
54 queries taking 0.2244 seconds, 168 records returned.
Powered by Minx 1.1.6c-pink.