November 26, 2008
DISTRESS
I just heard
this story
on the radio and wondered what you think of it:
Jeff Russo says the decline of the textile industry left his family business, Greenville Industrial Rubber & Gasket Co. Inc., with about $1.5 million less in annual revenue.

So he can't understand why the federal government is now spending billions of dollars of taxpayer money to bail out financial-services firms and, possibly, domestic auto makers.

Russo was so upset by the government bailouts that he started flying the U.S. flag upside down outside of his business on Poinsett Highway as a protest. Russo said he got no objections for about a month. Then a veteran complained, and a local TV station aired a report about his gesture, and he got a slew of e-mails and voice mails.

Tuesday, Russo said he loves his country and turned the flag upside down -- a sign of distress -- because he's concerned for its future.

"The government never once bailed the textile industry out. You're talking hundreds of thousands of jobs lost in this area, including my company. We lost a million and a half dollars a year," Russo said.

"You know what the government told us? Re-educate yourself. Go after new markets. They didn't give us a bailout. I'm trying to represent every small businessman in the country. We don't get bailouts. We're responsible for our business, our employees. The buck stops here. They never have given us a bailout, never will give us a bailout, and we are the backbone of this country.

"By doing this I think I am a patriot," Russo said. "I love this country, and I don't want to see it go down the tubes."
From The Flag Code:
(a) The flag should never be displayed with the union down, except as a signal of dire distress in instances of extreme danger to life or property.
In searching for the article, I found other examples of upside down flags:


"discontent about not having a VA hospital in the Rio Grande Valley" [here]

"to show they didn't agree with the way the presidential election was conducted" [here]

"unhappy with the results of the presidential election and the general state of the U.S." [here]

And these are all just from this month!
Some veterans have apparently complained in each case, saying it's disrespectful to the flag and not the distress signal that was intended in the flag code.
What do you think?
Personally, if I had heard any of the other three stories I bulletted, I wouldn't have bothered to write this post. But that first story really intrigues me.
Posted by: Sarah at 10:06 AM | Comments (2) | Add Comment
Post contains 435 words, total size 3 kb.
November 25, 2008
REALLY? THIS IS WORTH IT TO YOU?
I have been feeling nostalgic for my middle school years lately and have been listening to
The Wall
often. I checked
the wikipedia entry
today, just to see what it says. I noticed something interesting:
For "Another Brick in the Wall (Part II)", Pink Floyd needed to record a school choir, so they approached music teacher Alun Renshaw of Islington Green School, around the corner from their Britannia Row Studios. The chorus was overdubbed twelve times to give the impression that the choir was larger. The choir were not allowed to hear the rest of the song after singing the chorus. Though the school received a lump sum payment of £1000, there was no contractual arrangement for royalties. Under 1996 UK copyright law, they became eligible, and after choir members were tracked down by royalties agent Peter Rowan of RBL Music, through the website Friends Reunited, they sued. Music industry professionals estimated that each student would be owed around £500.
Does anyone else find this sad? It's not enough to say that you were a kid who got to sing on a Pink Floyd album? Instead, 15 years later, you sue the band to get 700 bucks.
And I love the idea that some "royalties lawyer" went hunting around for these forty year olds to let them know that they could sue.
I think we have collectively lost our everlovin' minds on this planet.
Posted by: Sarah at 08:00 AM | Comments (3) | Add Comment
Post contains 248 words, total size 2 kb.
November 11, 2008
A PEEK INSIDE
All those policy plans that Obama put up on his change.gov website have all disappeared, replaced by
mealy-mouthed hopenchange
.
But there's a reason why he put up the policy goals that he did, and I assume that he still wants to enact that change, even if he's not brave/foolish enough to leave it on his website.
So the gun one, eh? It said this:
[Obama and Biden] also support making the expired federal Assault Weapons Ban permanent, as such weapons belong on foreign battlefields and not on our streets.
I don't have an assault weapon. I don't plan on buying one. But I still don't like this.
My husband and I were talking about this via IM today. I copied and pasted this part from change.gov, and he took my breath away with this:
Husband says:
and then they came for the assault rifles but I said nothing because I only owned a pistol....
And roger.
I read this entire Daily Kos thread on the matter, and it was interesting to see the Democrat gun enthusiasts get belittled. Stuff like this:
because you're a democrat that owns/collects guns, no one should fear you?
that makes no sense to me.
guns have only one use, and that is to kill. but that's nothing to be afraid of, by any means, right?
Luckily there were a few people who batted down all the arguments. This line by GTMule was genius:
Liberals (a club of which I am a (usually) proud member) want to have teachers help make education policy, engineers make energy policy, and people who are completely ignorant about guns make ALL gun policy.
Not once did I see anyone explain the 2nd Amendment the way I understand it, though. And strangely enough, several people referred to it as the 4th Amendment.
Interesting peek into the Democrat world though.
Posted by: Sarah at 11:44 AM | Comments (2) | Add Comment
Post contains 311 words, total size 2 kb.
November 10, 2008
IDIOCRACY WATCH
I bought a Christmas card making kit, filled with scrapbook-type papers and stickers and stuff to make your own cards. There are also little scraps that say "Merry Christmas" and "Happy Holidays" and stuff. Plus these three doozies: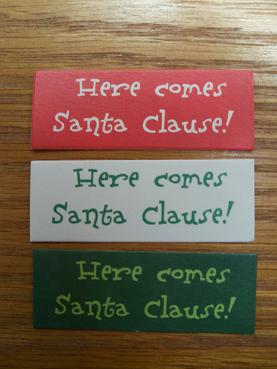 Spellcheck didn't catch that one, did it?
Posted by: Sarah at 01:24 PM | Comments (7) | Add Comment
Post contains 49 words, total size 1 kb.
HORRIFYING UNDERPANTS
I was in a clothing store today and happened by the ladies' undergarments section. There were lots of teenybopper-type underpants on display. I caught sight of one that had cartoon speech bubbles all over it, with phrases like "pizza," "BFF," and "me likey." But there was also a bubble with "2+2=5."
I find it so horrifying that our culture encourages girls to be airheads.
Posted by: Sarah at 09:56 AM | Comments (2) | Add Comment
Post contains 68 words, total size 1 kb.
November 02, 2008
IDIOCRACY WATCH
AWTM
wrote a post
last week about a parent at the school who asked if they're supposed to read to their kids every night.
Today I was at work and this lady wanted to buy foam letters. It sounded like she was buying them for her teacher husband to hang in his classroom. She couldn't find the right size. She wanted the big letters of the alphabet, but they were $1 each, and she said, "I don't want to get those; I'd have to spend like $27 or something."
For heaven's sake.
Posted by: Sarah at 01:21 PM | Comments (7) | Add Comment
Post contains 96 words, total size 1 kb.
61kb generated in CPU 0.0424, elapsed 0.1574 seconds.
52 queries taking 0.1332 seconds, 198 records returned.
Powered by Minx 1.1.6c-pink.