January 29, 2005
VOTING
First Afghanistan voted.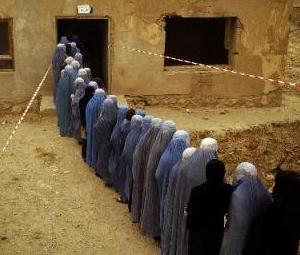 Now Iraq votes.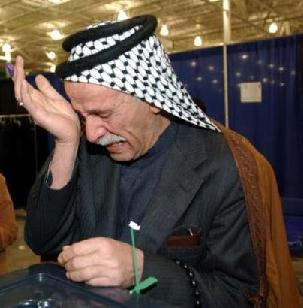 Exile Mehsin Imgoter breaks down as he casts his absentee vote. Does voting mean this much to you? Michael Moore had to promise free underpants to folks just to get them to come to the polling place; one Iraqi in Canada drove 14 hours to cast his vote. Does voting make you cry? Would you risk your life to vote? Can we even begin to understand what Mehsin Imgoter is feeling?
Greyhawk's daughter wrote a guest post at Mudville Gazette; this part especially made me smile:
I think itÂ's wonderful that these people are finally getting the rights they deserve. I also learned in my history class that it took 150 years before women could vote in America. This opportunity is available to the women of Iraq today, that puts them one step ahead of America's first elections already. Who knows if this election will be a perfect election? WhatÂ's stopping a terrorist from shooting one of the candidates or voters? But, we must not give up.
We're not giving up. The military has set out a clear list of do's and don't's for coalition troops, and they're doing their best to prevent attacks on polling stations. My own husband has been working around the clock to make tomorrow happen, and I can't wait to talk to him after it's all said and done. Until then I stand and wait.
I stand and wait for Iraq to begin a brave new era in history, and though it won't be perfect overnight, it's a start. It's the start of peace, because there can't be peace until men are truly free.
Tomorrow is one of the most exciting days in Iraqi history. Let freedom reign.
Posted by: Sarah at 05:49 AM | Comments (7) | Add Comment
Post contains 291 words, total size 2 kb.
Posted by: Kathleen A at January 29, 2005 09:09 AM (vnAYT)
Posted by: debbie at January 29, 2005 10:21 AM (KzU+f)
Posted by: quibbler at January 29, 2005 06:23 PM (uyB39)
Posted by: annika at January 30, 2005 03:27 PM (15C4H)
Posted by: Beth at January 30, 2005 05:02 PM (19It1)
Posted by: him at August 31, 2005 10:09 AM (DcMsf)
Posted by: Spammed are you at September 22, 2005 07:23 PM (tGyZj)
Comments are disabled. Post is locked.
45kb generated in CPU 0.0138, elapsed 0.1027 seconds.
48 queries taking 0.0945 seconds, 176 records returned.
Powered by Minx 1.1.6c-pink.