January 31, 2005
YAY
Greyhawk has my favorite
round-up
of Iraqi voting photos. Many have quoted Iraqi blogs, but
Varifrank
takes my cake for favorite non-Iraqi commentary.
Posted by: Sarah at 03:37 AM | No Comments | Add Comment
Post contains 25 words, total size 1 kb.
January 30, 2005
BRAVE SOULS
Naturally I'm a little concerned about my husband today. But at the front of my mind are the
Iraqi election workers
:
The Iraqis know that not everyone in the room will survive the elections. "Maybe not tomorrow. Maybe not next week," one poll worker says. But maybe a month from now, insurgents will kill him.
Posted by: Sarah at 05:52 AM | Comments (2) | Add Comment
Post contains 59 words, total size 1 kb.
GOOD START
The polls in Iraq have been open for two hours. So far so good.
Posted by: Sarah at 01:56 AM | No Comments | Add Comment
Post contains 18 words, total size 1 kb.
January 29, 2005
VOTING
First Afghanistan voted.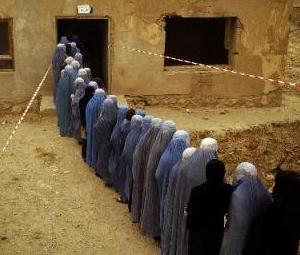 Now Iraq votes.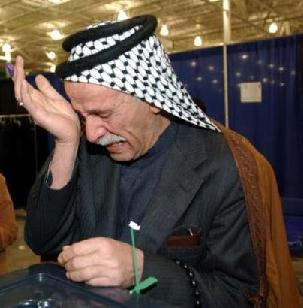 Exile Mehsin Imgoter breaks down as he casts his absentee vote. Does voting mean this much to you? Michael Moore had to promise free underpants to folks just to get them to come to the polling place; one Iraqi in Canada drove 14 hours to cast his vote. Does voting make you cry? Would you risk your life to vote? Can we even begin to understand what Mehsin Imgoter is feeling?
Greyhawk's daughter wrote a guest post at Mudville Gazette; this part especially made me smile:
I think itÂ's wonderful that these people are finally getting the rights they deserve. I also learned in my history class that it took 150 years before women could vote in America. This opportunity is available to the women of Iraq today, that puts them one step ahead of America's first elections already. Who knows if this election will be a perfect election? WhatÂ's stopping a terrorist from shooting one of the candidates or voters? But, we must not give up.
We're not giving up. The military has set out a clear list of do's and don't's for coalition troops, and they're doing their best to prevent attacks on polling stations. My own husband has been working around the clock to make tomorrow happen, and I can't wait to talk to him after it's all said and done. Until then I stand and wait.
I stand and wait for Iraq to begin a brave new era in history, and though it won't be perfect overnight, it's a start. It's the start of peace, because there can't be peace until men are truly free.
Tomorrow is one of the most exciting days in Iraqi history. Let freedom reign.
Posted by: Sarah at 05:49 AM | Comments (7) | Add Comment
Post contains 291 words, total size 2 kb.
January 28, 2005
January 27, 2005
FREEDOM
Bunker found an MSNBC headline that galled him, and I haven't been able to get it out of my mind:
Freedom -- At What Cost?
If you even have to ask, you don't grok.
I have always been free. Many, like Zeyad and Ziggy, have not, and they know the value of freedom firsthand. And though I have never had that value tested, I know what it's worth. It's worth sending my husband downrange, it's worth living alone for a year, and it's worth -- heaven help me -- becoming a widow, a fate worse than my own death. It's worth everything.
Jefferson said that "the tree of liberty must be refreshed from time to time with the blood of patriots and tyrants." If you don't understand that feeling, this war on terror is going to be rough for you. If you don't understand that 1400 Americans have died for a cause far greater than their individual accomplishments, then the next decade is going to be very long.
Perhaps in the meantime you could read What Are We Fighting For?
John Hawkins asked a phenomenal question a few weeks ago about immortality va. anonymity:
If you had a choice, would you rather be Leonidas, the king who died fighting in the Spartans' immortal stand at Themopolae against the Persians or Xenolas, the unknown Greek farmer who died at 90? Would it be better to be Davy Crockett who died fighting at the Alamo or Phineas Hogenbottom, a banker no one has ever heard of? Is it better to be Bob Wilson, nameless family man, or Nathan Hale who said, "I regret that I have but one life to give for my country" before he swung?
I can say that I will never forget the names Tyler Prewitt, Sean Sims, and Gunnar Becker. They gave everything for freedom, used their blood to refresh that tree of liberty that is taking root in Iraq and Afghanistan. The only way we honor their sacrifice is by understanding what an asinine headline that is.
Freedom -- At Any Cost
Posted by: Sarah at 06:39 AM | Comments (18) | Add Comment
Post contains 347 words, total size 2 kb.
January 25, 2005
24 JAN
I have two younger brothers. They both live in Illinois and are both very important to me, but they are quite different. Middle Brother is intensely hyperactive and energetic; Little Brother is quiet and introverted. They're both fun to be around, and I care about them immensely. But I hardly ever think about them.
We wives spend so much time concentrating on Iraq -- watching the news for car bombs and checking with friends about the latest rumor -- that we sometimes forget that Iraq is not the only place in the world where bad things happen. We're so concerned with our husbands' safety that it's often our only concern.
My friend's brother was killed in a car accident on Sunday. I just spent the last two days helping her arrange emergency leave and travel orders so she could get home. We also had the worst night of weather that we'd had all season last night, so driving to the airport was no small feat this morning. I'm exhausted, physically and emotionally, but again I've been given one of life's lessons on perspective. And as soon as they wake up, I'm calling my brothers.
Yesterday MSNBC called 24 Jan the worst day of the year. My friend and I might have to agree.
Posted by: Sarah at 08:17 AM | Comments (2) | Add Comment
Post contains 217 words, total size 1 kb.
January 20, 2005
CLARITY
I've had a remarkable evening of clarity. Over the past few weeks, I've worked myself into a tizzy about making plans for block leave after Iraq. Long story short, my husband and I booked a cruise and vacation for May, which once seemed reasonable but at this point is way outside the block leave window. We might end up losing the whole vacation if he can't take leave later, and it's been twisting my stomach in knots. I was worried about losing money if we don't get to go, worried about plans and organization and schedules...and then I got invited to go to dinner with
CPT Sims' wife
tomorrow night and I realized how infinitely trivial my problems are. It broke my heart to suddenly realize that there are people who would give anything to have my stupid vacation problems, and I felt ashamed to even be worrying about it. I finally let go of the stress and decided it doesn't matter. If my husband and I are together, I don't care where we are or how much money we lose. My problems are not problems.
Last I heard, Mrs. Sims still reads my blog from time to time. If she's reading now, I want her to know that she makes me a better person every day.
Posted by: Sarah at 04:44 PM | Comments (5) | Add Comment
Post contains 219 words, total size 1 kb.
SELECTIVE
Seems
John Earl Haynes
has been reading the same kind of
one-sided crap I have
:
Haynes: Jamie: It is still early to judge what impact In Denial will have. Thus far the only reviews have been in conservatively-oriented journals of opinion. There have been none in liberal and left journals and no academic reviews.

Debate in the academic world on this issue is limited. Anyone whose knowledge of the historical literature was based on a reading of articles published in the Journal of American History and the American Historical Review, the two leading journals in the field, would believe that there was nothing to debate. Not a single article published in the Journal of American History and the American Historical Review in the last thirty years has taken a critical stance regarding the American Communist movement or a benign view of domestic anticommunism. In the same thirty-year period dozens of articles in these journals have taken a reverse stance: a benign view of the CPUSA or depicting domestic opposition to communism in highly negative terms. In these journals there has been no debate: only one side is heard from.
Read the whole interview, starting with Glazov's own experience with the gulags. Thanks to Amritas for the find.
Posted by: Sarah at 02:21 AM | Comments (1) | Add Comment
Post contains 209 words, total size 2 kb.
19 JAN
He did it again
! I always thought this was one of the coolest traditions. In fact, I used to take my English teacher three roses on this day; I did it for like five years before I moved away.
Mysterious fan marks Poe's birthday

BALTIMORE - The mystery man was dressed for the cold rather than tradition, and some spectators were not quite as respectful as in years past. But for the 56th year, a man stole into a locked graveyard early on Edgar Allan Poe's birthday and placed three roses and a half-empty bottle of cognac on the writer's grave.

Jeff Jerome, curator of the Poe House and Museum, who has seen the mysterious visitor every Jan. 19 since 1976, gathered with about 20 people Tuesday night to glimpse the ritual.

"It was absolutely frigid," Jerome said of the sub-20 degree temperature.

No one, not even Jerome, knows the identity of the so-called "Poe Toaster." The visit was first documented in 1949, a century after Poe's death.

This year, the visitor arrived at 1:10 a.m. in a heavy coat and obscured his face with a black pullover, Jerome said. He was not wearing the traditional white scarf and black hat.

"He put the roses and cognac at the base of Poe's grave and put his hand on top of the (tomb) stone. He paused and put his head down," the museum curator said. He left after about five minutes, Jerome said.

The visitor's three roses are believed to honor Poe, his mother-in-law and his wife, all of whom are buried in the graveyard. The significance of the cognac is unknown.

People who stand vigil usually respect the visitor's desire for anonymity, which, along with the visitor's quick moves and the cover of darkness, have kept his secret well.

But this time, some spectators "created a nuisance," Jerome said. Some entered the locked cemetery; others confronted Jerome after the stranger had departed and demanded that he reveal his identity.

For decades, a frail figure made the visit to Poe's grave. But in 1993 the original visitor left a cryptic note saying, "The torch will be passed." A later note said the man, who apparently died in 1998, had passed the tradition on to his sons.

Poe, who wrote poems and horror stories such as "The Raven" and "The Telltale Heart," died Oct. 7, 1849 in Baltimore at the age of 40 after collapsing in a tavern.

Bethany Dinger, 32, first became fascinated with the writer while doing volunteer work at the Poe House in high school. Wednesday was her third time watching the ritual.

"It's always amazing - you know it's going to happen and then it's just wow, he's here," she said. "We're just so in the moment - there's no talking" while the visitor pays homage.
Posted by: Sarah at 01:42 AM | Comments (1) | Add Comment
Post contains 472 words, total size 3 kb.
January 08, 2005
THE SEVEN
I watched
The Magnificent Seven
again a few weeks ago, so I understand what VDH is talking about in his recent
The Disenchanted American
. I felt frustrated in the movie that the seven were doing more for the village than the villagers. And, yes, the more I learn about the world, the wearier I become. I grok these words:
We will finish the job in Iraq, nursemaid democratic Afghanistan through its birthpangs, and continue to ensure that bandits and criminal states stay off the world's streets. But what is new is that the disenchanted American is becoming savvy and developing a long memory — and so we all fear the day is coming when he casts aside the badge, rides the buckboard out of town, and leaves such sanctimonious folk to themselves.
Posted by: Sarah at 04:53 PM | Comments (2) | Add Comment
Post contains 136 words, total size 1 kb.
81kb generated in CPU 0.0217, elapsed 0.0848 seconds.
55 queries taking 0.0709 seconds, 229 records returned.
Powered by Minx 1.1.6c-pink.