September 23, 2005
MOON
Last night my husband and I watched the final episode of
From the Earth to the Moon
. I must say that after this week's revelation that we might
return to the moon
, I watched this episode completely differently than I did nine months ago. The finality of it all really hit me the first time I watched it: Cernan would be the last man on the moon for forever, we'll never have another chance to leave hammers, rovers, or golf balls up there again, we've lost the gumption that got us to the moon in under a decade. But this time around I had hope, hope that we'd be back again.
When it ended, my husband turned to me and said, "I wanna go to the moon." I do too, I said.
I was saddened to read much negative commentary online about returning to the moon. I know it costs money and time, but I just want to go back. And to imagine a staging point for a future trip to Mars...well, that's just beyond my comprehension.
Hope is a wonderful feeling.
Posted by: Sarah at 04:26 AM | Comments (4) | Add Comment
Post contains 184 words, total size 1 kb.
September 11, 2005
STAYING FOCUSED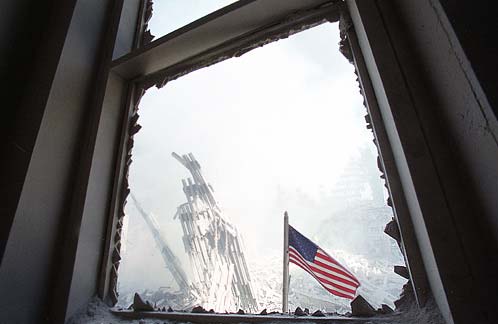 How's your laser beam this year?
Posted by: Sarah at 04:41 AM | Comments (2) | Add Comment
Post contains 10 words, total size 1 kb.
September 08, 2005
DILEMMA
I could use some advice on behalf of a reader who contacted me with an perplexing dilemma. This reader was conducting interviews at his job and interviewed an Egyptian man who set off a couple of warning bells. This Egyptian seemed "jittery and anxious" and became agitated when he learned that this particular job would not get him maximum money pronto; the man said that he was only planning on being in the country for a short time and needed to make as much money as possible as fast as he could. This reader couldn't help but shake the feeling of "terrorist" that was creeping in. The reader doesn't want to be "racist" but also doesn't want to be caught wishing he'd done something (like those who met Atta and got a bad feeling). The reader wonders if he should report this, and to whom.
So what do you think? Is it better to be safe than sorry, or is it intrusive to potentially shake up someone's life on nothing better than a hunch? I'd appreciate as much input as any of you can give me as to what you'd honestly do if you were in this reader's shoes. He needs our help.
Posted by: Sarah at 03:53 PM | Comments (14) | Add Comment
Post contains 205 words, total size 1 kb.
September 06, 2005
ROLE MODELS
It seems at least one commenter thinks I write about President Bush too often. The explanation is quite simple really: the reason I write about him is because I think about him all the time. There are three men who dominate my life, three men whose respect I work hard to earn every day: President Bush, Bunker, and CPT Sims. In every action and every thought, I consistently weigh how these three men would judge me. Am I doing something that would make them slap sense into me, or would they be proud of me? You don't have to understand this, but it's a big part of what keeps me trying to be a better person every day.
So I'll quit glorifying our President when the other half of the world stops vilifying him.
Posted by: Sarah at 05:48 AM | Comments (19) | Add Comment
Post contains 138 words, total size 1 kb.
FIGHT
I bought the husband the extended
Lord of the Rings
trilogy for his birthday, and we watched the movies again for the first time since the movie theater. As I watched preparations for the battle of Helms Deep, I told my husband that there's no way they would've herded me into the cellar. I couldn't imagine sending my husband and son off to fight while I stayed underground. The only exercise my arms get is knitting, but I would've fought, struggled to lift a sword, even though it surely would've meant death at the hands of an orc. But I would've had to try, had to fight.
Hey, maybe I'm a sheepdog.
Posted by: Sarah at 03:39 AM | No Comments | Add Comment
Post contains 114 words, total size 1 kb.
70kb generated in CPU 0.0583, elapsed 0.1323 seconds.
50 queries taking 0.1067 seconds, 214 records returned.
Powered by Minx 1.1.6c-pink.