September 11, 2004
THIRD ANNIVERSARY
This week I have been thinking a lot about a
post I read on D.G.C.I.
:
First, a little background. This is a conservative blog. We aren't shy around here about professing our support for President Bush and other Republican candidates. If you had missed that point, let me invite you to take a look around.

We (the authors of this site) are Conservative Republicans. We write about Conservative Republican matters to our audience, who are mostly (go figger) Conservative Republicans. Makes sense so far, doesn't it?

But over the last couple of months in particular we have noticed an increase in comments from Liberals. Not just trolls, although God knows we have our share of them, but from self-professed Liberals, Kerry fans, who sometimes even make a semi-intelligent argument, even if they're usually wrong.

I don't hold that against them. For the most part, they're just misinformed.

But what I have to wonder is WHY? Why are they here? We certainly don't have anything to offer them and their belief system.
I have wondered the very thing time and time again, but what struck me the most was this exchange in the comments section:
Three words: Know your enemy.

You want to see blogs with some serious followers? Go check out Atrios, with its comments in the hundreds for every post. Go check out Pandagon, with its everyday readers of 25 or more. Go check out dailykos, and tell me Democrats are giving up and don't really like Kerry anyway.
I dare you.

Posted by: Norah at September 8, 2004 10:47 AM

Three words: Know your enemy.

And there's the basic difference between us. The only enemies I have are Islamofascist terrorists who want nothing more than to see both you and I dead.

And the sooner you figure THAT out, the better off we'll all be.

Posted by: dgci at September 8, 2004 06:13 PM
And that's when it hit me. Laser beam.
Last September 11, I was focused; I knew who the enemy was and my laser beam was strong. This year I find that I have gotten off target. (Actually, I get off target a lot because I'm a hot-headed person. Red 6 and I have discussed this extensively, since we're two peas in a pod in that respect. We both admire my husband for his ability to shrug off idiotarians and forget about them; Red 6 and I stew. We've recently learned to vent to each other, since both of us were previously dumping everything on my husband!) Returning to Nelson Ascher's post is a way for me to re-center. I wrote about this back in November:
I write often about laser beams, because that symbol has helped me gain perspective. On September 11th, I wrote a long email to family and friends about what the two-year anniversary meant to me, especially as a military wife. I read everything that all my favorite bloggers said that day and felt the same emotions they felt. I also had a different friend from college who has her own blog, and I went to see what she had to say on that momentous date. Nothing. I tried all of her links, and no one had even mentioned September 11th. I tried all of their links, racing through the internet trying to find anyone in their circle of "liberal" friends who thought that this date still held significance. I found one person who said that he had written a post about September 11th but then deleted it because "it is important to remember the events of 9/11, but let's not dwell on them."

I got so angry.
And then I found Nelson Ascher's post.

It stays at the top of my list of crucial reading, and I don't see anything bumping it out of the way. It has brought me great comfort ever since I read it.

On this side of the world it has been 911 again for over 6 hours. I swear I'd rather not write anything today. I'd rather remain silent and just spend the day feeling that my anger and hatred are alive and well. They're stronger indeed. I also know I should avoid reading much today, because many, probably most things that are and will be published will make me even angrier. And the problem is not that I don't want to be angrier: I do want. The problem is that I do not want to waste a miligram of my anger on all the idiots who have been getting ready to show us how idiotic they are. We're at a point where to be too angry at, say, Chomsky and the BBC, Old Europe and ANSWER, second and third rate entertainers and academics is to give them a kind of victory. They deserve disdain. Anger needs to remain concentrated like light in a laser beam, we must direct it toward its rightful target: Islamofascism first and foremost. If we spend too much time getting mad at those who are but idiots we run the risk of forgetting, even if only for a second, that it is the Muslim/Arab religious fanatics who are the ENEMY. In a way, that's the idiots' main weapon: to attract a wrath that could be more usefully directed to the really dangerous enemies. Whenever we're not thinking about the Jihadists we are losing some very precious time. And anger.

My anger has grown concentrated, like a laser beam, like Ascher proposed. I feel that anger burning inside of me every day when I read Little Green Footballs. I feel the anger when I watch the Palestinians dance in the streets, when I look at the Child Abuse Slideshow, or the Terrorism Promo Videos (now deleted but forever burned into my brain) that promote killing our President and soldiers. Writing my blog is a way for me to release that anger and hopefully connect with others who feel as I do. It is a way for us bloggers to remind each other that there's a reason we write: we're in a war of ideas, and as often as imams and Arab media spread theirs, we'll fight with anger and passion to spread ours. And it's a way for us to fuel our precious anger so that another September 11th will never happen.
...
But I need to re-focus. Sometimes I too feel like our Spaniard, "Being the only one with one idea, while virtually all the people around me is against it." But that is a distraction from the true target of my anger, the laser beam I have worked hard to focus, and I need to take his wise and eloquent words to heart:

"I just don't care about the criticism I receive every day, because I know the cause I defend is right."
I feel that my comments section has been pulling me off target for a long time now. Seb is not the enemy, though I send a hundred mental middle fingers his way. Neither was Florian or Rfidtag or any of the others who have tried to sidetrack me. You wanna know who the real enemy is?
This guy.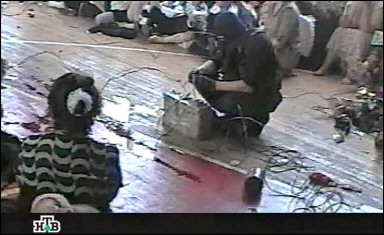 These guys.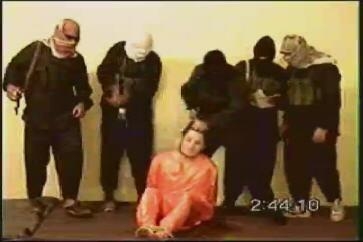 And the guys who orchestrated this.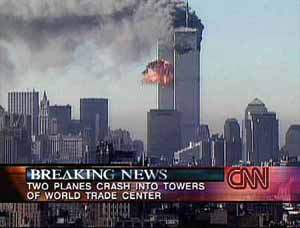 They are the enemy. All this other nonsense, all the forged memos and hats from Cambodia and plastic turkeys, is just a distraction from what's really important. D.G.C.I. told Norah that the sooner she figured it out, the better. I too could learn that lesson. My laser beam has scattered, to where points of light are now aimed at the likes of Michael Moore, John Kerry, and Seb. I need to refocus.
I have thin skin. It takes about one week of getting to know me before you realize that I take everything to heart, everything personally. Blogging was supposed to be an exercise in toughness for me, a way for me to cowboy up and take the heat, but I find I've only improved by a fraction. And I've found that I don't care to work any harder at becoming less sensitive. Thus, my comments section can sometimes feel like more of a burden than a blessing. Every unkind word about our servicemembers, every personal insult, and every moonbat theory is like a bullet through my heart. The easiest solution I could think of is to close down my comments section, but I don't think I'm quite ready for that because there's nothing I like better in the morning than an encouraging word from Tammi or Bunker or John. But I have to do something because lately I have been feeling depressingly distracted. I started my blog as a way to release anger, but at times it feels like it has become the source of my anger.
Jim of Parkway Rest Stop once told a story about Basic Training that has stuck with me: his tale of having to "police the brass". I think I've decided to police the brass of my comments section from now on. I'll walk through my comments section, and every bullet that pierces my thin skin will be picked out and discarded. The wounds will still burn, but perhaps the act of taking control over my own area -- the blogspace that I pay money to write in -- will have a calming effect.
Tim already advised me to do this a long time ago -- "Frankly you have had the stress heaped upon you of your husband in a combat zone with car bombs going off like so many popcorn kernels. ...you are now waging a two front war. One in Iraq, one at your PC. I'm afraid it will consume you. I'm not betting you can make yourself not care...so perhaps you may want to remove yourself as a target." -- I'm just now going to take his advice. I think a good way for me to maintain focus and hone my laser beam is to police the distracting brass.
At any rate, I really believe this year that we're all out of focus. This election is making us all point at each other instead of focusing as one nation on the looming threat that is Islamofascism. We're all drowning in a sea of Purple Hearts and superscript "th"s that have very little relevance to the current war we fight. And while we stand and point fingers at each other, those men in the photos above have not lost focus. They work diligently every day towards one goal: killing infidels. They'd kill Audie Murphy and Abbie Hoffman with the same indifference. We can't let ourselves forget that.
As 2001 slips further and further into our memory, we can't lose sight of the reality we face. We can't let smoke and mirrors sidetrack us from our goals, nor should we sidetrack ourselves. We owe it to all of the victims of WWIV, and especially to these people, to never let our laser beams scatter.
I'm working on my laser beam, every single day, and I sure could use your help.
Other 9/11 Reading:
Lileks 9.11.02
Cox & Forkum
Posted by: Sarah at 04:11 AM | Comments (36) | Add Comment
Post contains 1849 words, total size 12 kb.
Posted by: Amritas at September 11, 2004 05:38 AM (/eWht)
Posted by: Mike at September 11, 2004 07:26 AM (+sj2x)
Posted by: Jim at September 11, 2004 08:26 AM (s7guT)
Posted by: Tammi at September 11, 2004 09:43 AM (UOdfZ)
Posted by: Kathleen A at September 11, 2004 10:45 AM (vnAYT)
Posted by: kat-missouri at September 11, 2004 12:16 PM (FaMVL)
Posted by: Oda Mae at September 11, 2004 01:07 PM (xgTjN)
Posted by: Jim - PRS at September 11, 2004 08:22 PM (BjDAE)
Posted by: Jim at September 11, 2004 10:57 PM (s7guT)
Posted by: chris at September 12, 2004 12:02 AM (VDzYB)
Posted by: chris at September 12, 2004 12:04 AM (VDzYB)
Posted by: Toni at September 12, 2004 12:22 AM (Y9mK4)
Posted by: Ron - WI at September 12, 2004 04:00 AM (CwrQg)
Posted by: Amritas at September 12, 2004 04:25 AM (NEG+2)
Posted by: Speranza at September 12, 2004 10:25 AM (vLXJ/)
Posted by: Jim at September 12, 2004 03:39 PM (s7guT)
Posted by: chris at September 12, 2004 07:19 PM (VDzYB)
Posted by: chris at September 12, 2004 07:21 PM (VDzYB)
Posted by: Adrian at September 12, 2004 07:58 PM (SvJ1M)
Posted by: chris at September 12, 2004 10:33 PM (VDzYB)
Posted by: Jim at September 12, 2004 11:34 PM (s7guT)
Posted by: Jim at September 13, 2004 12:01 AM (s7guT)
Posted by: Adrian at September 13, 2004 10:52 AM (xKQid)
Posted by: chris at September 13, 2004 11:36 AM (W1mrP)
Posted by: chris at September 13, 2004 11:50 AM (TJ8HB)
Posted by: bushgirlsgonewild at September 13, 2004 04:53 PM (vzHiG)
Posted by: chris at September 13, 2004 05:14 PM (nyxv/)
Posted by: BUSHGIRLSGONEWILD at September 13, 2004 06:41 PM (vzHiG)
Posted by: BUSHGIRLSGONEWILD at September 13, 2004 07:05 PM (vzHiG)
Posted by: chris at September 14, 2004 12:52 AM (VDzYB)
Posted by: Jim at September 14, 2004 01:04 AM (s7guT)
Posted by: Jim at September 14, 2004 01:13 AM (s7guT)
Posted by: chris at September 14, 2004 01:29 AM (VDzYB)
Posted by: Jim at September 14, 2004 02:16 AM (s7guT)
Posted by: Jim at September 14, 2004 02:29 AM (s7guT)
Posted by: Princess Jami at September 15, 2004 04:58 PM (0gPLe)
Comments are disabled. Post is locked.
90kb generated in CPU 0.0148, elapsed 0.0948 seconds.
48 queries taking 0.084 seconds, 205 records returned.
Powered by Minx 1.1.6c-pink.