March 23, 2004
RE-GROK
I was going to spend a few hours composing my thoughts before I responded to Joshua's comment on my post last night:
do educate yourself on the occupation of palestine before you paint them as terrorists.

In 1948 the state of Israel was created by the US and Euro powers to form an area for the displaced jewish population after the World Wars. They re-captured and re-constituted the land of the Palestinians and begain to occupy the land stealing it from the natives. All supposed "terror" groups are fighting for the right of self-determination. This was done with backing by the US, which gives more in aid to Israel then the entire continent of Africa, even the helicopters used in the attack on Yassin are funded and sold by the US govt. America sends aid and retains allied with Israel to have a foothold in the politics of the Middle East. Israel attacks refugee camps, destroys homes and bulldozes farmlands. They are setting up an apartheid wall. www.palsolidarity.com to learn more about peace making in palestine.

feel free to email me about further discussion.

honestly, retry to grok this one.
So I got to work and saw that Oda Mae had already done most of the work for me:
There is no such group as "Palestineans" - the Romans changed the name from Judea to wipe out memory of the Jewish homeland. The British re-named the region that as a joke after WWI. The peoples who lived in that region were the gypsy nomads of the mideast that no other country would accept - see Lebanon, Jordan, Iraq and so forth. Basically, the third world squatters of the Arab region. No culture, no nothing. NEVER an established government of "Palestine."

When the Jewish state was formed, the Jewish peoples did their best to co-exist. After all, many Jews already lived in Tel Aviv and had been coming for years back to THEIR homeland. The "Palestineans" would have none of that, with the help of their now-friendly neighbors in Lebanon and Jordan. With their backing and support, the Middle East Arabs tried to drive the Jews to the sea as part of a war against their "occupation" of THEIR OWN ANCIENT (Jewish - see Jerusalem and other Jewish towns mentioned in sections of the Bible) homeland. The Pallys lost. The Israelis defended themselves and in the process kicked Arab ass.

Did they then drive the Pallys into the sea? Send them into the desert to wander for 40 years? Did they, fuck. No, they continued to try to co-exist with the blighted buggers, to behave in a civilized manner until FORCED by the Pallys to take more extreme action to protect their country and interests. Good on them. Upset by chekcpoints, those inconvenient pesky searches? Here's an idea - stop telling the entire world your one goal is to kill all Israelis and destroy their country and MAYBE Israel will play nice. But, you know, when you keep blowing up buses and restaurants and synagogues and such, you shouldn't be too surprised when you're then searched for bombs whenever you come across the border.

Maybe you should read a bit of history NOT written by the PLO. No need to re-grok this baby! There's lots out there if you're looking for something other than propaganda.


Well, good gosh, when you think about it, the old Third Reich was an ancient civilization. I mean, it was based on ancient German legends, right? And the fact that they were trying to remove the Jews because they weren't part of that original First Reich - well, yeah, it's all making sense to me now! You Neo-Nazis, brothers under the skin with those poor oppressed Pallys. Go at it and GET those Jews this time around. Hurry, the Pallys need you!

They've created their own misery - now they're having to live with it. The Arab countries flooded peoples into "Palestine" where the right of return must be given if the Arabs had lived in 'their' homeland for two years. TWO - well, that makes an ancient civilization, don't you think? Check those figures in the third link to see the real picture.

http://www.eretzyisroel.org/%7Epeters/mythology.html

http://www.eretzyisroel.org/%7Epeters/mixed.html

http://www.eretzyisroel.org/~jkatz/return.html

You will note that the articles, albeit some by Jewish authors, are extensively footnoted with sources. The Palestinean cause is a poorly disguised Anti-Semitism. Would there be this hoopla if the country was still "Southern Syria"? Nah, I don't think so. Nor would there be much of a Gross National Product.

Sarah, in spite of the misleading hairstyle, I think Saruman was a bit complimentary. The guy was just a crippled Orc.
When I was in college, my views on Israel were of the fingers-in-ears variety. (I wrote about this back in November.) I didn't want to even think about it, even despite my fiance's urging. Without doing a single piece of research, it seemed to me that both sides had merit: you can't just give away land that already belongs to someone else, but you can't just kill people because they've been given some land. Seemed like they were both in the wrong to me back then.
But I daresay a week of reading LGF is enough to realize that something lopsided is going on. Just look at this photo again: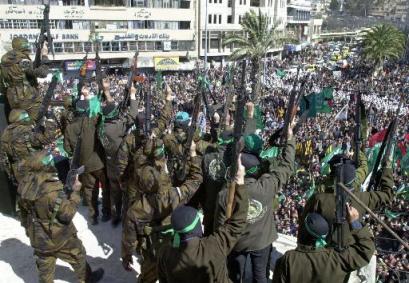 Where are the parallel photos of Israelis? Where are the Israeli prisoners released from Palestinian jails who vow to kill again? Where are the Israeli children with ski masks and machine gun toys?
So I have tried to grok a lot of info on Israel over the past two years, and I respectfully decline the offer to re-grok my position. For more on this topic, I defer to Nelson Ascher, the definitive voice on this issue, and point out this post of his. And if we're going to come down on Israel, then I agree with Vincent Ferrari (via Bunker): Let's remove all fences in the world.
MORE TO GROK:
Continued in Israel post.
Posted by: Sarah at 04:25 AM | Comments (15) | Add Comment
Post contains 999 words, total size 7 kb.
Posted by: Simon at March 23, 2004 04:43 AM (UKqGy)
Posted by: Blueshift at March 23, 2004 05:34 AM (crTpS)
Posted by: Blueshift at March 23, 2004 05:37 AM (crTpS)
Posted by: Mike at March 23, 2004 07:38 AM (cFRpq)
Posted by: Dominic at March 23, 2004 08:38 AM (0h0BM)
Posted by: Joshua at March 23, 2004 10:30 AM (qLwT1)
Posted by: Mike at March 23, 2004 11:28 AM (YyIUS)
Posted by: Carla at March 23, 2004 01:53 PM (r5M6F)
Posted by: Pixy Misa at March 23, 2004 01:56 PM (+S1Ft)
Posted by: Pixy Misa at March 23, 2004 01:58 PM (+S1Ft)
Posted by: birdie at March 23, 2004 02:57 PM (IXwYP)
Posted by: Pixy Misa at March 23, 2004 10:38 PM (+S1Ft)
Posted by: Pixy Misa at March 23, 2004 10:41 PM (+S1Ft)
Posted by: slots at August 17, 2005 10:15 PM (lr625)
Posted by: bingo at August 17, 2005 10:15 PM (lr625)
Comments are disabled. Post is locked.
59kb generated in CPU 0.017, elapsed 0.0904 seconds.
48 queries taking 0.0818 seconds, 184 records returned.
Powered by Minx 1.1.6c-pink.