May 13, 2004
FREEDOM
I found this on Castle Argghhh's post
Wahabism Delenda Est
. It really got to me.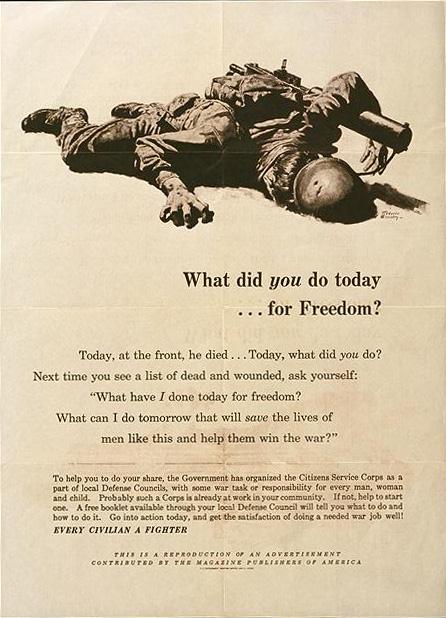 Not all of us can run out and join the fight (though after watching the Nick Berg video, that's the only thing on my mind). Instead we have to fight for freedom at home. Deskmerc once said, "While our troops go out to defend our country, it is incumbent upon us to make the country worth defending." I have kept that on my sidebar to remind myself of my duty, but it's easy to get sidetracked and forget. Castle Argghhh reminded me today.
Our duty is to make the country worth defending. That means prosecuting those who humiliate prisoners, and they will surely be dealt with. But it also means not turning a blind eye to what is going on in this world. It means each and every one of us -- we who grok -- have a duty to try to help others grok. Consider it a sort of political evangelicism; we need to spread The Truth.
When someone equates Abu Ghraib and Nick Berg, we need to set the record straight. Pointing at someone's penis and sawing someone's head off do not a balanced scale make. When someone mistakenly says that both sides in this war on terror want peace, we need to remind them that radical Muslims are not working for peace by a long shot. Hippies want peace on earth; Muslims want death to Americans and Jews. When someone says that war is not the answer, we need to ask them what the f-ing question is.
It is our duty to ask ourselves "What have I done today for freedom?"
Posted by: Sarah at 03:33 AM | Comments (6) | Add Comment
Post contains 281 words, total size 2 kb.
Posted by: Mike at May 13, 2004 08:10 AM (kbqMz)
Posted by: John at May 13, 2004 08:34 AM (crTpS)
Posted by: John at May 13, 2004 08:35 AM (crTpS)
Posted by: Amritas at May 13, 2004 09:00 AM (VvnzE)
Posted by: Tammi at May 13, 2004 10:40 AM (rHLVC)
Posted by: Net-Cop at February 15, 2005 06:38 AM (0kgcI)
Comments are disabled. Post is locked.
44kb generated in CPU 0.0116, elapsed 0.0807 seconds.
48 queries taking 0.0736 seconds, 175 records returned.
Powered by Minx 1.1.6c-pink.