March 01, 2008
FLYING PIG MOMENT
My apologies to
LGF
for stealing his flying pig, but dang...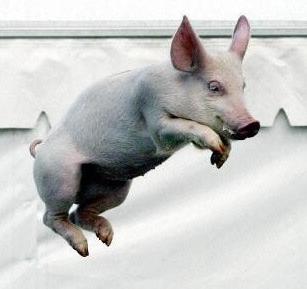 Angelina Jolie wrote approvingly about the progress in Iraq:
Today's humanitarian crisis in Iraq -- and the potential consequences for our national security -- are great. Can the United States afford to gamble that 4 million or more poor and displaced people, in the heart of Middle East, won't explode in violent desperation, sending the whole region into further disorder?
...
As for the question of whether the surge is working, I can only state what I witnessed: U.N. staff and those of non-governmental organizations seem to feel they have the right set of circumstances to attempt to scale up their programs. And when I asked the troops if they wanted to go home as soon as possible, they said that they miss home but feel invested in Iraq. They have lost many friends and want to be a part of the humanitarian progress they now feel is possible.
Frank J wrote a funny post the other day about Obama called "My Solution to Iraq Is to Never Have Gone There." It was funny because it felt all too true; many people talk about fixing Iraq in the past tense, as if "we shouldn't be there in the first place" is an actual solution. So -- and I can't believe I'm typing this -- kudos to Angelina Jolie for dealing with the actual situation as it stands today and not wishing for some utopian non-invasion that doesn't exist. And kudos to her for reporting what she saw on the ground, despite the fact that (I'm guessing) it doesn't jibe with her preconceptions.
So, yeah, pigs fly.
Posted by: Sarah at 09:04 AM | Comments (2) | Add Comment
Post contains 287 words, total size 2 kb.
1
Man, that is such a nice surprise to hear that she said all of that.
Posted by: Erin at March 01, 2008 01:37 PM (y67l2)
2
It seems like Angelina Jolie is undergoing a transformation toward "normal". Very surprising, but very refreshing.
Posted by: Nicole at March 02, 2008 08:40 AM (YHVU/)
Comments are disabled. Post is locked.
42kb generated in CPU 0.0103, elapsed 0.069 seconds.
48 queries taking 0.0626 seconds, 171 records returned.
Powered by Minx 1.1.6c-pink.