February 19, 2006
ANOTHER DAY, ANOTHER LESSON
We gave Charlie a bath this morning, and I decided to cut some of the knots out of his fur while he was drying. One clip of the scissors made him yelp and run away; once I nabbed him and brought him back to the living room, I realized I had cut more than I bargained for.
After his initial yelp, Charlie didn't seem to notice his wound so much. He was up and romping around with his toys; I was the inconsolable one weeping on the floor. And this, my friends, is Reason Umpteen why I can never have kids: I hurt Charlie. My carelessness caused him pain. Every time I look at him, I burst into tears again, even though he seems to have accepted the 8 shiny new staples hiding under his right ear.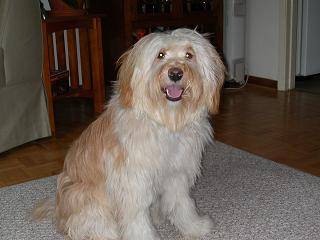 I learned and emotionally (ugh -- and financially) costly lesson today, one that I won't soon forget. I have the power to hurt Charlie. Or my husband, or my child someday. I really don't like the thought of that.
Posted by: Sarah at 10:12 AM | Comments (6) | Add Comment
Post contains 184 words, total size 1 kb.
Posted by: Peggy at February 19, 2006 03:11 PM (a4vU5)
Posted by: Oda Mae at February 19, 2006 04:35 PM (Ag/cV)
Posted by: Nancy at February 19, 2006 06:30 PM (6s7Zq)
Posted by: Kathleen A at February 20, 2006 10:28 AM (7qm8p)
Posted by: Adrienne at February 20, 2006 04:25 PM (yAWf0)
Posted by: asm826 at March 05, 2006 12:56 AM (nHUDe)
Comments are disabled. Post is locked.
46kb generated in CPU 0.0114, elapsed 0.0858 seconds.
48 queries taking 0.0783 seconds, 175 records returned.
Powered by Minx 1.1.6c-pink.