November 24, 2009
SARAH PALIN BOOK SIGNING
When the book tour stop was announced in my town,
Lorie Byrd
contacted me and asked if I planned to go see Sarah Palin. I really hadn't considered it at all: standing in line for hours didn't seem like a fun idea while six months pregnant. And I'm not really an "autograph person"; I'd rather hear someone's ideas than just shake her hand. They had said Palin would not give a speech, and I didn't see much point in just getting her to scribble in a book with a sharpie. (Sorry, that's how I see autographs.) But I thought it could be fun to see Lorie, and we were on the same page that if it was too much of a zoo, we wouldn't wait all day in line.
Lorie decided that maybe one of her friends in high places could get us a better deal. She contacted a big-time blogger who checked into it. I had no illusions whatsoever that we would get special treatment, and we just headed to the signing like everyone else. But on the drive there, we got a call from Andrew, one of the organizers for the event. Amazingly enough, he gave us the VIP treatment. We got special seats within the inner circle of velvet ropes to watch the preparations and festivities. The staff was working hard and really efficiently. And Andrew even brought fatty fat me donuts.
When Sarah Palin arrived, we were the first people she greeted: me, Lorie, and another blogger from
Conservatives4Palin
. Yay for the perks of new media!
They got the ball rolling right away and she started signing books. The staffers moved everyone through efficiently and briskly, yet Sarah Palin had this amazing way of making you feel like you weren't rushed. She shook everyone's hands, asked people their names, held babies, and really made each person feel like the most special person in line. All while the staff moved like clockwork around her to hustle as many people through the line as possible. It was impressive.
We sat for a bit from our VIP chairs, trying to catch a photo of Palin in between fans. It wasn't easy. Lorie and I laughed and showed each other all of our blurry and bad photos. I only had one that was even remotely OK.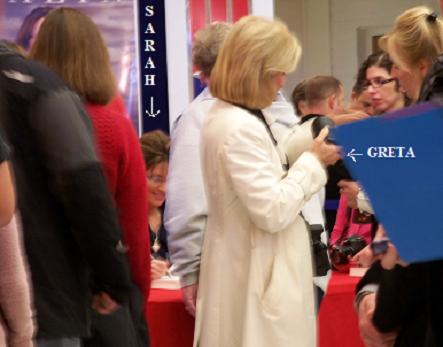 The staff then put Lorie and me into the line. They told Palin we were bloggers and that my husband is in Afghanistan. She said to tell him that she loves him for what he does, and then she pointed at my belly and asked how I was doing. She was as charming as can be.
Lorie's motto is "it doesn't hurt to ask," so she had asked if there was someone else from Palin's entourage we could briefly interview for our blogs. After we got our books signed, the staff showed up with Sarah Palin's father for us to chat with. Lorie asked him how the tour was going so far, but he had just flown in to join the tour the night before. He was super nice. I asked how his grandson was doing after his deployment, and we chatted a bit about how hot it gets in Iraq and about my husband being in Afghanistan. It was so nice of Mr. Heath to spend a few minutes with us. He was delightful as well.
I still can't believe Lorie had the guts to get us access. I am an absolute nobody, but we got treated so well and like real VIPs. And Sarah Palin is an genius at making everyone around her feel special and appreciated. She really made it feel like
she
was the one who was lucky to meet all 4,000 of us, and not the other way around. Now that's charisma.
I had a good time, and I'm glad Lorie is the type of gal who's a go-getter, otherwise I never would've had the day I had. And a special thanks to Andrew for treating a couple of bloggers like VIPs.
Further reading:
Lorie's post
Posted by: Sarah at 11:45 AM | Comments (9) | Add Comment
Post contains 681 words, total size 4 kb.
1
I've been waiting to read this story, and it's even better than I expected! You are a VIP and you deserve VIP treatment. But you are
not
"fatty fat"!
I never understood the big deal about autographs, so I wouldn't have gone if I had the chance. I too think ideas are more important than hand-shaking. Nonetheless, I'm glad you did. Not just a moment with Sarah Palin herself, but a few minutes with her father!
I too have difficulty taking photos when I most need to. I wish I had a video camera strapped to my head so I could search the footage for usable stills later. Then again, I'd look pretty silly ... though I already do without the camera.
Posted by: Amritas at November 24, 2009 02:27 PM (+nV09)
2
Thankyou and your husband for you service and your selfishness for our country. I am glad to see that my faith in Palin is not misplaced. from your post it seems Gov Palin treated you and all 4500 people there with the respect and dignity that american citizens deserve. I think Palin understands that we are not subjects but citizens of the greatest country in the world.
Posted by: unseen at November 24, 2009 05:35 PM (aVGmX)
3
oops should be selflessness....
Posted by: unseen at November 24, 2009 05:37 PM (aVGmX)
4
I'm not a big autograph fan myself. I just wanted to meet the governor and shake her hand and look into her eyes. Sarah said she liked my shirt which had the American Flag on it and said "the price of freedom is not free".
It is certainly one of the more memorable experiences in my life. I have been telling everybody about it.
Posted by: Bill Morgan at November 24, 2009 10:41 PM (tww4r)
5
I hear you re. autographs. I would just like the chance to meet her (I already have her autograph from a thank you card I received back in February anyway).
Cool that you have a chance to talk with her Dad. I live in Des Moines, IA and hope to get up to her book signing in Sioux City (wish it were closer though).
Posted by: Shane Vander Hart at November 24, 2009 11:23 PM (ul+TO)
6
Just wanted to say that it was a pleasure meeting you and Lorie on Monday.
Looks like one of the other editors at C4P
linked
the two of yours posts about the book signing earlier today.
BTW, where's the rest of those doughnuts anyhow?
Sinistar
www.conservatives4palin.com
Posted by: Sinistar at November 25, 2009 12:51 AM (XGG0V)
7
Good for Lorie!
My version of her motto is: If you don't ask, you don't get.
Posted by: Rob at November 25, 2009 12:28 PM (TtKVL)
8
I am so jealous in a good way. I got the book several days early (thanks careless stock boy at Marsh!) and considered going up to her book stop in Noblesville. But like you,not an autograph person. Plus, I knew it would be a mad house. Plus, the whole...work thing!
What was funny to me was that a couple came into the office to sign their Wills and started arguing about the best time to go up to see the Gov. and just general strategy. They were in the conference room and the wife said "You make me miss my chance to meet Sarah and I will be a widow and and an heiress and a criminal all at ONCE!"
Posted by: MaryIndiana at November 25, 2009 09:13 PM (CYug5)
9
What a neat experience!!
Have you finished her book? If so, I'm interested to hear what you thought of it.
Posted by: Tootie at December 05, 2009 11:31 PM (E6IKW)
Comments are disabled. Post is locked.
48kb generated in CPU 0.0164, elapsed 0.0958 seconds.
48 queries taking 0.0861 seconds, 168 records returned.
Powered by Minx 1.1.6c-pink.