August 29, 2004
BEST
I don't have the patience to go look it up, but a long time ago I wondered if we'd all still be blogging in ten years. I wondered if the fad would die or people would get burned out. I thought we might all hit a point where we just lost interest, but I never wanted to see it happen to
The Best
.
Posted by: Sarah at 02:25 AM | Comments (3) | Add Comment
Post contains 65 words, total size 1 kb.
August 16, 2004
CPT PATTI
Tim mis-labeled
his blog
when he called CPT Patti the "sweetest woman on the planet"; he should have called her the sweetest and best smelling woman on the planet. I don't know if she's taken a billion showers after leaving Iraq, but the first thing I noticed about her was how downright delicious she smelled. And then it was her radiant smile.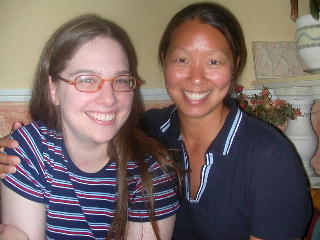 Tim and CPT Patti stopped here on their way home from leave in Italy. I originally thought nothing could've been nicer than my trip to Frankfurt to meet Tim, but the addition of Patti was nothing short of heavenly. She was personable and interesting and genuine and just plain great. And of course Tim was the Tim we know and love. They were just excellent together, and it was the best lunch I've had in a long time. I could've talked to them for two days instead of two hours, and I'm humbled that they drove out of the way just to see me.
And I told Tim that if he ever gets the itch, he's welcome to write a guest post here whenever he wants.
Posted by: Sarah at 12:31 PM | Comments (7) | Add Comment
Post contains 192 words, total size 1 kb.
August 13, 2004
PERSPECTIVE
When I blog, I blog off the cuff. I type, I finish, I post. Which is why the fact that I've started several posts in the past few days and just erased them or saved them as drafts because I know they're garbage is startling. I don't have anything good to say. I'm stumped and I'm down on myself because I feel worthless.
And then the phone rang and I found out LT A will likely be in the hospital for up to six months. And I lost it.
There I was, carrying on because my blogging is not up to par, and then people with actual problems called and reminded me that "gaping shrapnel wounds" are more important than "feelings of inadequacy due to insufficient blog material". I don't think I've ever felt like a bigger idiot.
I'm not blogging anymore for a while, at least not until I have something to say.
Posted by: Sarah at 03:08 AM | Comments (10) | Add Comment
Post contains 156 words, total size 1 kb.
August 12, 2004
WORSE
I was just trying to find something back on my old Blogspot site.
I had a realization:
I think I was a better blogger back in November than I am now.
Hmmm...that's not good.
Posted by: Sarah at 09:46 AM | Comments (2) | Add Comment
Post contains 36 words, total size 1 kb.
55kb generated in CPU 0.0579, elapsed 0.1247 seconds.
50 queries taking 0.1137 seconds, 185 records returned.
Powered by Minx 1.1.6c-pink.