November 30, 2009
SLOW NEWS WEEK
All's well that
ends well
in Honduras. Good for them.
(Slow news week, eh? A short list of things I don't care about: Tiger Woods, White House party crashers, the recordings from Flight 188, Christmas shopping tips, and everything else that's been on the news since Thanksgiving.)
Posted by: Sarah at 03:13 PM | Comments (4) | Add Comment
Post contains 50 words, total size 1 kb.
November 24, 2009
SARAH PALIN BOOK SIGNING
When the book tour stop was announced in my town,
Lorie Byrd
contacted me and asked if I planned to go see Sarah Palin. I really hadn't considered it at all: standing in line for hours didn't seem like a fun idea while six months pregnant. And I'm not really an "autograph person"; I'd rather hear someone's ideas than just shake her hand. They had said Palin would not give a speech, and I didn't see much point in just getting her to scribble in a book with a sharpie. (Sorry, that's how I see autographs.) But I thought it could be fun to see Lorie, and we were on the same page that if it was too much of a zoo, we wouldn't wait all day in line.
Lorie decided that maybe one of her friends in high places could get us a better deal. She contacted a big-time blogger who checked into it. I had no illusions whatsoever that we would get special treatment, and we just headed to the signing like everyone else. But on the drive there, we got a call from Andrew, one of the organizers for the event. Amazingly enough, he gave us the VIP treatment. We got special seats within the inner circle of velvet ropes to watch the preparations and festivities. The staff was working hard and really efficiently. And Andrew even brought fatty fat me donuts.
When Sarah Palin arrived, we were the first people she greeted: me, Lorie, and another blogger from
Conservatives4Palin
. Yay for the perks of new media!
They got the ball rolling right away and she started signing books. The staffers moved everyone through efficiently and briskly, yet Sarah Palin had this amazing way of making you feel like you weren't rushed. She shook everyone's hands, asked people their names, held babies, and really made each person feel like the most special person in line. All while the staff moved like clockwork around her to hustle as many people through the line as possible. It was impressive.
We sat for a bit from our VIP chairs, trying to catch a photo of Palin in between fans. It wasn't easy. Lorie and I laughed and showed each other all of our blurry and bad photos. I only had one that was even remotely OK.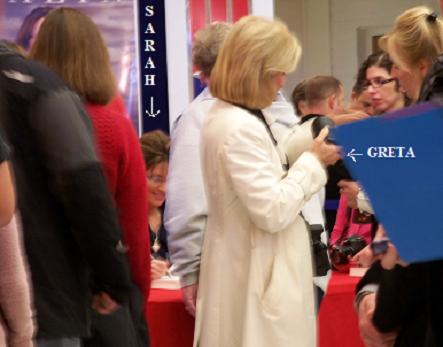 The staff then put Lorie and me into the line. They told Palin we were bloggers and that my husband is in Afghanistan. She said to tell him that she loves him for what he does, and then she pointed at my belly and asked how I was doing. She was as charming as can be.
Lorie's motto is "it doesn't hurt to ask," so she had asked if there was someone else from Palin's entourage we could briefly interview for our blogs. After we got our books signed, the staff showed up with Sarah Palin's father for us to chat with. Lorie asked him how the tour was going so far, but he had just flown in to join the tour the night before. He was super nice. I asked how his grandson was doing after his deployment, and we chatted a bit about how hot it gets in Iraq and about my husband being in Afghanistan. It was so nice of Mr. Heath to spend a few minutes with us. He was delightful as well.
I still can't believe Lorie had the guts to get us access. I am an absolute nobody, but we got treated so well and like real VIPs. And Sarah Palin is an genius at making everyone around her feel special and appreciated. She really made it feel like
she
was the one who was lucky to meet all 4,000 of us, and not the other way around. Now that's charisma.
I had a good time, and I'm glad Lorie is the type of gal who's a go-getter, otherwise I never would've had the day I had. And a special thanks to Andrew for treating a couple of bloggers like VIPs.
Further reading:
Lorie's post
Posted by: Sarah at 11:45 AM | Comments (9) | Add Comment
Post contains 681 words, total size 4 kb.
STATUS UPDATE
How I would write it on Facebook, if I posted such thoughts as these on Facebook:
Sarah is enjoying a bit of schadenfreude that the folks at Sadly, No are
getting belittled
.
Posted by: Sarah at 11:27 AM | Comments (1) | Add Comment
Post contains 34 words, total size 1 kb.
55kb generated in CPU 0.044, elapsed 0.1359 seconds.
49 queries taking 0.1116 seconds, 175 records returned.
Powered by Minx 1.1.6c-pink.