September 25, 2006
NAKED
The first thing two of my best high school friends said when I walked up to them at the reunion was "Hey, we found your blog!" Gulp. All of a sudden I was completely self-conscious, and I still can't shake the feeling. Neither of them said anything to lead me to believe they agree (or disagree) with anything I say here. They just read it. And I don't like it.
Again, I can't help but think about what Tim said about Polite Company. (I swear, this is probably the post that I think about more than any other blog post that's ever been written.) My blog thoughts are never anything I would every want to discuss during a five minute conversation at my reunion. All of a sudden I felt naked, like everything controversial I've ever said was right there in the open. I was embarrassed, and the more I think about it, the stranger I feel.
I have a friend from high school who's Muslim. Devout Muslim. And we're most certainly still friends...because we both believe in Polite Company. What if he were to find my blog? Even though everything I write here is how I honestly feel, I still can't stand the thought of him finding it and learning everything all at once. What if he were hit with the full force of this blog instead of gradually discussing issues face to face, the way people used to get to know each other before blogs?
I can't stop wondering what these two friends are thinking. Do they talk about how crazy I am? These are two people I really look up to and admire, two of the smartest men I've ever known; what do they think of me now that they know every intimate detail about the inside of my brain?
Right now I feel so uneasy that I can't even stand to blog. It's not normal for your old friends to know the entirety of your personal and political beliefs when you don't know a single thing about theirs. It's a consequence of blogging that I wasn't quite prepared for, and to be honest it makes me feel ill.
Posted by: Sarah at 03:33 AM | Comments (14) | Add Comment
Post contains 364 words, total size 2 kb.
September 20, 2006
NEIGHBOR
James Lileks hosted an
open house
this weekend. All I could think about these past few days -- and even moreso this morning when I read
today's bleat/screed
-- was how lucky some people are to be neighbors with James Lileks. People get to hang out with this man. My husband and I got this little fantasy going yesterday, that we could move in next to Jasperwood and time starting a family just right so that Gnat could be our babysitter. Do his real neighbors know how lucky they are?
Posted by: Sarah at 02:58 AM | Comments (1) | Add Comment
Post contains 92 words, total size 1 kb.
September 02, 2006
IT'S HERE
The other day the doorbell rang, and UPS handed me my copy of
The Blog of War
.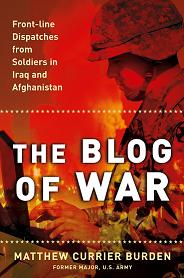 Blackfive did a wonderful job of pulling this anthology together, and the finished product is a wonderful slice of history. The best part of the book, in my opinion, is how no one knew he would be published. We wrote our entries for our blogs, not for a book, so the writing is spontaneous and honest. We expected our friends and blog family to read our words, not the whole world; there's no pretension or feeling of "this is literature" in The Blog of War. It's just servicemembers and spouses describing deployment.
I've been reading it this week, and I must say I can only handle its intensity in small doses. Reading this book brings back deployment feelings that I honestly had forgotten about, and I find myself reliving the anguish, the anxiety, the loneliness, and the fear. I've been laughing, and lord, I've been crying, and with every page turn I've been wishing that every person I know would read this book.
But whatever you do, don't try to read the chapter on The Fallen all in one night. You won't sleep, trust me.
I recommend this book to anyone who wants a glimpse into OIF and OEF. At a mere ten bucks, it's a steal on Amazon. My mom bought six! So far, I know our friends from Poland and Sweden have also bought copies, and I'm anxious to hear their responses. But it's a no-brainer if you're reading blogs and if you've ever visited MilBlogs; this book is definitely for you.
Buy the book. You won't be sorry.
My only regret is that this story didn't make it in. I didn't think to suggest it until I started reading the book and knew how perfectly it would've fit.
Posted by: Sarah at 02:37 AM | Comments (4) | Add Comment
Post contains 312 words, total size 2 kb.
September 01, 2006
THE DEATH OF CIVILITY
In college I was friends with several Bulgarians. They used to constantly bring new things home from the grocery store that they'd never seen before. You should've seen their excitement when they discovered frozen juice concentrate...and watching them try to open it with a can opener was priceless. One day they brought home a tub of sour cream and asked me what it was. As I was trying to describe it, they opened the tub and ate a huge spoonful. Now, I'm the first person to enjoy a dollop of Daisy, but watching them eat plain sour cream directly from the tub kinda grossed me out.
I remembered that story today when I read the comments from yesterday. I've taken a lot of crap here on my blog for politics, and I fully understand that this comes with the territory, as much as I hate it. I'm prepared to hear people insult my intelligence and worldview, but I'm always amazed to find someone take insults to a place I never imagined.
Lest we forget what an ugly, ugly place the internet can be, here's the comment for all to read:
Yeah, look at you. You're fat because you sit around knitting, watching tv, reading, and eating sour cream by the gallon. You can't expect your husband to come home from a hard day at the government teat and drag your big butt away from the computer to do some exercise!
I guess I should just be relieved that he just called me fat and lazy; another blogger got a death threats directed at his toddler. When I read stuff like this, I am reminded of why Tim left blogging: the death of civility. And I'm reminded of how nice it would be in many ways to just quit.
Incidentally, the Bulgarians decided that sour cream made a good spread for toast. I don't get it either.
Posted by: Sarah at 05:53 AM | Comments (5) | Add Comment
Post contains 324 words, total size 2 kb.
59kb generated in CPU 0.0236, elapsed 0.1247 seconds.
50 queries taking 0.1083 seconds, 187 records returned.
Powered by Minx 1.1.6c-pink.