August 29, 2009
MY OWN HILLBILLY TRAVELOGUE
I have been trying to log in here since I got back from Nebraska with no luck. I have no idea why it didn't work or why all of a sudden it worked again, but if I disappear for another long chunk of time, at least you'll know why.
So Charlie and I loaded up and headed west again with my mother, across the plains to Nebraska to visit AWTM. I love this part of the country; it makes my heart sing. From Ohio to Nebraska, there isn't a piece of highway that isn't beautiful. AWTM is right: it's the sky. It's seeing sky and clouds and corn as far as your eyes can take you. It's seeing clearly where you've been and where you're going.
Sadly, western Iowa won the Plains Off this year, because it was the only stretch of the drive where we didn't have rain. My plains were dismal this week.
We arrived and picked up the kids from school. They are both charming as can be. Pink Ninja decided she was in love with Charlie and wanted to become a tibetan terrier and marry him.
Sir Rowland was very cute too, and spent most of his time asking me about Rokenbok, which I know nothing about. He built an elevator while I was visiting, complete with shaft and pulley system. And while he had no intentions of proposing marriage, he seemed to warm to Charlie too.
The next day, AWTM and I tried to do the entire city in a day. We went to the International Quilt Study Center and Museum. We didn't realize that rotating exhibits means that only a fraction of the quilts are on show at any given time. There just wasn't much to see. So we moved on to the National Roller Skating Museum. AWTM wrote about it here.
We also decided to take one photo of ourselves everywhere and just run with what we got. No do-overs.
We could've used a couple do-overs.
Next was lunch at a down-home ma and pa restaurant. Taters and gravy and rolls and, at the end, pie. Er, wait, this is a Hillbilly Travelogue. I meant to say we ate pah. Peach cream pah, to be exact.
Then we headed to the Capitol. The only unicameral one in the 50 states, you know. And perhaps the only one built without incurring any debt. Good for them; I already want to move to Nebraska just for that reason. You will too, once you read this article:
Nebraska shuns all long-term financial commitments, not just for retirement benefits. The state has no debt. Its Constitution forbids it.

One thing Nebraska does have: A balanced $3.5 billion budget and a $563 million cash reserve.
That should be in the String Beans song.
The entrance to the Capitol is nothing to get excited about, so I wondered why exactly AWTM was making such a big deal of taking me there for a tour. I found out once we rode the elevator up to the main level.
It was the art.
So many types of art in so many styles. All of it depicting the plains and Nebraska. It was beautiful.
My favorite:
And this series reminded me of Objectivism. Can't you just see this one, depicting the 'labors of the mind' on the cover of an Ayn Rand book?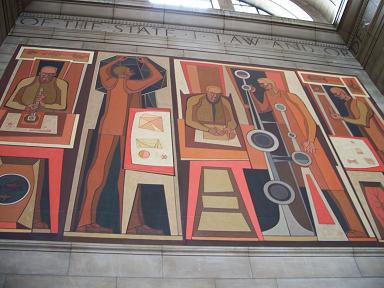 Beautiful. The Capitol was totally worth it.
AWTM wore me out and felt terrible about it. But it was a lot of fun, and I slept like a log when I got home.
Oh, and because this is a Hillbilly Travelogue, I have to end with random pictures of a dog.
Charlie didn't really know where to sit in AWTM's car...
And he did such a good job tolerating Pink Ninja's hugs and tugs the whole time. I grow more confident that he will be a good doggy to our little girl too.
Thank you, AWTM, for sharing your home and your state with me. I traveled 1300 miles in a car to get to you...and it was worth every backache and pain.
Posted by: Sarah at 10:26 AM | Comments (8) | Add Comment
Post contains 688 words, total size 5 kb.
August 25, 2009
RIGHT HERE IN NEBRASKA
I made my way even further west this week and am now sitting in AWTM's living room, watching her daughter give Charlie pigtails and her son build with his rokenbok blocks.
More later.
Posted by: Sarah at 04:15 PM | Comments (5) | Add Comment
Post contains 37 words, total size 1 kb.
51kb generated in CPU 0.0777, elapsed 0.1378 seconds.
48 queries taking 0.1248 seconds, 172 records returned.
Powered by Minx 1.1.6c-pink.