July 29, 2004
SULLIVAN
I just posted this over on
Vodkapundit's fisking of Andrew Sullivan
.
"I have no real beef with Sullivan, but I don't visit his site as often as I used to. I was curious to hear that he had added a donkey to the header on his blog, so I went over there and just read this:
QUOTE OF THE DAY: "As few as five people in black robes can look at a particular issue and determine for the rest of us, insinuate for the rest of us that they are speaking as the majority will. They are not." - Rep. John Hostettler, the Republican who authored the bill that would strip federal courts of the right to consider the constitutionality of the Defense of Marriage Act. But, of course, it could also be said about the five Supreme Court Justices who made George W. Bush the president of the United States. The Republicans love courts when they reach the right decision; they just despise them when they don't.
Wow. Has he really gotten that far out of hand that he's playing the Bush-stole-the-election game? Geez."
If the man wants to vote for Kerry, then so be it. But please don't all of a sudden start claiming that the election was rigged and other such nonsense. I have always respected Sullivan for his research and insight, so this recent Quote of the Day made my jaw drop.
Posted by: Sarah at 06:20 AM | Comments (3) | Add Comment
Post contains 238 words, total size 2 kb.
July 28, 2004
#17
Several people have written me to point out that I made it all the way up to #17 on
John Hawkins' Top 40 Blogs
. When I saw that, I was as flabbergasted as you! Oda Mae wrote in my comments section recently that I should be proud of the things I say on my blog, but I don't really think I'm all that interesting. I still can't believe
anyone
reads my stuff, much less people like SGT Hook who are deployed and should have much higher priorities.
But anyway, people do come here, and I certainly appreciate it. Thanks for helping me try to grok.
Posted by: Sarah at 02:38 AM | Comments (5) | Add Comment
Post contains 107 words, total size 1 kb.
July 05, 2004
FUNDRAISER
I have a relatively small blog. I won't kid myself that I can make a big difference, but I'd like to try something, with your help of course.
I just recently got a currency adjustment for my salary. Since the dollar is so weak and many people live on the German economy, we got an extra 4% of what we made last year. I didn't make that much -- since I only started working in September and I'm woefully underpaid -- and I don't spend much money on the economy. Thus the money is waiting for a good cause, and I think I've found it. I want to buy one of these: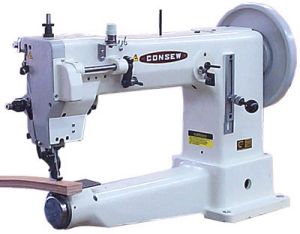 When I read at Spirit of America that the 1st Marine Division is trying to raise money to buy sewing machines for women in Ramadi, I thought that this would be a good cause. I enjoy my sewing machine and have been learning to quilt, so it seemed fitting that I could use my currency adjustment check to help Iraqi women start earning money and making clothes.
However, I don't have the full amount. One industrial sewing machine costs $475, so I was thinking that maybe my readers could help make up the difference? I get about 100 page views each day, which means if everyone kicked in five bucks we'd have a whole machine. I know many of you have already donated to Spirit of America, and I'm already amazed at how giving you all are, but maybe you could spare another $5? Like I said, I don't have any illusions that I can generate thousands of dollars like other bloggers did, but I'd be thrilled to get anything I could.
If you would like to donate, visit the Spirit of America site. You can use PayPal, VeriSign, or personal checks. And if you do donate something, comment on this post and let us know how much you've given, so we can all see when we've made it to a full sewing machine. I'll make up the difference.
I hope I generate at least some interest with this project. I'll donate regardless, but I thought it would be cool to say that we here at trying to grok bought a sewing machine for the sewing center in Ramadi.

MORE TO GROK:
Yay for the participation! I just got an email from a reader who suggested that some might feel funny about putting an amount in the comments section. Feel free to email me and I'll put an "anonymous" comment like I did for the first person. And like I said, $5 is plenty...and no one has to feel bad if they already gave at the office!
Posted by: Sarah at 05:49 AM | Comments (5) | Add Comment
Post contains 451 words, total size 3 kb.
50kb generated in CPU 0.0185, elapsed 0.1198 seconds.
49 queries taking 0.1079 seconds, 174 records returned.
Powered by Minx 1.1.6c-pink.