November 28, 2007
HOUSE PARTY
I've been busy getting ready for this...

Andi gets here in a couple of hours, which means I have lasagna to make and a house to keep cleaning. Oh, and a dog to brush. Heather (from Hand-Crafted Comfort) and Ginger (from Sew Much Comfort) show up for dinner tomorrow. Then a friend from Germany and CaliValleyGirl arrive Friday. It's a hen party in the Grok house this weekend!
SpouseBUZZ Live should be great, as always. And if you can't make it to the live event, a very generous and cool company called Syncronicity Live is going to livestream the day. You can watch along from home! What a gift they've given us.
And so I'm off, to finish making the house look presentable and start dinner. Blogging might be limited, since my online friends will all be in my living room this weekend!
Posted by: Sarah at 11:04 AM | Comments (2) | Add Comment
Post contains 147 words, total size 1 kb.
November 13, 2007
STALKERS, INDEED
I managed to take exactly zero photos at the Blog World Expo. Luckily AWTM comes prepared with a camera and 45 memory cards to every event.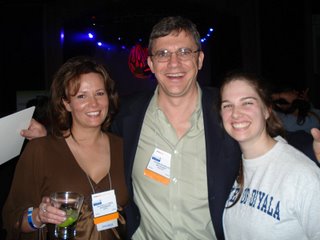 Look at AWTM, so composed and cool. Look at me, cheesing like a maniac. I can't believe this man talked to me repeatedly over the weekend. I look like a freak.
Heh.
I'm such a stalker.
Posted by: Sarah at 06:11 AM | Comments (4) | Add Comment
Post contains 66 words, total size 1 kb.
November 09, 2007
STALKING THE INSTAPUNDIT
So my deal for this week was to talk to Instapundit. I knew he'd be here, but I also knew he'd be a rock star and quite out of my league.
Thursday night at the Pajamas Media Party, when they gave away the weblog awards, all of a sudden there he was on stage. Too cool. AWTM and I started chasing him down for photos. He was really friendly and laughed at our antics.
This afternoon though, as I chased him around the expo hall, I think I began to get closer and closer to Crazy Town in his eyes. And then when I sat in on his podcasting seminar, and I've never done a podcast in my life, that was the height of silliness.
But I just think that man is so danged cool. I mean, he used the word "swell" and made a Calvin Coolidge joke. It doesn't get any better than that.
So I stalked the Instapundit. I'm such a nerd.
UPDATE:
Yay, photo evidence!
Posted by: Sarah at 03:40 PM | Comments (3) | Add Comment
Post contains 174 words, total size 1 kb.
November 08, 2007
VEGAS, BABY (THE MOST OVERUSED PHRASE ABOUT A CITY)
Heh, look who joined the 21st century...
I am sitting in the Blog World Expo keynote speech, liveblogging on a laptop.
More later...

Posted by: Sarah at 07:58 AM | No Comments | Add Comment
Post contains 41 words, total size 1 kb.
November 07, 2007
BRIGHT LIGHT CITY GONNA SET MY SOUL ON FIRE
I leave soon for the Blog World Expo in Las Vegas...
I will join Andi, Some Soldier's Mom, ArmyWifeToddlerMom and ButterflyWife on Friday's milblogging panel called "Meanwhile, Back on the Homefront." It should be a good time!
I am hoping that I will have good connectivity at something called the "blog world expo," so I might not be out of the loop.
And I haven't gained any pregnancy weight yet, so if I can handle it, my baby and I will be hitting the buffet!
Mmmm, Vegas.
Posted by: Sarah at 07:31 AM | Comments (6) | Add Comment
Post contains 105 words, total size 1 kb.
November 05, 2007
BLOG SEARCHES
For the very first time since I started blogging, I looked up what people were googling to get to me. I was surprised at how inspirational some of the searches were:
"not because it is easy, but because it is hard" quote

preservation of liberty and justice 300 george bush

Queen Gorgo's speech

Inspirational sayings for a husband who is deployed

donate stairs OR decks for servicemen coming home with an injured leg

"Every generation has its heroes. This one is no different"

always trying to explain to someone who doesn't think it is logical
And my favorite search:
A man who has nothing which he cares about more than he does about his personal safety is a miserable creature who has no chance of being free, unless made and kept so by the existing of better men than himself
Of course, I also loved this one:
"is he a terminator from the future"
Posted by: Sarah at 07:53 AM | Comments (3) | Add Comment
Post contains 158 words, total size 1 kb.
56kb generated in CPU 0.0245, elapsed 0.1023 seconds.
51 queries taking 0.0856 seconds, 187 records returned.
Powered by Minx 1.1.6c-pink.