June 30, 2009
TEH Zs
Worlds have collided: my husband met
Chuck Z
tonight.
We only got to see them for a short time, but we're hoping to see them again before the end of the week.
Also, the Z daughter is wicked adorable. I want a head-to-head Cute Off between her and
Pink Ninja
.
Posted by: Sarah at 06:30 PM | Comments (2) | Add Comment
Post contains 52 words, total size 1 kb.
June 22, 2009
I WISH I COULD THINK OF A GOOD JOKE USING "CHUCK" AND "POLE POSITION"
The other day the hotel phone rang. My husband answered and started chatting, and I figured it was his dad calling. After a while, I started to think it maybe wasn't his dad but I couldn't figure out who it could be.
It was
Chuck Z
.
Chuck had decided to do something nice for us while we were here in Vegas, something he would like to do if he were here. He wanted to get us races at
Pole Position
, the indoor go-kart raceway.
Totally unexpected and cool.
Also it was funny to hear my husband talking on the phone with Chuck like they've known each other for a while, when they've never actually met. Although my husband does call Chuck my "internet boyfriend," so I guess that makes them practically related.
So today we went to Pole Position. I assumed Chuck had gotten us one race, but no, he had sprung for two races and t-shirts for both of us as well! I felt bad about him doing so much for us, but it turned out to be a good thing to have two races.
The race consists of nine laps in a car that goes up to 45 mph. Your first lap is a practice lap to get you oriented, and then they kick the cars up to high gear and you're off. Only my car didn't respond. I was flooring my gas pedal and people were passing me on straightaways. I didn't get why 45 mph seemed so sluggish. Then all of a sudden on the fifth lap, my car leapt into gear! I jerked forward and nearly crashed into a wall. I realized my car had been goofed up.
Luckily I had a second race to redeem myself. I decided to consider the first race a practice shot to learn the curves and not feel so nervous, because I was in fact terrified that I would crash, or cause a crash, or hit someone, or overall make a fool of myself. So one slow race in the beginning was a blessing in disguise. And my second fast race was fun!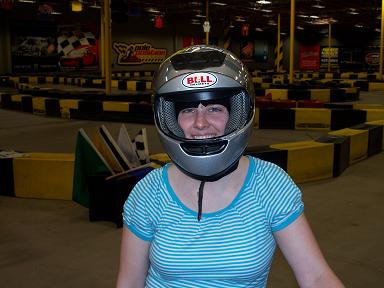 Chuck (and Mrs Z), thank you for treating us to a fun activity that we misers wouldn't have done on our own. We had a great time, and you really shouldn't have. We hope to make it up to you with dinner when you pass through town on your PCS journey.
And we're throwing a little change in the Valour-IT pot for good measure.
Chuck is one heck of an internet boyfriend.
And I can't even say how wholeheartedly I wish him a
Happy Alive Day
...
Posted by: Sarah at 05:55 PM | Comments (3) | Add Comment
Post contains 454 words, total size 3 kb.
June 19, 2009
LIFE AS A BLOGGER
You know you're a blogging family when your husband points at something on vacation and says you should take a photo of it and circle the Area Of Concern.
Dude, there are so many areas of concern in Vegas it's not even funny.
(Hat tip to
Rachel Lucas
for introducing a new term into our lexicon.)
Posted by: Sarah at 04:50 PM | Comments (2) | Add Comment
Post contains 60 words, total size 1 kb.
June 12, 2009
TBIM!
I got to talk on the phone with
AWTM
today, on the heels of a long phone call with her yesterday too. I for one am super happy that she's not working anymore, because it's much easier for us to reach each other.
Also, I'm glad she's not living the office life anymore...
I also had to call
Guard Wife
and break up her love getaway to ask a question. Her husband answered, so he and I chatted for a bit, which was fun. Which reminds me: At the last SpouseBUZZ Live, somebody turned to
Chuck Z
's wife and said, "I got the funniest email from your husband the other day." Only among bloggers would that be normal.
As I told
Wife Unit
the other day, while she was dropping her dog off at my parents' house where he will now live as my brother's new dog, "I love teh internets."
Posted by: Sarah at 12:04 PM | Comments (2) | Add Comment
Post contains 152 words, total size 1 kb.
June 03, 2009
TEST POST
Testing...
All my posts from today disappeared.
Plus a long draft.
Yuck.

UPDATE: Pixy fixed it.
Posted by: Sarah at 03:48 PM | Comments (3) | Add Comment
Post contains 18 words, total size 1 kb.
52kb generated in CPU 0.0138, elapsed 0.0779 seconds.
51 queries taking 0.0684 seconds, 177 records returned.
Powered by Minx 1.1.6c-pink.